Season 3 of 'Killing Eve' Premiere Date Moved Up Two Weeks
AMC and BBC America unveiled the new trailer for the upcoming spy thriller, Killing Eve, ahead of its Season 3 premiere date. While other sitcoms and dramas have halted production due to the pandemic, audiences can watch Killing Eve from start to finish.
It was announced on Friday morning that starting date for the new season of Killing Eve had been moved up and will now air on Sunday, April 12. AMC and BBC America will simultaneously broadcast the show at 9 p.m. Originally, the third season premiere was supposed to air on Sunday, April 26 at 10 p.m.
This writer is very excited for the new season to start earlier in April. With The Walking Dead having ended its 10th season abruptly, it felt like there weren't going to be a lot of new programs airing in the meantime. Killing Eve is such a great show to keep the mind entertained and distracted.
"We know how adored this series is, and we know how keen people are for great content right now," Sarah Barnett, president of AMC Networks Entertainment Group and AMC Studios, told Deadline.
"This season of Killing Eve digs deep psychologically, and with actors like Sandra Oh, Jodie Comer and Fiona Shaw the results are nothing short of astonishing. We literally couldn't wait for fans to see it," added Barnett.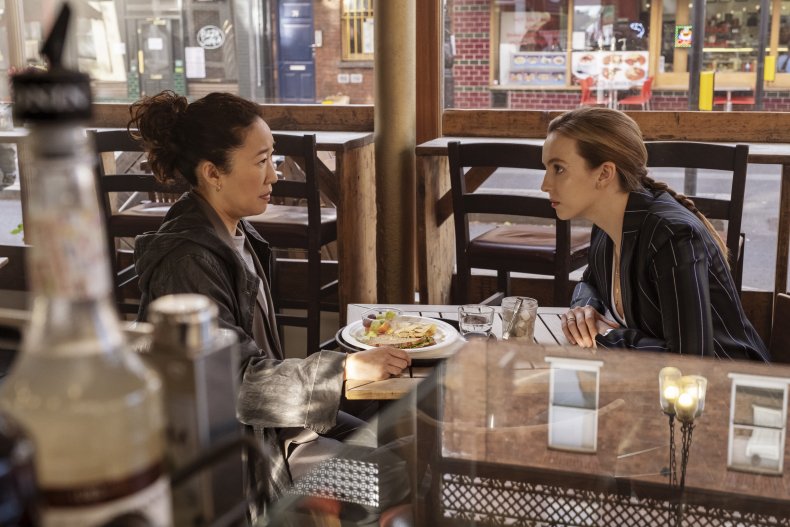 In the new trailer, Villanelle (Jodie Comer) is dressed up like a clown. This writer has a fear of clowns. Imagine Villanelle coming right at you, with a knife in hand. And she's wearing clown make-up and has a red wig on.
Apparently, the female assassin has become unhinged after discovering that agent Eve Polastri (Sandra Oh) is still alive. Villanelle had shot Eve and left her for dead in the second season cliffhanger.
Back where they started, Villanelle continues playing her mind games on Eve. In the footage, the serial killer sends a message to the investigator. Notice how the recording device is shaped like a heart.
Villanelle says in her unsettling message, "Admit it, Eve. You wish I was here."
After watching the new footage, this writer is already pumped for the new season for Killing Eve and for its earlier starting date.