Seattle-Area Airport Warns Travel Volume Increasing to Pre-Pandemic Levels
The Pacific Northwest's busiest airport is reporting a steady increase in travel volume this spring, consistent with rising numbers seen across the U.S. throughout the current year.
After the recent holiday weekend brought a notable spike in passenger traffic to Seattle-Tacoma International Airport, according to NBC affiliate King5, establishing a record high since the coronavirus outbreak began to unfold last March, officials warned of travel frequencies approaching "pre-pandemic" levels and urged travelers to be mindful of ongoing public health concerns.
"You need to get here early," said Perry Cooper, a spokesperson at Sea-Tac Airport, in a statement obtained by Seattle-based news station KOMO News.
Acknowledging the continued increase in airport traffic since the start of 2021, especially in light of record volumes reported in the days surrounding Easter Sunday, Cooper underscored the importance of COVID-19 mitigation.
"This is more like pre-pandemic travel again," the statement continued, according to KOMO News. "We've got to spread people out more than we normally would and that makes those lines look a lot longer than they have been in the past."
Traffic inside Sea-Tac Airport—which is the busiest airport in the Pacific Northwest, according to tripsavvy.com—over Easter weekend reportedly exceeded travel numbers recorded during any other week since the pandemic's onset.
Although the airport's weekly statistics do not yet reflect travel volume seen this past weekend, photos shared on social media appeared to show packed waiting areas and long lines in various sections of the building.
Similar to regulations implemented by air travel authorities across the globe, Sea-Tac requires travelers to adhere to a set of guidelines to reduce risks of COVID-19 transmission.
The requirements, according to portseattle.org, mirror those issued by the Centers for Disease Control and Prevention, and direct travelers to wear face masks over their noses and mouths unless they are eating or drinking, and maintain a distance of at least 6 feet from others.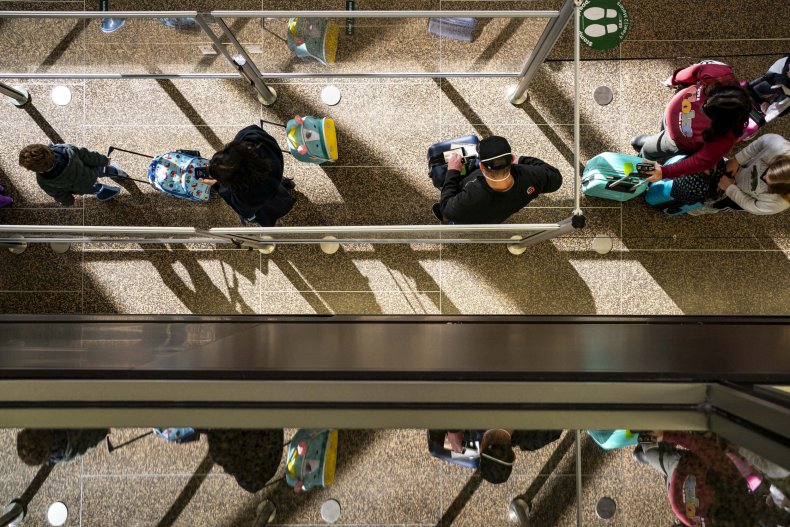 Sea-Tac Airport has recorded a pattern of climbing traveler volume over the past several months, according to portseattle.org, as the country furthers its COVID-19 vaccine rollout and people nationwide slowly return to their previous travel habits.
Statistics published weekly by the airport showed that an average of 26,600 passengers underwent security screenings daily during the week beginning March 21, which was already the highest figure recorded at Sea-Tac during the pandemic. The figure represented an average increase of 278 percent compared with the same week in 2020, although it remained roughly 50 percent lower than the same week in 2019.
Newsweek reached out to Seattle-Tacoma International Airport for additional information and comment but did not receive a reply in time for publication.
Newsweek, in partnership with NewsGuard, is dedicated to providing accurate and verifiable vaccine and health information. With NewsGuard's HealthGuard browser extension, users can verify if a website is a trustworthy source of health information. Visit the Newsweek VaxFacts website to learn more and to download the HealthGuard browser extension.