Seattle CHAZ Protest Is Like Burning Man Festival, Hurts Reform Message, Some Black Community Leaders Say
Some members of the black community in Seattle, Washington say the message behind recent protests in the city have been undermined by activities in the Capitol Hill Autonomous Zone (CHAZ).
Originally an area where protests against the death of George Floyd occurred, the CHAZ now is seen as a kind of commune with no discernible leadership hierarchy. According to information on the CHAZ website, the 6-block area is "a small section of Seattle Washington left to rot by its leaders."
"Abandoned by police and left to burn, this area was instead seized by anarchists, BLM [Black Lives Matter] supports and other protesters who have since transformed it into a universal community based on mutual aid," the CHAZ website explains. "Fundamentally, CHAZ is an occupation of Capitol Hill, not an official declaration of independence."
However, some black protesters claim the popularity and activities in the area are "hijacking" the protests.
Members of the African American Community Advisory Council (AACAC) said during a meeting at CHAZ on Thursday protesters in the Zone have "taken the meaning away" from activities aimed at achieving reforms in police culture.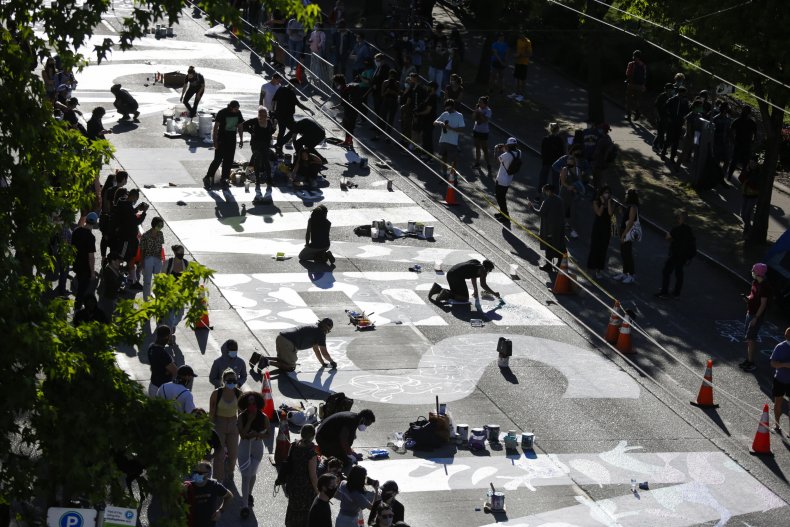 In an interview with KOMO News, AACAC Chair Victoria Beach compared the CHAZ with the desert-based art festival Burning Man.
"We're going to keep our voices loud and clear," Beach said. "We're going to be heard. How are we going to be heard if that's happening? How are we going to come to the table and talk?"
In a statement sent to Newsweek, representatives from CHAZ said, "The protestors are diverse in opinion and politics, but form a broad coalition standing against police brutality along with activists across the country. Let me be clear: the impetus at CHAZ is the same as everywhere else. Black Lives Matter, abolish the police."
Newsweek also reached out to the Seattle AACAC for comment. This story will be updated with any response.
Physically, the CHAZ includes a police precinct building that was boarded up for protection against protesters. Neighborhood merchants have been providing food and supplies to CHAZ denizens. Others have observed the existence of a medical center, a "No Cop Co-Op" offering free food and vegetable gardens inside the CHAZ's perimeters.
Protesters at the CHAZ have published a list of demands calling for reforms to the U.S. justice, education, health and human services. Included among those demands is the defunding and abolishment of the Seattle Police Department and the prohibition of ICE operatives within Seattle.
President Donald Trump tweeted about the CHAZ on Thursday, telling Washington Governor Jay Inslee to "take back your city NOW. If you don't do it, I will. This is not a game. These ugly Anarchists must be stopped IMMEDIATELY. MOVE FAST."
Inslee replied by saying he would not allow "threats" of military violence against residents of his state. "The U.S. military serves to protect Americans, not the fragility of an insecure president," Inslee tweeted.
Assistant Seattle Police Chief Deanna Nollette said that discussions with the CHAZ protesters were necessary to move forward and reclaim the area, including the abandoned police precinct. "There's a whole citywide effort to try to identify who the leaders are," Nollette said. "It's just a matter of establishing a dialogue so we can take down the plywood and welcome people back into the lobby."