Seattle CHOP Protesters Stand Firm, Deny Talk of Exodus From Occupied Zone
The Capitol Hill Organized Protest (CHOP) is not dispersing, despite rumors based on a now-debunked Twitter post from earlier Wednesday.
Wednesday afternoon, the Twitter account @CHOPOfficialSEA posted a letter addressed to "Comrades in the struggle," claiming that "The CHOP project is now concluded." Though the account claims to be the CHOP's official Twitter account, Newsweek has independently confirmed with those actually at the CHOP that the account was fake.
In addition, Newsweek has confirmed that the barricades are still up at CHOP, as are tents. Organizers and other people remain in the area and the CHOP shows no signs of slowing down. There is also no sign of any police presence, and the Seattle Police Department's East Precinct remains abandoned. Protesters on Wednesday night moved their tents to surround both sides of the precinct.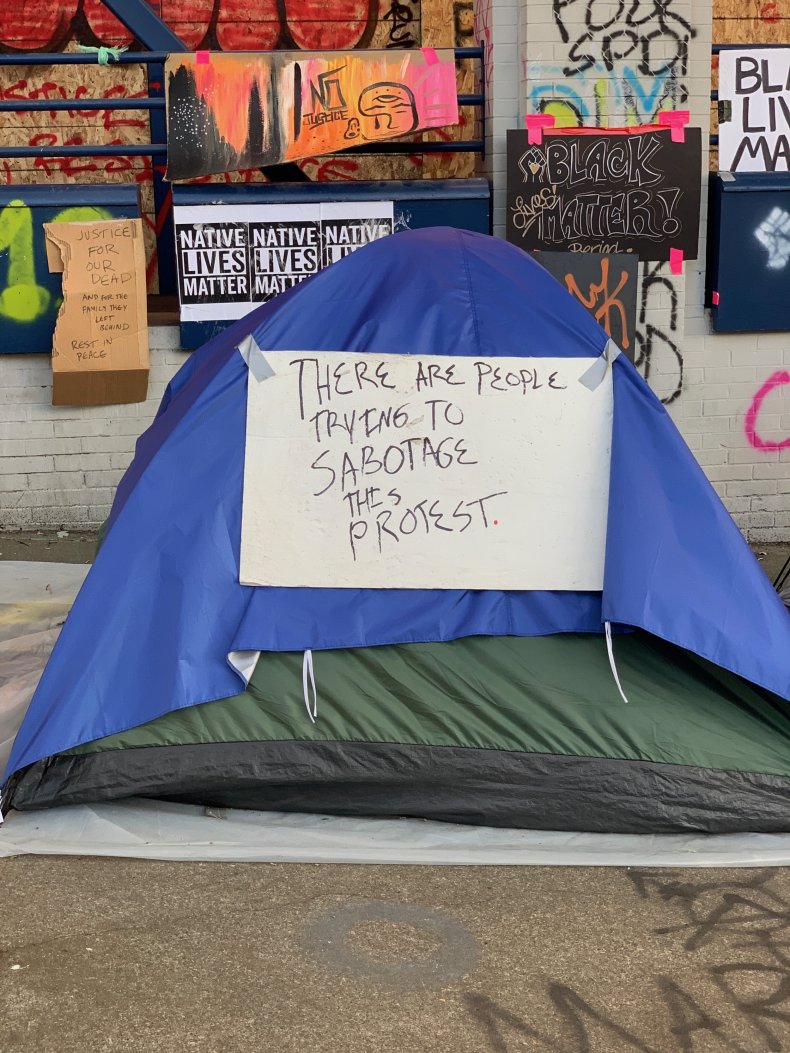 "No, the CHOP is not shut down and it is still going on and there are a lot of people here. Still talking about the issues. It's not shutting down anytime soon," Dwayne Stamps, a protester at the CHOP, told Newsweek.
Stamps was not alone in his assessment of the situation.
"The CHOP is not shut down and there are plenty of people here helping," an occupant and volunteer who identified themselves only as R told Newsweek.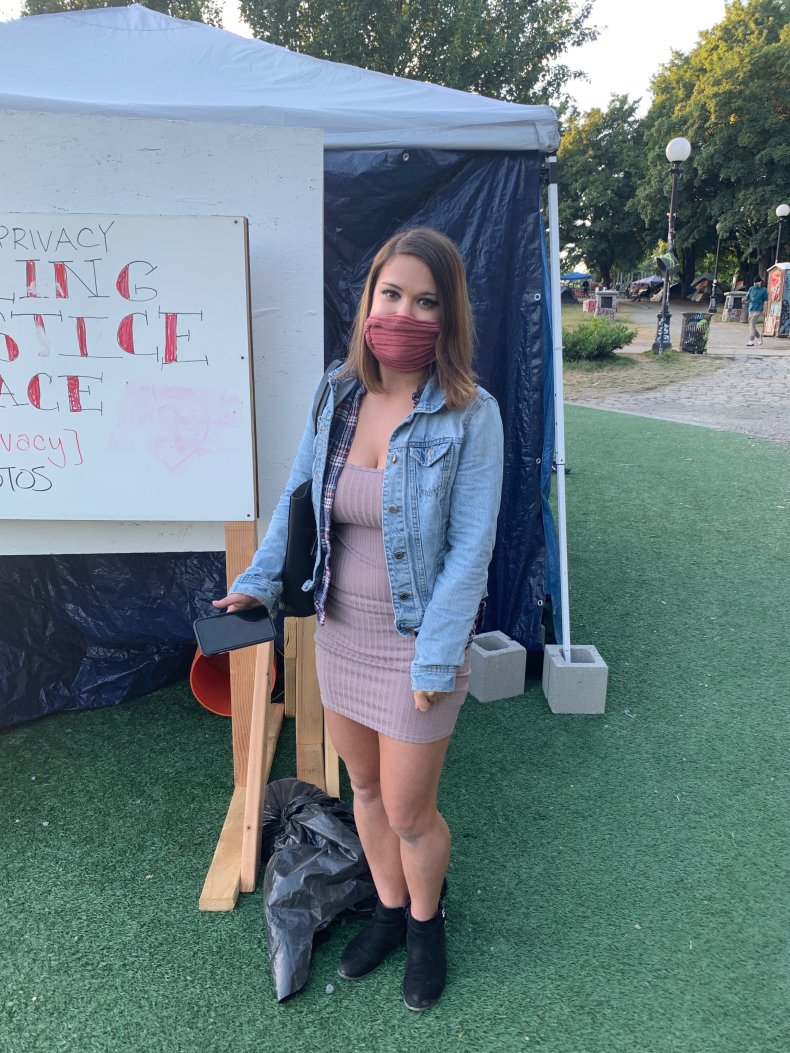 Taylor Bryant told Newsweek she hadn't heard anything about the CHOP being shut down.
"The CHOP is definitely not shut down. It's a still safe space for people fighting for racial equality. It's definitely up and running, even if it is smaller," Bryant said.
A citizen journalist who identified himself to Newsweek only as Derrick said that the CHOP was more than a physical area.
"The CHOP will never be shut down because it's an ideology, not a place. The CHOP is still vibrant and very much alive. There are less people, and those who have stayed are here for the right reasons," Derrick said.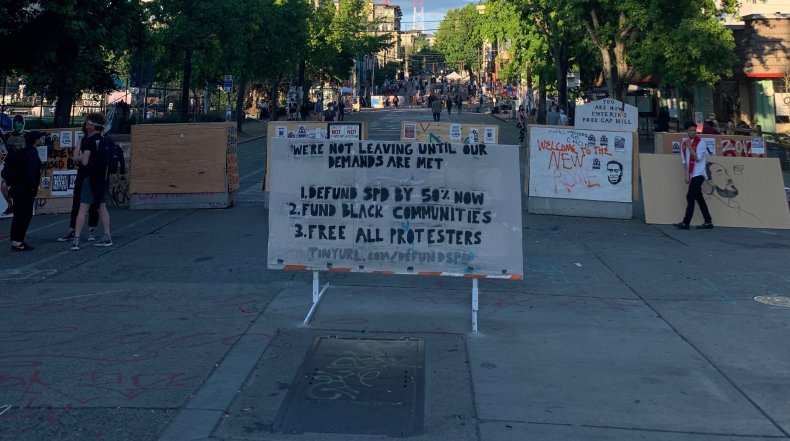 Omari Salisbury, a local independent journalist who has been covering the protest since May 29, told Newsweek "No, the CHOP is not shut down. The numbers are highly reduced, but people are here."
"Protesters on the ground are upset that Sinclair [Broadcasting Group] ran a story posted on a Twitter account that cannot be confirmed. That story is false and the people are still there in the tents," he added.
Earlier Wednesday evening, Salisbury posted to Twitter that Black Collective Voices of CHOP will hold a press conference Thursday at 12:20 p.m. local time.
"Media, politicians and individuals not affiliated with the work at the Capitol Hill Organized Protest (CHOP) have misrepresented the Black voices of CHOP," Salisbury said in a statement announcing the press conference. "The press conference will address the Mayor's request to exit CHOP. It will address our plans for future participation in the movement. It will also address the violence happening near CHOP."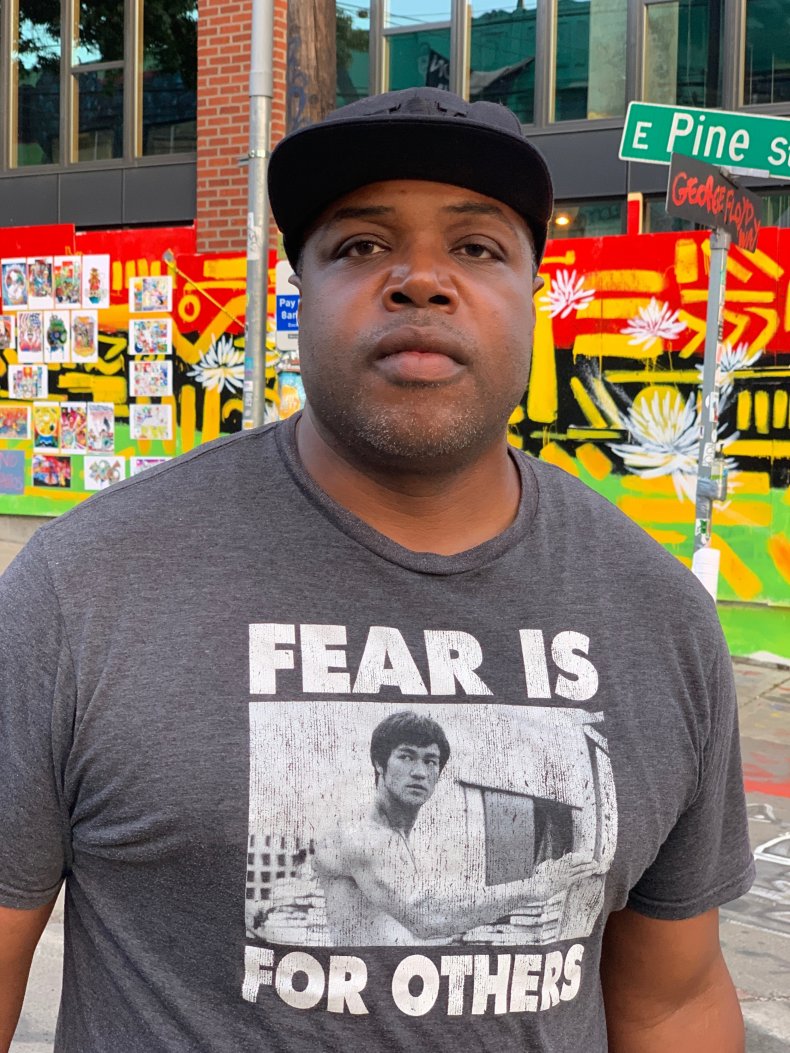 Seattle Mayor Jenny Durkan said Monday that the city would move to end the occupation of the CHOP, formerly known as the Capitol Hill Autonomous Zone (CHAZ). Durkan said the efforts to clear the area would be led by community organizers, rather than law enforcement, and that people would be encouraged to leave voluntarily. She also added that "additional steps" would be taken if people remained in the area, but did not expand on what those steps would be.
"It's time for people to go home. It's time for us to restore Cal Anderson and Capitol Hill so it can be a vibrant part of the community," Durkan said.
The Seattle City Council unanimously voted on June 15 to ban police from using tear gas and pepper spray. Seattle Police Chief Carmen Best asked the City Council to reconsider.
"No one, especially the officers, wants to be in a situation where the only options left to us ends up being our batons or our guns," Best said during Monday's briefing. "Neither of which is the appropriate response to the situation we're seeing on the Hill."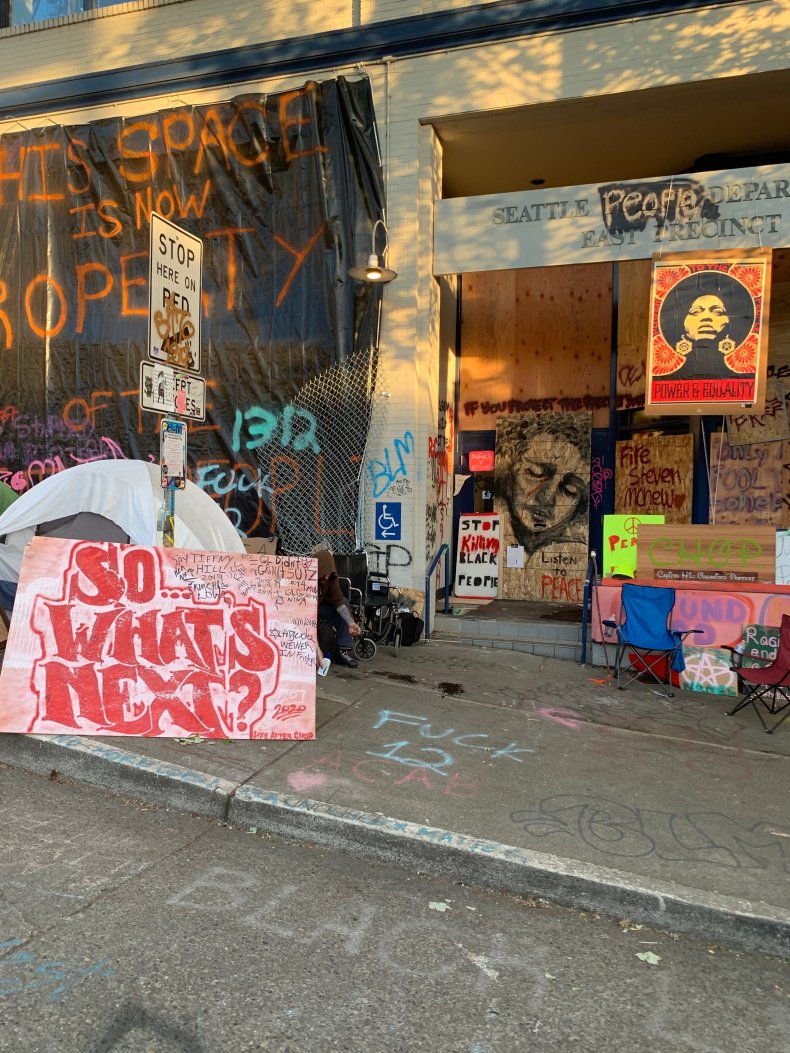 Officers have echoed Best's comments, saying their only course of action could be to use batons and firearms to clear the area if protesters do not leave voluntarily.
"We're no longer allowed to use things like tear gas and pepper spray. The only thing that we can use is our sidearms or our batons," an officer said to Newsweek on the condition of anonymity. "...And we lose if we use force, it's gonna look ugly."
This last week has seen at least two reported shootings inside the CHOP zone. One 19-year-old was killed and another person was critically injured in a Saturday shooting. Another shooting on Sunday resulted in one person being taken to Harborview Medical Center for a gunshot wound in the arm.
The CHOP was established as a result of the Black Lives Matter demonstrations against the death of George Floyd in police custody. Seattle Police withdrew from the precinct in the Capitol Hill neighborhood and the six-block stretch around the station has become a hub for demonstrations and art.
Protesters in the CHOP have previously said they will not leave until their demands are met. They're asking for the Seattle Police Department to be defunded by 50 percent, for funds to be diverted to Black communities and for all protesters arrested to be freed and not charged with any crimes. The Seattle Police Department currently receives over $400 million in funding for 2020.