Multiple Seattle Churches Desecrated With 'House of Murder' Scrawled on Them
Three churches have been vandalized across Seattle in recent months, with spray painted slogans suggesting the vandalism was a response to mass graves found over the summer at Catholic Church-run residential schools that housed Indigenous children.
The three places of worship were targeted with similar acts of vandalism, with the first instance occurring at Saint James Cathedral in July shortly after hundreds of unmarked graves were found at the Marieval Indian Residential School and the St. Eugene's Mission School for Indigenous children.
The Saint Benedict church was also attacked in August, with vandals targeting Saint Edward Church on Sunday on the eve of Indigenous Peoples' Day, now a federal holiday honoring Native American history and takes place on the same day as Columbus Day.
As reported by KING-TV, church windows were broken and the buildings spray painted with slogans such "they were children" and "stolen children" and "house of murder."
Indigenous advocates have called for a formal apology from the Catholic Church and the Pope following the discovery of indigenous children's remains in Canada that have been tied to boarding schools run by Christian churches between the 1800s and 1990s.
"While we are saddened by these acts, our focus remains on the healing of our brothers and sisters who carry the pain of the past," Archdiocese of Seattle said in a statement to King5. "We continue our prayers for the healing that our Native American brothers and sisters seek."
Seattle Police Department has been contacted for comment.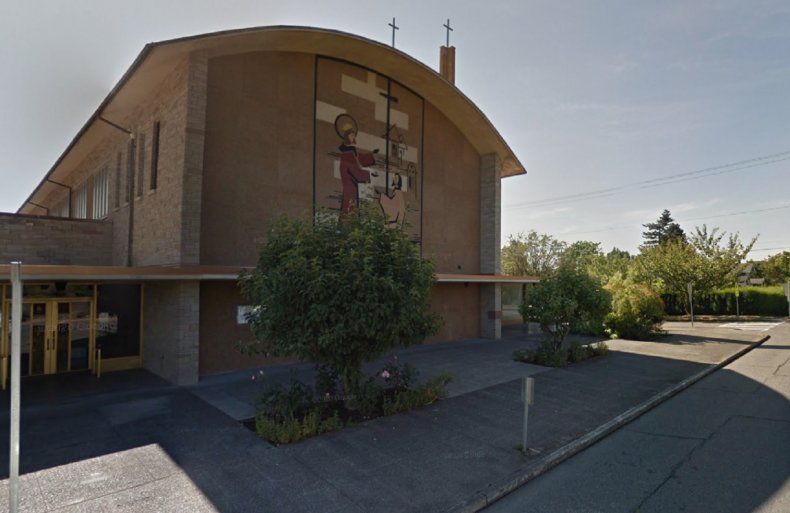 Elsewhere, a church in Los Angeles was also vandalized on Indigenous Peoples Day.
The Los Angeles Police Department said they are investigating after the St. Peter's Italian Catholic Church was targeted with red paint on Monday morning.
In a statement posted on Facebook, Los Angeles City Councilmember Joe Buscaino condemned the incident while calling for unity.
"I am saddened by the act of vandalism today against St. Peter's Italian Catholic Church near downtown LA. I am hopeful that those who committed these acts to a sacred place of worship will be found and prosecuted," Buscaino said.
"Today [October 11] marks the first time a U.S. president has officially recognized Indigenous Peoples' Day. As a global city with many cultures and traditions, Los Angeles should set an example of how a modern society is able to respect all cultures.
"Today should be about celebrating our diversity and contributions to society, without the need for hatred or violence. We all need to work together, not breed division and hate with one another. I pray that our city can truly embrace and be proud of our diversity."