Seattle City Council Approves 17% Cut to Police Department's Budget
The Seattle City Council approved a plan to cut the budget of the Seattle Police Department by 17 percent next year, while rejecting a proposed hiring freeze.
A budget committee of the council voted against a hiring freeze proposed by Councilmembers Kshama Sawant and Tammy Morales on Thursday, which would have redirected just over $9 million from police to "community-led public safety investments."
However, the committee approved budget cuts while amending Seattle Mayor Jenny Durkan's proposed 2021 police budget. The cuts would eliminate 93 positions within the department that are already vacant, while 35 officers currently employed would be laid off by next summer.
Under the plan to pause police hiring, 51 of the 1,311 officers that the department now expects to employ by the end of 2021 would not have been hired. The council rejected the proposal with a 7-2 vote. They also rejected a proposal from Morales that would have reduced hiring by 50 percent in a 6-2 vote, with one abstention.
The hiring freezes could potentially be revisited when the council holds a full vote on Monday, although they do not appear to have the support that would be required to change course. Seattle lawmakers are likely to move forward with several other proposals concerning policing, such as separating 911 dispatch and mental health workers from the police department.
If the council ultimately votes in favor of the approved cuts, the action would fall well short of what had been hoped for by activists calling for the police department to be defunded in the wake of mass protests against police brutality and racial injustice over the summer.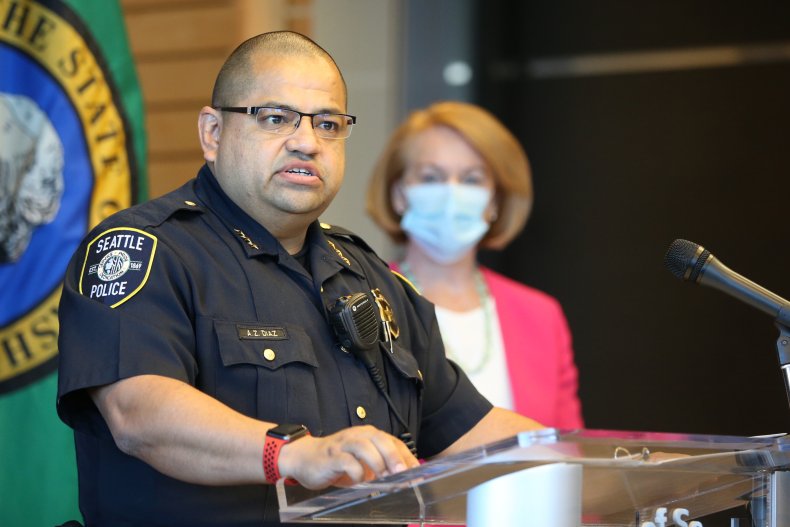 Sawant, a Socialist, lashed out at her Democratic colleagues on social media over their opposition to her plan on Wednesday. She accused them and other Democrats of betraying those who sought change after the May 25 death of George Floyd, while calling for a new political party "for the working class."
"After months of declaring that Black Lives Matter, every single Democratic City Councilmember voted against the Peoples Budget & my office's proposal to develop legislation to establish an elected community oversight board with full powers over police, including hiring & firing," Sawant tweeted.
"In city after city, Democrats have betrayed promises made during the height of #JusticeForGeorgeFloyd," she continued. "Demonstrating yet again that our movements, and movement leadership, need to be independent of the political establishment. And that we need a new party for the working class."
Prior to the presidential election, President Donald Trump and his allies repeatedly accused President-elect Joe Biden of being in favor of proposals to "defund the police." Biden never supported the proposals and had instead called for police funding to be increased to fuel reform efforts.
Newsweek reached out to the Seattle Police Department for comment.