Seattle City Council Member Blames CHOP Autonomous Zone Shootings on Capitalism
Seattle City Council member Kshama Sawant blamed the Monday shootings that left two dead in the city's Capitol Hill Occupied Protest area on "capitalism's brutality."
"Deepest condolences from Socialist Alternative and my Council office to the family and friends and fellow activists of the community member who was tragically killed in the drive-by shooting at the Capitol Hill Organized Protest (CHOP)," Sawant, a socialist politician, tweeted on Monday after the shootings.
"While we await details of this tragic killing, it highlights capitalism's brutality & endemic violence. Our movement rejects insinuations & falsehoods perpetuated by corporate & conservative media that this violence is outcome of CHOP or of our movement," she said in a follow-up post.
A 16-year-old teenager died following the Monday shooting and another 14-year-old was reportedly in critical condition. Another man had died as well. According to police, the dead man and the 14-year-old were found in a white Jeep Cherokee riddled with bullets.
"Two men are dead. Two men are dead. And a child, a 14-year-old is hospitalized, and we don't know what is going to happen to that kid. Enough is enough here," Seattle Police Chief Carmen Best said on Monday morning. Best also said that protesters in the CHOP area were "not being cooperative with our requests for help" and that it was "not safe for anybody."
"As an African American woman with uncles and brothers, I wouldn't want them to be in this area," the police chief said.
Newsweek reached out to the Seattle Police Department and the City Council for comment, but they did not respond by the time of publication.
The CHOP area has faced significant attention and scrutiny, with President Donald Trump referring to the movement as a "takeover" of Seattle by the "Radical Left." The area was previously dubbed the Capitol Hill Autonomous Zone, as anti-racism and leftist demonstrators occupied the space amid nationwide demonstrations following the death of George Floyd in police custody on May 25.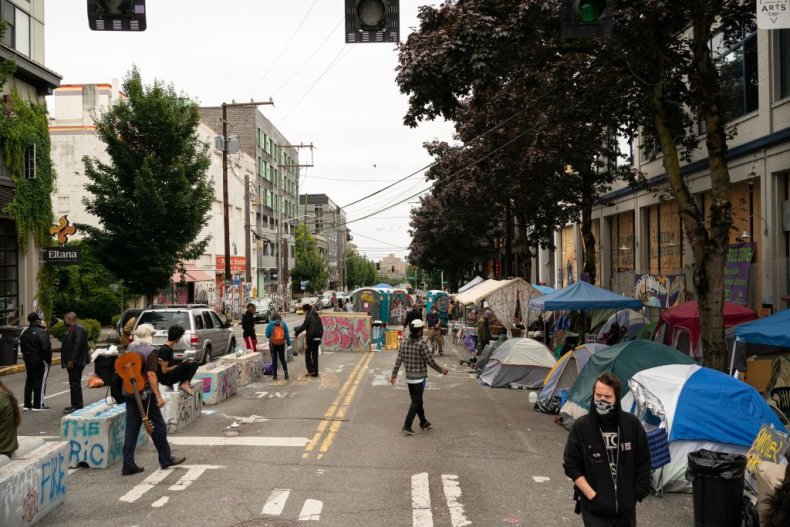 Protesters formed the zone in an area of Seattle surrounding a police precinct after clashes with police officers during demonstrations. The police decided to abandon the precinct and allow the demonstrators to remain occupying the area, which covers some six city blocks. But there has been mounting violence in the area, with at least four shootings taking place over the past 10 days.
Overall, the movement has appeared to be largely peaceful. A community garden has been created and Black Lives Matter has been painted across the street of the primary encampment. During the day, demonstrators have been relaxing in the park and volunteers have distributed food.