Seattle to Crack Down on Protesters Occupying Capitol Hill After Shootings
Seattle Mayor Jenny Durkan plans to crack down on protesters and move police back into the city's Capitol Hill Occupied Protest (CHOP) zone after two shootings took place in the area over the weekend.
During a Monday press conference, Durkan said that organizers in the area had "concluded that they should not gather overnight" after the shootings. The mayor said she was working with Black-led organizations that will "encourage individuals to leave" the area "voluntarily."
"The city will not allow for gun violence to continue in the evenings around Capitol Hill," Durkan said, adding that the city will take additional actions if protesters refuse to leave.
Durkan also said that police would soon be returning to a precinct building they had abandoned shortly before the zone, originally dubbed the Capitol Hill Autonomous Zone (CHAZ), had been formed following a protest on June 8.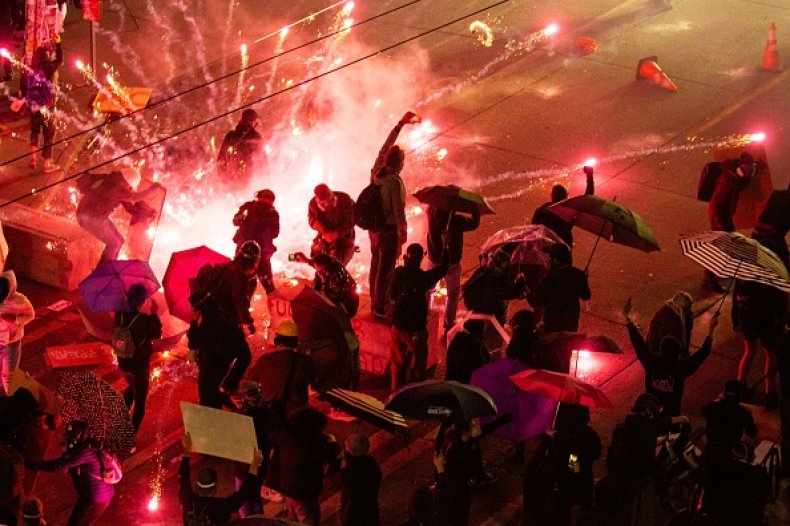 The mayor said that violent protesters had prevented emergency services from adequately responding to the incidents, one of which left one man dead and another hospitalized in critical condition.
"Because of the people who were there and how they greeted fire and police, our first responders were not able to get to the area safely and quickly," Durkan said. "But it is our experience over years that the quickness of response decides who will live and die sometimes."
The mayor emphasized that efforts to dismantle the area would be led by community organizers rather than police.
"In recent days we have deployed community resources to both de-escalate the area and to move people to services," she said. "We will continue to working with and deploying these community organizations to change the circumstances on Capitol Hill."
Durkan remarked that "Capitol Hill belongs to everyone" in the city, highlighting the area's association with the LGBT community, along with historical ties to the Black community.
The mayor also noted that businesses in the area were suffering due to the current circumstances, saying they "need to reopen" after already suffering the financial impacts of the COVID-19 pandemic.
Activist Andre Taylor, who leads a group working to reduce police violence, said he recently met with Durkan and CHOP organizers separately to try to bring the situation "to a peaceful resolution" in a Facebook video on Monday.
"That CHOP area is attracting this kind of activity and it's unsafe," said Taylor, who leads Not This Time. "You'd be a fool to think the mayor and the city don't have a responsibility to make sure that that place is safe."
"I'm telling these youngsters, 'you guys have gotten to a place now that the people have got to come in and take the place back,' because it's drawing activity that people are being hurt," he added. "This is no game."
Newsweek reached out to Durkan's office for additional comment. This article will be updated with any response.