Seattle Seahawks Double Down on a Miracle Against Green Bay Packers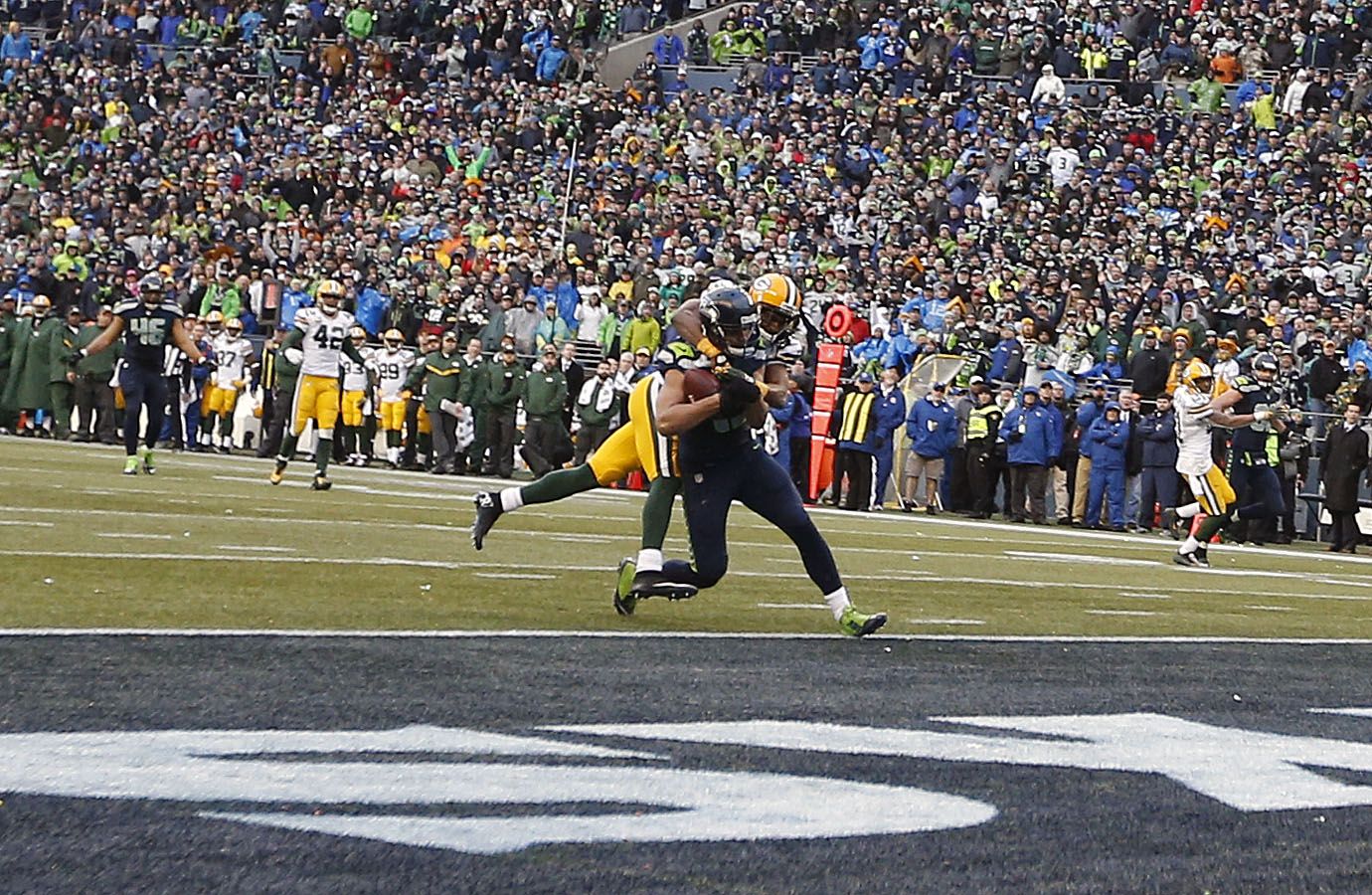 If you ever spent time at a roulette table, then you instantly recognized what went down during Sunday's NFC Championship Game between the Green Bay Packers and the Seattle Seahawks. In one seat you had Green Bay coach Mike McCarthy, laconically sipping his club soda with lime and methodically placing one chip each on four numbers, i.e., cornering his bets, playing each turn of the wheel for higher percentages and lower returns.
Seated at the far end of that same table was Seattle coach Pete Carroll, ordering two fingers of tequila and flirting with the prettiest girl at the table. He tossed a few chips at the croupier and barked out numbers that correlated to his children's birthdays. Betting as recklessly as he was – Did Carroll really just put $200 on "00?" – you hoped the garrulous gambler had another shirt back in his room because he was about to squander this one.
Whenever the wheel favored McCarthy, he betrayed no emotion. Whenever Carroll won, he laughed and high-fived passersby. When he lost, he roared even louder.
This was more than an approach to coaching football on display at Century Link Field. This was a philosophy of life (Who Moved My Cheese? in IMAX for poor Green Bay fans).
The Green Bay Packers kicked five field goals in Sunday's contest. The Seattle Seahawks did not attempt any (although they did line up for one – and got six points out of it).
Seahawk quarterback Russell Wilson threw four interceptions, all while targeting the same receiver, Jermaine Kearse, and Seattle committed five turnovers altogether. Aaron Rodgers, the superb QB for the Packers, tossed two interceptions, the adverse effects of which were instantly obviated by the Packers picking off Wilson on each ensuing drive.
Seattle had no business winning Sunday's game, but it did. Green Bay, which held a 16-0 lead at halftime and allowed just one gimmick touchdown through more than 57 minutes, had no business losing. But it did. And at the center of the outcome was each coach's approach to winning. And, as it turns out, losing.
Mike McCarthy, 51, was born and raised in Pittsburgh. His father was a firefighter, and a police officer… and a bar owner. McCarthy is admirably and inexorably working-class, a man who always dresses as if he is about to shovel his own driveway.
Pete Carroll, 63, is a son of northern California with a serious Peter Pan disorder. Now in his seventh decade, Carroll still has cool hair. He still has hair. Whereas some men seem to forever walk beneath a cloud, Carroll lives in Seattle, a gloom-shrouded, Pacific Northwest city, and serves as a thin beacon of sunshine. He is unflaggingly optimistic, which would be comical if that attitude did not continually serve him so well.
The Packers forced two first-quarter turnovers and each time advanced the football to the Seahawk one-yard line. Each time, McCarthy opted for the safe bet, taking the gimme three from reliable field goal kicker Mason Crosby.
The Seahawks, trailing 16-0 in the third quarter, lined up for their first field goal try at the Packer 18. Carroll eschewed the three, trusting instead that a 33-year-old punter named Jon Ryan, who was the holder for this kick, would either outrace All-Pro linebacker Clay Matthews for a first down or loft a pass over Matthews' head to a six-foot-six, 302-pound backup offensive lineman named Garry Gilliam, a rookie who went undrafted last spring. On these two men Carroll pinned his team's postseason hopes.
"You want to put it all on '00' again, sir?"
"Let it ride."
The play worked. Cut to Carroll, a bemused smile on his face as if to say, Well, of course it worked. We had faith in it working.
If this were a script, Seattle would proceed to ride that momentum shift to victory. This contest followed no rules of screenwriting, or of plausibility. It was as if the Seahawks saved the cat and then tossed it right back up into the burning tree.
Nearly 15 minutes of regulation time, or an entire quarter, after Ryan-to-Gilliam had raised the hopes and voices of Seattle's renowned "12th Man," the Seahawks had yet to further encroach upon the Packer lead. In fact, Green Bay had added to it courtesy of – you guessed it – another Crosby field goal.
It was now 19-7, Packers, as Wilson targeted Kearse for a fifth time and, for the fourth time in five tries (one pass fell incomplete), had his pass intercepted. Morgan Burnett picked off Wilson's errant throw and then did a curious and yet prudent thing: with at least 10 or more yards of open turf before him, Burnett slid to the turf untouched and cradled the football.
Morgan Burnett was not about to risk relinquishing the ball.
Up in the FOX television booth, play-by-play man Joe Buck and analyst Troy Aikman lauded Burnett's wisdom. Would this be a good time to note that a preponderance of the advertising that accompanies NFL telecasts is paid for by insurance companies?
Burnett did not actually commit a blunder. It was not as if he muffed an onside kick, as teammate Brandon Bostwick would three minutes later, a play that will remain etched in the minds of Wisconsinites long after the season's first thaw arrives. However, Burnett's unprovoked choice to play it safe was redolent of a franchise and a coach who preferred it that way. At least on Sundays.
You know the rest: Seattle rode running back Marshawn Lynch's legs and Beast-mode to a pair of touchdowns in the final 2:09. An utterly impossible two-point conversion pass that soared over the Space Needle before falling into the arms of tight end Luke Wilson happened. And then, in overtime, Wilson targeted Kearse for only the sixth time all day and finally completed the pass...for the game-winning 35-yard touchdown reception.
Seattle's 28-22 overtime victory at Century Link Field on Sunday should and will be analyzed by NFL denizens for a long time. From a sports-history vantage point, it was the first NFL playoff game decided by a touchdown in overtime since the 1958 NFL Championship Game between the Baltimore Colts and New York Giants at Yankee Stadium. Whether or not that game truly is, as Eisenhower-era types like to suggest, "The Greatest Game Ever Played," (at the time, it probably was) it is the contest that put the league on the television map. Even though NBC's national telecast was blacked out locally, i.e. in New York City, i.e. the nation's largest television market, it still captured 45 million viewers.
A little more than 56 years later, the Packers and Seahawks partook in a game that was no less epic. And while many of us who watched may not be around in 2071 to compare its historical significance relative to Colts-Giants, the legacy of this game should not be the outcome. It may not even be that the Seahawks would become the first NFL team to repeat as Super Bowl champions in more than a decade.
No, the legacy of Seattle 28, Green Bay 22 should be this: one's approach to playing a game is inseparable from one's approach to playing the biggest game of all. How do you want to play it?
The wheel is spinning. Place your bets.