Seattle Homeless Couple Receives Free Plane Tickets After Refusing to Leave
A contractor for the city of Seattle gave a homeless couple one-way plane tickets to relocate to Kansas after they refused to leave their "homeless mansion."
Melissa Burns and her husband, Shamrock, set up their camp on Third Avenue near the well-known Space Needle and refused to go to a shelter or use the city's services, according to KOMO News.
"We can provide something better for ourselves at this point than the city can provide us," Burns told KOMO News.
In an effort to relocate the couple, the Compass Housing Alliance, a city contractor that helps run homeless shelters and provides services to people who are homeless, offered the couple two one-way tickets to Manhattan, Kansas. The couple accepted the offer and left on Wednesday, KOMO News reported.
KOMO News described the couple's encampment as a "homeless mansion," and now, other people in similar situations are hoping to take advantage of the Compass Housing Alliance, as well.
"I can go somewhere," William "Catfish" Rollins, a homeless camper, told KOMO News. "Back where I came from. ... the Midwest. I left my little brother behind and came out here."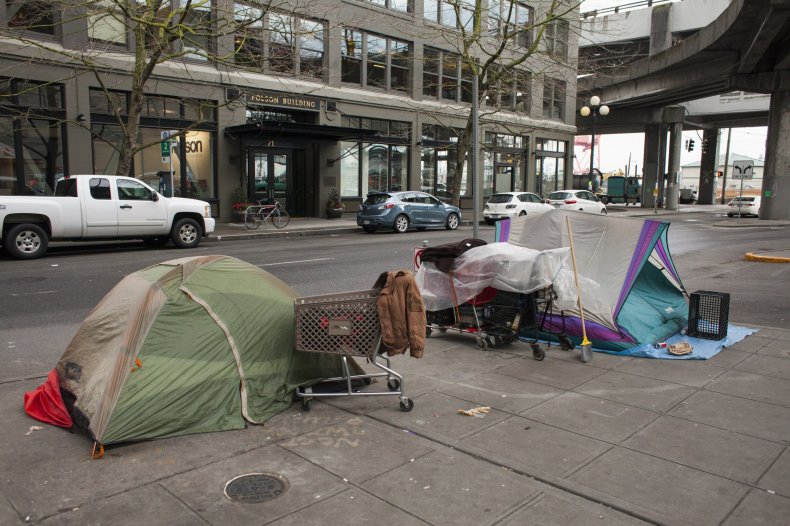 Newsweek reached out to Compass Housing Alliance but did not receive a response in time for publication. However, a spokesperson told KOMO News that a plane ticket can be cheaper than a bus ticket. She added that she's uncertain how many bus, train and airplane tickets were given out over the past two years.
The encampment was constructed in April when a group of volunteers who are homeless helped Burns build it after her former encampment was swept by Seattle city workers, according to Kiro 7.
Burns told Kiro 7 that she appreciated Seattle's "liberal vibe" and said that she didn't "want to change our lifestyles to fit their requirements," in reference to the city official's offers of shelter.
"This is the solution to the homeless problem," she told Kiro 7. "We want autonomy, right here."
Seattle also tries to help its homeless population through an app called Samaritan that was developed by Chris Sun. People who are homeless are given a Bluetooth-enabled beacon to war.
Then, when someone who has downloaded the app and has Bluetooth enabled on their phone passes someone with a beacon, they can read their story and choose to donate money to them.
The money is then able to be redeemed at participating restaurants and stores but not used for alcohol.
In order to continue to access the money, a beacon participant must meet with the Millionair Club, a nonprofit that helps people who are homeless obtain employment, which according to The Seattle Times turned some people off from using it.