Seattle, King County Will Require Vaccine or Negative COVID Test for Outdoor Events
King County, Washington officials have announced that proof of full vaccination or a negative COVID-19 test will soon be required to take part in a wide range of activities including attending large outdoor events.
The county, which is home to Seattle, the state's largest city, said Thursday that the requirements would take effect on October 25. The order will apply to outdoor events including 500 or more people, indoor recreational and entertainment activities of any size and indoor dining at restaurants or in bars. Exceptions include outdoor dining, restaurant take-out and shopping at grocery stores. Small restaurants and bars with seating for 12 or fewer do not have to implement the new restrictions until December 6.
The mandate is expected to be temporary and is currently set to last six months, although it could be extended or end early. Proof of vaccination can be shown with a Centers for Disease Control and Prevention COVID-19 vaccination card or other official immunization records. Alternatively, the unvaccinated and those who lack proof of vaccination can provide the results of a negative PCR test within 72 hours of the test, or the results of an approved rapid test immediately before entering a site or venue where available.
Washington already has a statewide requirement for masks in most indoor spaces and at large outdoor events regardless of vaccination status, with few exceptions. King County said that the new vaccine or testing requirements are needed to help mitigate strain on the area's health care system caused by a Delta variant-fueled surge of infections, noting that "COVID-19 is more likely to spread in crowded outdoor spaces and indoor settings where people are unmasked or participating in high-risk activities like yelling, singing, or aerobic activity."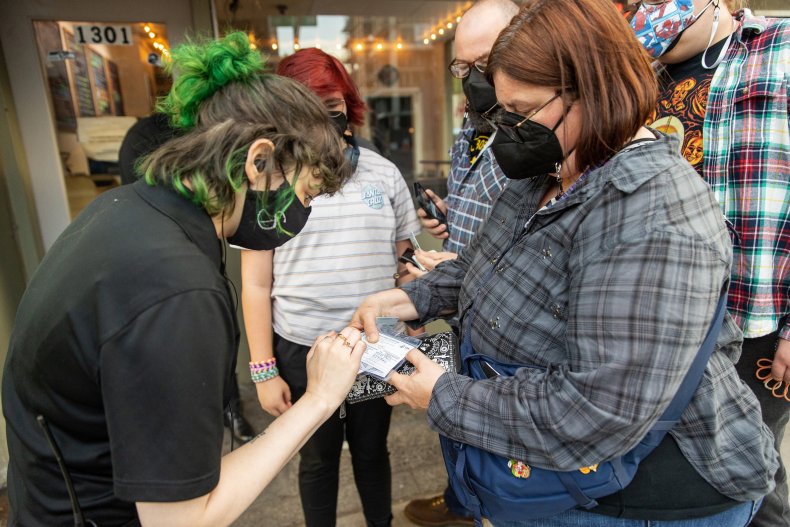 "Our COVID-19 response must continue to adapt to the difficult, changing reality of this pandemic," Dr. Jeff Duchin, Health Officer for Public Health – Seattle & King County, said in a statement obtained by Newsweek. "The Delta virus is much more contagious, airborne, causes severe illness, and is seriously stressing our hospitals and healthcare providers. King County's vaccine verification program will prevent infections, hospitalizations and deaths, safeguard our healthcare system, and provide safer spaces for the public and for workers."
Children under the age of 12, who are not yet eligible for any COVID-19 vaccine in the U.S., will not subject to the new mandate and will not need to be tested for the virus before entering a site or venue. Faith-based settings and private parties will also be exempted from the new requirements.
Where the requirements are in effect, the county said that there will be no requirement for identification alongside proof of vaccination, citing community stakeholder feedback that argued "ID checks are associated with trauma stemming from racist and discriminatory practices, plus can lead to distrust for many communities."