Seattle Mayor Asks Court to Stop Recall Effort After Top Cop Resigns
Seattle, Washington Mayor Jenny Durkan filed an appeal with the state's Supreme Court Wednesday to prevent a petition calling for Durkan's removal from office from moving forward.
Durkan became the epicenter of controversy during Seattle protests over the death of George Floyd. Members of the Seattle Police Department used tear gas against demonstrators, prompting many to claim using chemical irritants was an unnecessary option. After a ban on tear gas was announced by Seattle Police Chief Carmen Best, police still used the substance as a crowd dispersal tool. While she received criticism for the police department's actions, Durkan contended that she is not responsible for the actions of Seattle police officers. Best announced her September retirement on Tuesday.
King County Superior Court Judge Mary Roberts allowed the recall petition to move forward through the system, denying Durkan's July request to reconsider her decision. In the ruling, Judge Roberts narrowed the scope of the allegation against Durkan, writing that the mayor "endangered the peace and safety of the community and violated her duties" after failing to institute new police policies "after learning of the use of chemical agents on peaceful protests as a means of crowd control during a public health emergency."
Wednesday's filing on Durkan's behalf asked the Washington Supreme Court to review Judge Roberts' decision.
Newsweek reached out to Mayor Durkan's office for comment.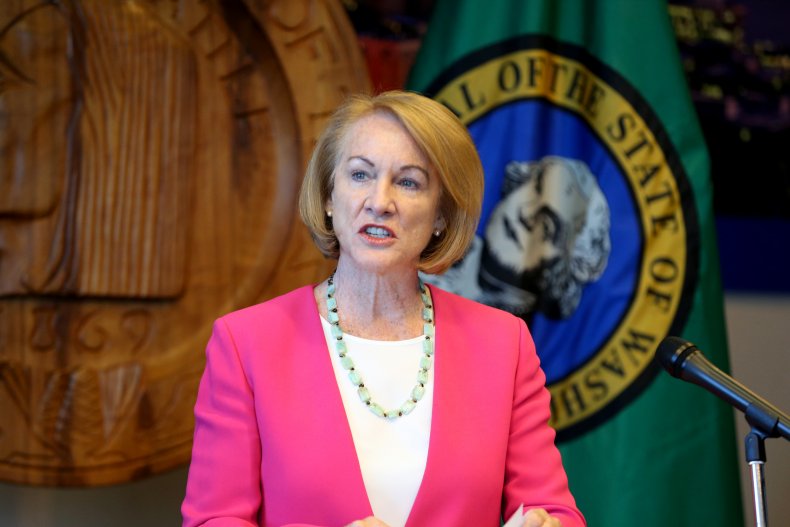 Durkan and Best announced a 30-day ban on the use of tear gas against protesters in June after members of the community complained about the police department's response to the protests. Three days after the ban was announced, the Seattle Police Department authorized the use of tear gas to break up a violent demonstration.
Although Durkan and Best both said that new crowd control policies were being investigated, local leaders called for Durkan's resignation. In July, members of the 35th District Democrats signed a resolution claiming that Durkan "has shown no ability or desire to rein in the [Seattle Police Department] or protect peaceful protesters." The resolution also proclaimed that if Durkan did not resign, the City Council should move to impeach her.
Best's retirement came after the Seattle City Council voted to cut the police department's budget for the rest of the year by 14 percent. In a statement, city council members said the decision represented to "initial steps towards establishing a long-term budget planning process in response to calls for transforming our public safety model." While Best's salary saw little reduction, members of Best's command staff saw their pay cut to the lowest possible level. In a Wednesday press conference, Best referred to the pay cuts as "absolutely shocking."
"I think it's punitive and not well thought out," Best added.
Black Lives Matter Seattle-King County decried Best's retirement as "a loss" in a Tuesday statement.
"It does nothing to further our fight for authentic police accountability and the safety of Black lives, that the first Black woman to hold the position of Chief of Police of the Seattle Police Department as been forced out of her job by the Seattle City Council," the statement read. "Racism is racism."
Best's retirement becomes effective in September allowing Deputy Chief Adrian Diaz to transition into his new position as interim chief of police.