Seattle Mayor Compares Autonomous Zone to Block Parties, Pride Parade, Says No Set Date for Officers to Return
Seattle Mayor Jenny Durkan shrugged off President Donald Trump's concerns about the Capitol Hill Autonomous Zone and related the blocks-long barricaded area to shutdowns for block parties or the annual Pride parade.
Trump characterized those in the Capitol Hill Autonomous Zone, also known by the acronym CHAZ, as "ugly anarchists" and "domestic terrorists" and pressured state and local officials to regain control of the area. Durkan painted a vastly different picture, characterizing the protesters exercising their free speech rights as "patriotism," and denied that the current movement was dissimilar from what the city's seen in prior years.
"We've had blocks of Seattle in Capitol Hill shut down every summer for everything from block parties to Pride," Durkan said during a Thursday press briefing. "This is really not that much of an operational challenge, but we want to make sure the businesses and residents feel safe."
On Monday, the Seattle Police Department gathered important files, weapons, ammunition and equipment and moved them out of the East Precinct over fears it was an arson target. Four days later, officers have yet to resume operations in the boarded-up building, and there is no "specific date" for their return, according to Durkan.
Seattle Police Chief Carmen Best ventured into the precinct on Thursday to evaluate damages and make an assessment of the situation. Durkan said Assessments will continue to determine when it is safe and appropriate for officers to resume in-office operations.
"We're trying to do things in a way that's responsible and addresses the real-life situation on the ground," Durkan said. "We want to make sure we are not creating the same situation we had four days ago."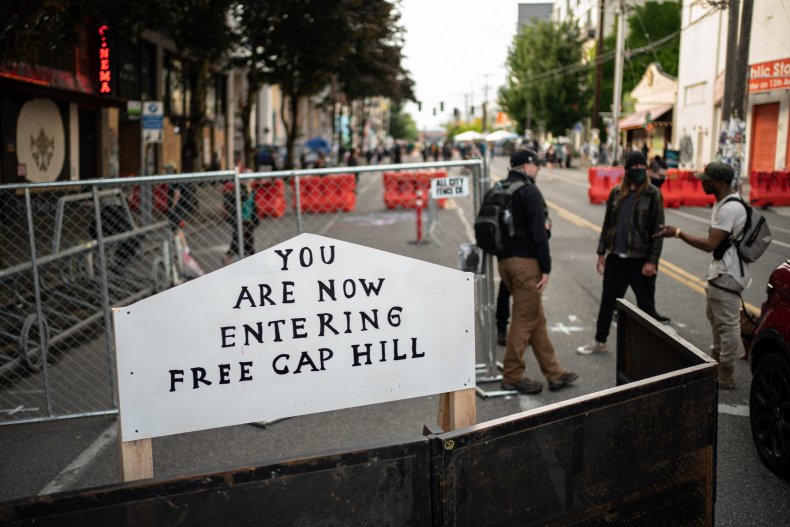 In a message to Seattle police officers, Best said the decision to vacate the East Precinct wasn't one she made but was the city relenting to "public pressure." After asking officers to fight to protect the precinct, be pelted with projectiles, screamed at, threatened and even hurt, Best said she was angry about what transpired. "It seems like an insult to you and our community," the chief added.
Best said during Thursday's briefing that the department was asked to make an operational plan in case they had to leave, however, an evaluation is still being done to identify the pinpoint of why officers didn't return. It's unclear who made the final call, but Durkan said the decision was made "in concert with command staff and others on the ground."
Durkan denied moving people and property outside the building was the "equivalent of abandoning the station," since the police chief entered Thursday morning.
Jim Fuda, director of law enforcement services for Crime Stoppers, told KOMO the Seattle Police Department needs to take the precinct back sooner rather than later. He applauded Best for trying de-escalation, but he said protesters are "going to have to be dealt with" and "action is going to have to be taken."
Michael Solan, president of the Seattle Police Officers Guild, told Fox News' Laura Ingraham on Wednesday that CHAZ is "absolutely unreasonable activism." Having "lost" one precinct, he wondered if officers would lose another and criticized local officials for removing their ability to defend other precincts.
Police heard anecdotal stories of people being asked to show identification to enter CHAZ and that businesses were being asked to pay for protection, which, the police say, could amount to extortion. No formal reports of those crimes were made as of Thursday's briefing, according to Best, and Durkan described the scene as being filled with food trucks, spaghetti pot lucks, teach-ins, movies and free granola bars.
It's not a "no-go zone" or an "armed Antifa militia," Durkan said, and criticized Trump for using the set-up as a way to tell a story about domestic terrorists that fits his law and order initiative. Later Thursday evening, Durkan told CNN's Chris Cuomo that she was unsure how long Seattle and CHAZ would look as it does now and that they "could have the summer of love."
Trump responded to the mayor's comments in a Friday tweet, saying, "these liberal dems don't have a clue." He added that they think it's "just wonderful" that "terrorists burn and pillage our cities" and called for an immediate end to the Seattle takeover.
Newsweek reached out to the White House for comment but did not receive a response in time for publication.