Seattle Mayor Doesn't Know How Many Federal Agents Are Coming
Seattle Mayor Jenny Durkan said Friday that federal law enforcement agents are prepared to enter the city to protect federal buildings during expected weekend protests, but did not have an exact number of how many agents were in the area.
Federal agents have been deployed to several U.S. cities to assist local law enforcement with policing demonstrations if they become violent. Known as Operation Legend, the initiative to send agents into protest areas has drawn criticism from lawmakers on federal and local levels. Agents in Portland, Oregon have allegedly taken protesters off the street and placed them in unmarked vehicles.
Durkan tweeted about the presence of the agents in Seattle on Thursday. "DHS [Department of Homeland Security] now says they have a limited number of agents in the area on standby to protect federal buildings," Durkan tweeted.
Mayor Durkan was allegedly told by DHS Acting Secretary Chad Wolf early Thursday that there were no plans to send agents to Seattle. "I don't want to say I was lied to," Durkan said during a Friday press conference, "but I think there was maybe semantics that weren't forthcoming."
While no specific number of agents sent to Seattle has been released, a statement from the DHS on Thursday indicated that there was "no large-scale of personnel to Seattle at this time."
Newsweek reached out to the DHS for further comment.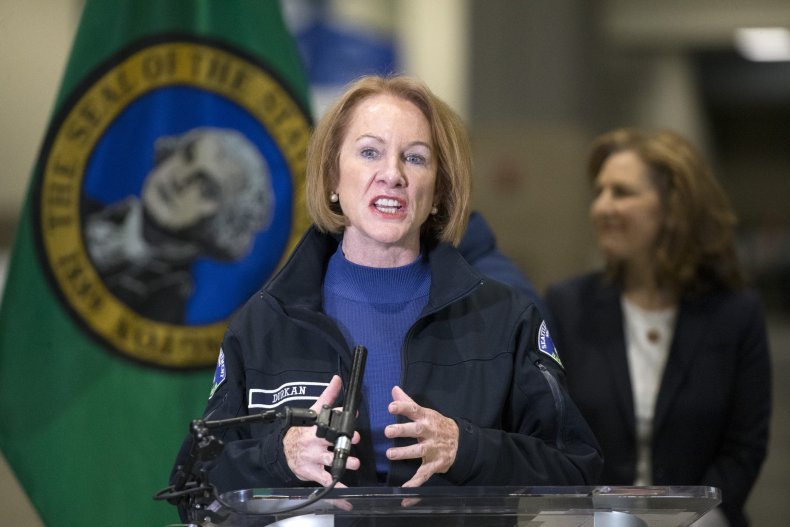 Durkan told reporters Friday that the use of federal agents by the U.S. government was "frightening."
"At this point," Durkan said, "I have to presume that what is happening in Portland could happen here."
Washington Governor Jay Inslee expressed a worry that, if pressed into action, the federal agents would not take the requests of local government into consideration. "It is critical that the administration only provide what is needed by state and local officials," Inslee tweeted Friday, "and do not engage unless asked."
President Trump criticized Mayor Durkan after protestors created an encampment on a six-block section near the Capitol Hill area of Seattle. Known as the Capitol Hill Organized Protest (CHOP), Durkan allowed the area to exist for nearly a month. Durkan ordered CHOP to be cleared in July after a series of shootings.
President Trump said Thursday that had planned to send federal agents to Seattle before the CHOP was dismantled. "They knew that were coming in," Trump told Fox News host Sean Hannity. "And they went in just before we got there."
Multiple protests are expected to occur in the Seattle area including an anti-Trump rally hosted by political organization Refuse Fascism. "This is a dry run for the Trump/Pence regime to consolidate a fascist America," read the description of the event of Facebook, referring to the actions of federal agents in Portland. "This cannot be allowed."