Seattle Mayor Rebukes Trump for Unleashing Militarized Feds on Dem Cities to Get Reelected: 'Dry Run for Martial Law'
Seattle Mayor Jenny Durkan criticized President Donald Trump for his recent deployment of federal officers to cities with Democratic mayors in office, calling it a "dry run for martial law."
"This is a president that is using law enforcement and federal forces for political purposes and that should be chilling to every American," Durkan said in an interview with CNN on Monday.
Officers from the Department of Homeland Security (DHS) landed in Seattle "to protect federal buildings" last week after conflicting messages from acting Secretary Chad Wolf who initially promised federal forces would not be sent to the city.
After a weekend of protests that left nearly 60 police officers injured and resulted in the arrest of 47, the president said federal officers had little to do with the unrest.
"Homeland Security or Federal Forces are little involved in Seattle, other than we have a large standby team in case of emergency," Trump said in a tweet.
On Monday, Durkan told CNN she has requested the DHS remove the standby team "since there was no actions directed against the federal properties here" and because she believes their presence has only escalated the situation in Seattle.
"We don't need the help that the president's offering. In fact, the president's actions have directly escalated and were responsible for what happened this weekend," Durkan said.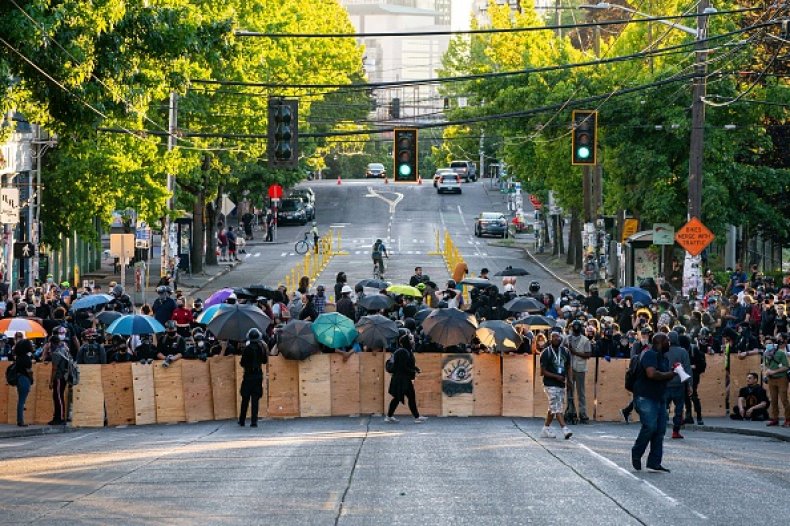 The mayor said Trump's actions have escalated things in a number of cities across the country, including Portland, Oregon, where federal officers have been operating aggressively against protesters for most of July.
Durkan said most protesters took to the streets of Seattle this weekend in direct response to the ongoing situation in Portland.
"He's clearly targeted cities run by Democratic mayors. He said so himself. He's using law enforcement as a political tool," Durkan said.
"What we've seen is [that] every time this president promises to sow division, he's successful at it," she added.
Last week, Trump told reporters at the White House that his administration would send federal agents to New York, Chicago, Philadelphia, Detroit, Baltimore and Oakland, noting the mayors in these cities were "liberal Democrats."
Newsweek reached out to the White House for comment but did not hear back before publication.
Since the death of George Floyd, anti-racism and anti-police brutality protests have erupted across the U.S. nightly for over two months.
In June, a six-block area in Seattle was taken over by protesters after police abandoned their precinct. The autonomous zone known as Capitol Hill Organized Protest (CHOP) was cleared on July 1 after nearly a month of operation.
Durkan said that until justice is served across the societal systems in America, there won't be an end to the civil unrest.
"After the murder of George Floyd, millions of people turned out across this country demanding that we do better. That we dismantle the systems of racial inequality and systemic racism," she said.
She said Seattle is focused on making broader investments in communities of color that would improve policing and provide better and more robust community services.
Newsweek reached out to Durkan for comment but did not hear back before publication.