Seattle Mayor Threatens Legal Action After Federal Officers Arrive Ahead of Weekend Protests
Mayor Jenny Durkan took to Twitter late Thursday night to make clear that the city of Seattle would take legal actions against federal officers if they intervene in this weekend's planned protests.
"Should federal forces intervene like they have in Portland, we are prepared to pursue every legal recourse," Durkan said. "A federal judge in Portland has entered an order limiting the actions of federal forces there. We are prepared to seek the same relief if necessary."
The threat comes as what the Department of Homeland Security (DHS) described as a "limited number" of federal agents have been deployed to the Seattle area "to protect federal buildings."
Washington Governor Jay Inslee confirmed shortly after midnight that the presence of federal agents "after a day of conflicting messages from the federal government," who told Inslee's staff "repeatedly there was no surge of additional personnel to Seattle."
"It appears they are doing just that," Inslee added in his tweet.
The announcement from the DHS contradicted acting Secretary of Homeland Security Chad Wolf's message to Durkan.
When the mayor spoke with Wolf earlier Thursday afternoon, the acting secretary told Durkan "directly that DHS has no plans—and sees no need—to send federal forces to Seattle."
Wolf said to Durkan that he would notify both her and Chief Carmen Best of the Seattle Police Department if that would change.
"I made clear to Acting Secretary Wolf that deployments in Seattle—like we have seen in Portland—would undermine public safety and break community trust," Durkan wrote on Twitter.
Federal agents have been operating in Portland with aggressive tactics for much of July, sparking outrage and criticism from city officials and civil rights advocates. Agents have been filmed repeatedly using tear gas and rubber bullets on demonstrators and leading them into unmarked vans.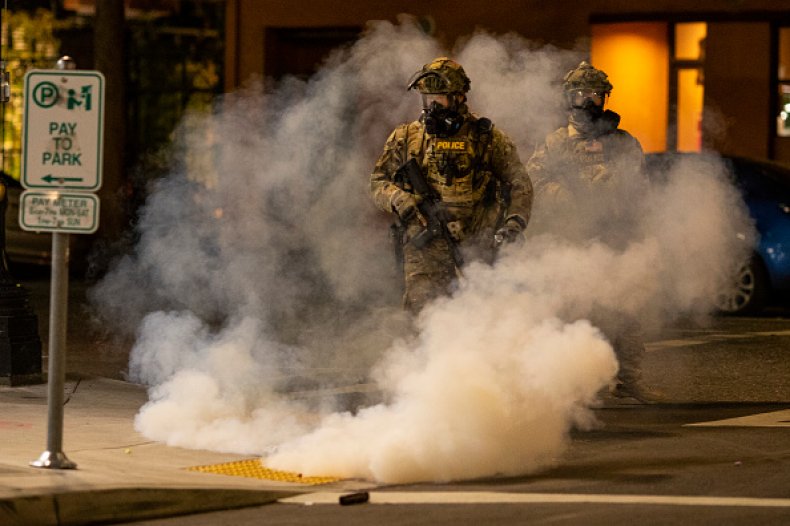 On Thursday evening, federal Judge Michael Simon issued a temporary restraining order against the DHS barring federal law enforcement officers from arresting or using physical force against journalists and legal observers. The order will remain in effect for 14 days.
On Monday, Durkan sent a letter to the Justice Department and Wolf "asking them to immediately halt their unacceptable practice of sending federal forces into major cities." She was joined by Atlanta Mayor Keisha Lance Bottoms, Chicago Mayor Lori Lightfoot, D.C. Mayor Muriel Bowser, Kansas City (Missouri) Mayor Quinton Lucas and Portland (Oregon) Mayor Ted Wheeler.
"It is unacceptable and chilling that this administration has formed and deployed the U.S. Department of Homeland Security Rapid Deployment Unit and is sending federal authorities to conduct crowd control on city streets and detain individuals," Durkan wrote on Twitter Monday.
The death of George Floyd on May 25 in Minneapolis has ignited nightly mass anti-racism protests across the nation for nearly two months.
Newsweek reached out to Durkan for comment but did not hear back in time for publication.