A viral video shows a Seattle police officer telling someone thought to be a Black Lives Matter protester that he's resigning, adding: "You guys won."
The clip starts as an unidentified officer stops his patrol car and rolls down his passenger-side window.
"You having a good day today?" the officer says to the protester filming the video.
"Not really, you're around," the man replies.
The officer then says: "Well, I'm sorry for that. But don't worry man, cause guess what? I'm leaving. You guys won." He adds: "F**king two months baby, I'm out."
"You're about to resign?" the protester asks.
"I'm f**king gone, bro," the officer confirms.
"How you feeling about that?" the protester then asks.
"I'm feeling great," the officer says. "I am leaving this department. You guys won."
But the friendly nature of the clip takes a quick turn after the officer declines an interview and the protester quickly realizes he isn't resigning in solidarity with Black Lives Matter protesters.
"So, what you're just tired of police brutality or are you tired of what's going on right now?" The protester asks, to which the officer indicates that he is actually quitting because he's tired of dealing with the protests.
"Oh, us... why?" The protester asks the officer, but the dialogue is momentarily interrupted as the officer briefly gets out of his car apparently to deal with an issue in the street.
Apparently shouting at other demonstrators, the protester behind the camera is heard yelling: "Hey, this guy says that he's resigning.
"Hey, he said he's tired of us. He's gonna resign because of Black Lives Matter, not because he's tired of the police."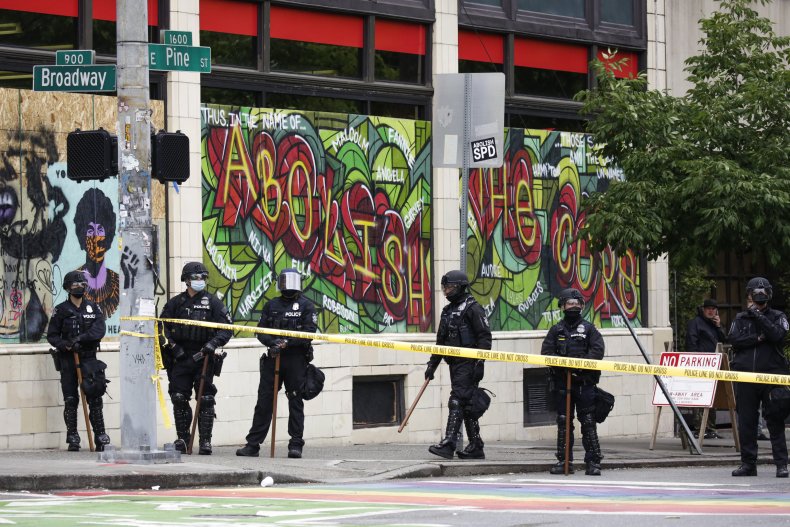 As the police officer returns to his vehicle, the protester starts taunting.
"Hey, you triggered boy? You triggered? Oink, oink, oink, oink. F**k you and your blue life, boy," he is heard saying.
The officer then appears to say something about being friends, but the protester insists that it isn't going to happen even when he is no longer working for the police department.
"Nah, we ain't never gonna be friends. We'll never see eye to eye," he says. "I don't give a f**k if you take that badge off, you'll never be my people. You'll never be my friend."
It isn't clear exactly when or where the video was filmed, but its release comes a week after Seattle Police Chief Carmen Best announced her resignation following the City Council's decision to cut funds from the police department.
Best, as well as Seattle Mayor Jenny Durkan, have faced criticism for the department's heavy-handed response to protests against police brutality in the city. The protests were sparked by the killing of George Floyd in Minneapolis custody in May.