Seattle Police, Protesters Brace for Violence as Mayor Orders CHOP Cleared
Some Seattle police officers are concerned that disbanding the autonomous zone being occupied by protesters could turn violent. Since officers can't use pepper spray or tear gas to force people to disperse, some officers say their only course of action could be batons and firearms.
Two weeks after protesters cordoned off and occupied parts of Capitol Hill, now named the Capitol Hill Occupied Protest (CHOP), Seattle Mayor Jenny Durkan announced on Monday it would be disbanded. Officials didn't share a specific timeline for clearing the area and Durkan said the goal is to have people leave voluntarily.
But a Seattle police officer who spoke to Newsweek on the condition of anonymity, said protesters don't have to listen to law enforcement. The officer expected protesters won't be keen on vacating the area, potentially leaving officers with one option: to use force.
"We're no longer allowed to use things like tear gas and pepper spray. The only thing that we can use is our sidearms or our batons," the officer said. "...And we lose if we use force, it's gonna look ugly."
Following criticism of officers' use of tear gas and pepper spray during recent protests against police brutality, a federal judge issued a 14-day order banning the tactics. Days later, the Seattle City Council unanimously voted to ban the use of tear gas and pepper spray, as well.
Seattle Police Chief Carmen Best asked the City Council to reconsider the legislation and allow officers to use the "appropriate tools" available to them when responding to incidents.
"No one, especially the officers, wants to be in a situation where the only options left to us ends up being our batons or our guns," Best said during Monday's briefing. "Neither of which is the appropriate response to the situation we're seeing on the Hill."
Had the "hasty legislation" not been in place, Best said a "life might have been saved," in reference to the recent shootings in the occupied area. Over the weekend, officers and first responders were unable to reach shooting victims because they were blocked by demonstrators. Lorenzo Anderson, 19, was killed and an unidentified 33-year-old man remains in critical condition.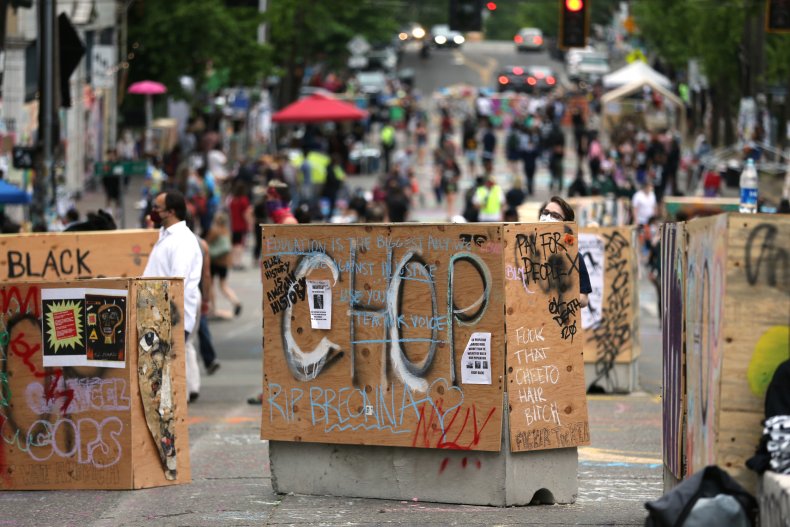 Best said it was time for officers to return to the abandoned East Precinct in the CHOP, but Durkan said it wouldn't be effective for law enforcement authorities to clear out the area. Instead, officials are working with Black-led organizations and"partners in de-escalation" to get people to leave.
"It's time for people to go home, it is time for us to restore Cal Anderson and Capitol Hill so it can be a vibrant part of the community," Durkan said during a briefing. "The impacts on the businesses and residents and the community are now too much."
The "ultimate goal," a spokesperson for the mayor told Newsweek, is to create a space for people to demonstrate on a daily basis while keeping local residents and small businesses safe. City departments are facilitating the "next steps" and the spokesperson said "we believe there can be a peaceful resolution."
While the weekend violence prompted some people to pack up and go home, others may be in it for the long haul. Protester Steve Hickey told Newsweek many people don't plan on leaving peacefully. People are carrying gas masks and protestors are building additional barricades.
"Those expecting to fight feel they didn't go this far to just walk away," Hickey said. "They are willing to fight and show how much this movement matters to them."
The movement inside the area formerly known as CHAZ, for Capitol Hill Autonomous Zone, has no singular leader, although several prominent voices emerged. Among those voices are Omari Salisbury, a local independent journalist who has been live streaming from the Seattle protests since May 29. He told Newsweek without seeing a detailed plan with metrics and benchmark for how the mayor intends to invest in "the cause of social justice and equality," there was no guarantee "they won't be here again."
Although the movement continues to evolve and the central message isn't always clear, Hickey said people seem unwilling to agree to a plan that doesn't involve immediate implementation. Having been there since May 29, he said "I don't see a peaceful end to this standoff."
Dozens of people were arrested during the protests but they might not face criminal charges, according to city attorney Pete Holmes. On Wednesday, he said he won't prosecute peaceful protesters for certain misdemeanors and certain people between 18 and 24 who are accused of reckless endangerment and some lower-level assaults will have the option to participate in a diversion program to avoid a criminal charge.
Holmes referred "more serious felony-level incidents" to the King County Prosecutor's Office and if disbanding the CHOP turns violent, protesters could face federal charges.
Former federal and state prosecutor Elie Honig told Newsweek a Supreme Court ruling confirmed the Department of Justice and state governments can charge a person for the same conduct. Two women–one in Seattle and one in Philadelphia–were charged federally for setting police cars on fire.
"I expect the same could happen here," the Seattle police officer told Newsweek referencing the disbandment of CHOP.