Seattle Police Response Time to Residents, Including Marginalized Community Members, Triples After Autonomous Zone Creation
Seattle police officers abandoned the East Precinct, located in the Capitol Hill Autonomous Zone, in an effort to protect life and property, but the decision has caused response times to crimes to triple.
Following days of protests, demonstrators cordoned off about six blocks in Seattle, designating it the Capitol Hill Autonomous Zone, or CHAZ for short. Amid chants of "burn it down" and reports that the East Precinct was an arson target, officers moved important documents, weapons and equipment out, boarded up the building and have been operating off-site since Monday.
An unintended consequence of the move was increased wait times for people seeking out the police department for help. The average police response time for crimes in progress was over 15 minutes, Seattle Police Chief Carmen Best said during a press conference on Thursday. That's about three times longer than the average time it takes for officers to respond to a call.
"The difference in that amount of time could prevent someone's life [being lost] and prevent a violent attack," Best said.
The police chief noted that many residents who are having to wait an "extra long time" for help are members of Seattle's "most marginalized communities." She encouraged people to think about their mothers, cousins, sisters and neighbors being raped, robbed and assaulted and consider if they'd want them having to wait three times longer for services.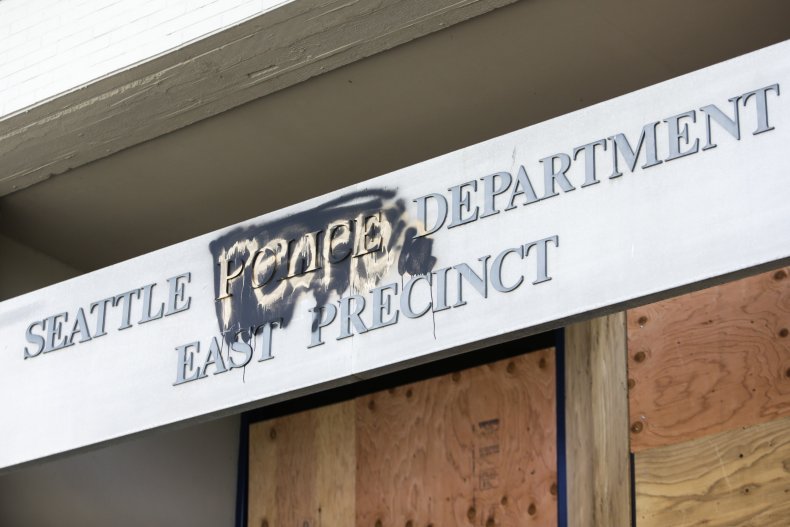 As the Seattle Police Department has a responsibility to residents, Best said, "the actions of a small group cannot and should not deprive an entire segment of our city from public services."
Newsweek reached out to the Seattle Police Department but did not receive a response in time for publication.
Protests began as a response to the death of George Floyd, a man who was killed after a Minneapolis police officer knelt on his neck. Demonstrations in Seattle have since come to include larger calls for reforms to the city, as well as an overhaul of the criminal justice department that would end prisons and the police department.
Best acknowledged that historically when minority groups "cried out for justice," the police department and officers were on the "wrong side of good and often perpetuating the status quo." It's vital that acknowledgment is made and change is necessary, according to Best, whose family participated in the protests and demonstrations.
The police chief also highlighted the importance of officers being on board with changes and willing to create a better department. However, Best added, that doesn't mean law enforcement isn't an important part of the fabric of society and she rejected that the department should be disbanded.