Seattle Police Say Most Non-White Officers Will be Fired if City Cuts Budget
The Seattle Police Department (SPD) announced that many of their newly hired, non-white officers would be the first let go should the city continue with drastic, politically motivated talks of budget cuts.
Seattle Police told residents Friday that current City Council discussions about cutting the department's budget by 50 percent would be "catastrophic for public safety." Seattle Chief of Police Carmen Best warned activist groups and council members alike that the department's "newest, most broadly diverse officers on patrol" would be the first employees they are "forced to terminate" under the proposed budget cuts. Best wrote a letter to Mayor Jenny Durkan Friday cautioning that at least 50 percent of BIPOC officers would be the first people fired.
Critics noted the department's in-house statistics show that 70 percent of its 775 sworn members are white, prompting questions about why more than half of those fired would need to be BIPOC—an umbrella acronym which refers to Black, Indigenous, People of Color.
"The Department has made a conscious effort to hire employees, both sworn and civilian, who represent the diversity and values within our community. Cuts this deep mean we would lose more than 50% of our (BIPOC) officers. These officers' life experiences make us a better department and community," the official Seattle Police Department Twitter account noted Friday, showing a graph of the potential "loss of officer diversity."
"It also is important to remember that through labor rules, our newest, most broadly diverse officers are in patrol, and they will be the first we are forced to terminate," Best said, referencing police labor union agreements which often use length of service as a determining factor in who stays and who goes. State legislation would be required to override such restrictions.
The Seattle Police Department produced a graph Friday which showed a 90 percent reduction in mixed race officers, a 65 percent reduction in Hispanic/Latino officers and a 53 percent reduction in white officers. Black officers would be reduced by 43 percent, the same reduction level as Native Hawaiian/Pacific Islander SPD members.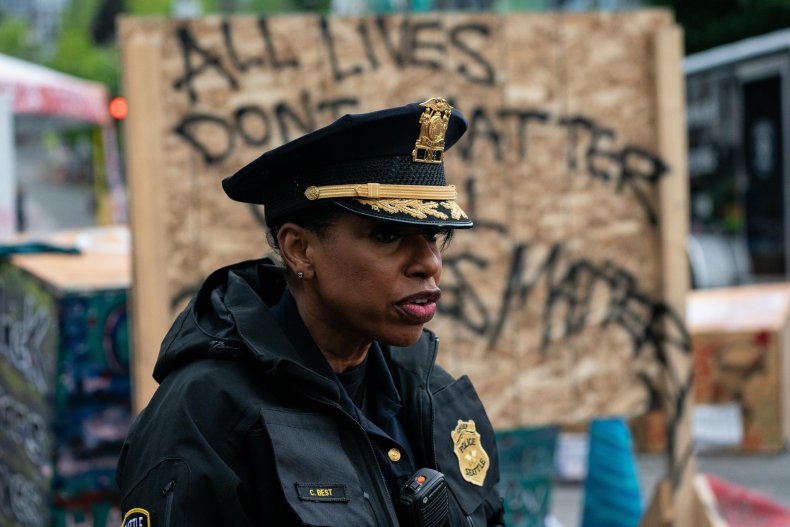 Last week, several activist groups including Decriminalize Seattle and King County Equity Now proposed a four-point plan for "defunding" the city's police. The coalition announced Thursday they have a super-majority of Seattle City Council members in support of cutting SPD's budget by 50 percent.
"While no decisions have been made yet, we wanted the community to be aware of the situation. Laying off 50% of the department would be catastrophic for public safety in the city of Seattle," SPD's official Twitter account responded Friday.
Seattle Police Chief Best, who is Black, issued a statement to city residents Friday night: "The murders of George Floyd and Breonna Taylor and other tragedies have given a new energy to ongoing conversations about public safety and demands for change. I will fiercely advocate that we focus on realistic, rational and responsible solutions—not political gestures or pandering or political posturing."
From June 8 until July 1, a coalition of groups commandeered a precinct in downtown Seattle and formed a no-police zone dubbed the "CHAZ" or "CHOP." Best called the movement "completely reckless" and added, "I do not believe we should ask the people of Seattle to test out a theory that crime goes away if police go away."
"Drastically cutting funding to the police department ... to be honest with you, no matter which way it goes, there will be further cuts—not just to SPD—but citywide," she concluded.
Newsweek reached out to both SPD and the City of Seattle for additional remarks Saturday afternoon.