Following bodycam footage released this week that captures Seattle police officer Daniel Auderer saying the life of a woman who was killed by another officer "had limited value," the Seattle Police Officers Guild (SPOG) said Friday that there is "much more detail and nuance" to the footage while understanding the "audio is horrifying."
In a statement posted to social media platform, X, formerly Twitter, the SPOG, the largest police labor union in the Northwest, wrote it understands the outrage surrounding the viral video that captured the highly insensitive comments made by Auderer regarding the death of Jaahnavi Kandula.
In the bodycam footage released Monday by the Seattle Police Department, Auderer, who is the vice president of SPOG, is shown laughing after a marked patrol vehicle driven by Officer Kevin Dave struck and killed Kandula in a crosswalk on January 23. According to a police investigation report, Dave was driving 74 miles per hour on the way to a "priority one call" when he hit Kandula, 23. Auderer was assigned to evaluate whether Dave was impaired.
Auderer's comments about Kandula have since drawn outrage where some Seattle residents protested on Thursday night at the intersection where the deadly crash occurred to demand justice for Kandula. The King County Prosecuting Attorney's Office is conducting a criminal review of the crash, the Associated Press reported.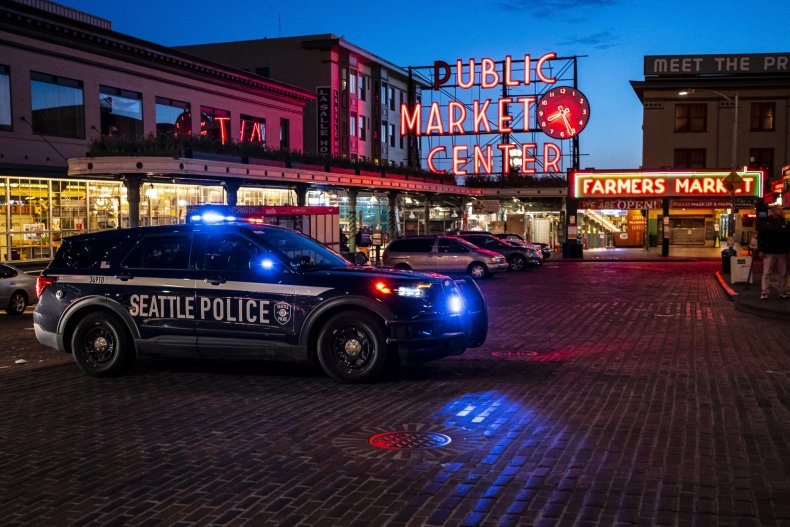 The Consulate General of India in San Francisco (CGISF) is one of many who have taken to social media to express its horror surrounding Kandula's death.
"Recent reports including in media of the handling of Ms Jaahnavi Kandula's death in a road accident in Seattle in January are deeply troubling. We have taken up the matter strongly with local authorities in Seattle & Washington State as well as senior officials in Washington DC for a thorough investigation & action against those involved in this tragic case. The Consulate & Embassy will continue to closely follow up on this matter with all concerned authorities," the CGISF wrote on X on Wednesday.
In its Friday statement, the SPOG apologized to Kandula's family and said it maintains confidence that the civilian-led police accountability system known as the Office of Police Accountability (OPA) will conduct a thorough and fair investigation.
"Without context, this audio is horrifying and has no place in a civil society. It sullens the profession of law enforcement, the reputation of all Seattle Police officers and paints Seattle in a terrible light. We feel deep sorrow and grief for the family of Jaahnavi Kandula as this video has revictimized them in an already tragic situation as they continue to mourn her death. We are truly sorry," the SPOG's statement said.
However, the SPOG also noted that the bodycam footage captures only Auderer's side of the conversation stating, "Some viral videos of police actions shared by media, fail to explain the full story/context. This Seattle Police video is an example of that reality. There is much more detail and nuance that has not been made public yet."
The SPOG also released a statement that it says Auderer wrote to OPA director Gino Betts in August after being told of the video's existence. SPOG said the officer wrote the statement "directly from memory and without the ability to watch the video."
In his statement, Auderer said he understands that without context the comment could be interpreted as horrifying and crude, but he intended the comment to be "sarcastic."
"I responded with something like: 'She's 26 years old, what value is there, who cares.' I intended the comment as a mockery of lawyers — I was imitating what a lawyer tasked with negotiating the case would be saying and being sarcastic to express that they shouldn't be coming up with crazy arguments to minimize the payment," he wrote.
Newsweek has reached out to the Seattle Police Officers Guild for additional comment via email.
Despite SPOG's statement, backlash against Auderer and the Seattle Police Department continue as many believe the context in which the comments were made do not excuse Auderer's comments or to make light of someone's death.
"There is no context in which that video is not horrifying. There is no excuse for any of it," one X user wrote in a post replying to the SPOG's statement.
For Kandula's family, they previously told NBC News that they "firmly believe that every human life is invaluable and not be belittled, especially during a tragic loss."
Update 9/16/23, 3:02 p.m. ET: This article has been updated with additional information.