Seattle Protester Whacks Police Officer With Metal Baseball Bat in Viral Video
Video of a police officer being forcefully struck on the back of the head with a baseball bat has attracted national attention after protests swept across the U.S. in the wake of the verdict in the Breonna Taylor case.
The clip showed an officer with the Seattle Police Department having fallen to the ground from his bicycle. A protester is then seen throwing a cone at him before the officer reached for and fired pepper spray into the crowd.
Another demonstrator then approached from behind and struck the officer on the back of the head with what police described as a "metal baseball bat," hitting his helmet.
The officer continued to aim pepper spray at the crowd as he dragged his bicycle towards the line of police.
Police said the officer's helmet was cracked during the incident in the Pike/Pine area of the city.
Sgt. Randy Huserik told The Seattle Times the officer suffered minor injuries to his head and neck and was checked at the scene by the Seattle Fire Department.
The incident came on a night of protests in Seattle which resulted in 13 arrests after a grand jury in Kentucky decided to indict only one of three officers in the case of Taylor, a 26-year-old emergency medical technician, who was fatally shot by police inside her apartment during a no-knock drugs raid in Kentucky on March 13.
In a statement released Thursday after the night of protests in Seattle, police said: "During the course of the demonstrations, which escalated from property damage to assaulting officers, SPD officers made more than a dozen arrests.
"Individuals were responsible for attacking a business in the area, launching an incendiary device into the East Precinct nearly hitting officers, throwing rocks and bottles at officers, setting multiple fires, and violently striking an SPD officer in the head with a metal baseball bat."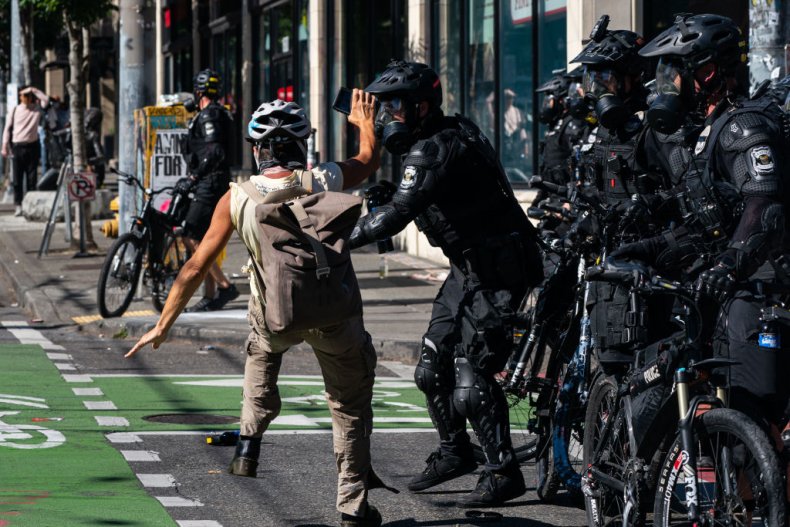 A second video from Wednesday night showed a Seattle police officer rolling his bicycle over a protesters head.
The King County Sheriff's Office said it would investigate the incident at 2.40am on Thursday in which the officer was seen rolling over the person–who appeared to be wearing a construction-type hard hat–lying in the street.
Demonstrations have been held in Seattle for more than 100 days–triggered by the death of George Floyd–with protesters demanding funding for police be cut.
Seattle police have faced criticism for their handling of the protests, including an incident earlier in the summer in which pepper spray was used on a child.
Newsweek has contacted the Seattle Police Department for comment.