Seattle to Slash Police Budget by Around 20 Percent—Far Less Than What Officials Promised
Seattle's 2021 budget will cut the city police department's funding by almost 20 percent—far less than what officials had promised during protests over the summer.
Most members of the Seattle City Council had pledged to reduce the Seattle Police Department's (SPD) funding by 50 percent after protests called for police departments to be "defunded" following a nationwide reckoning sparked by the police killing of George Floyd in Minneapolis.
But after a vote on Monday, the city council approved a budget that cut the police budget by around 18 percent, with millions redirected to community programs, according to KING-TV.
In a statement on Monday, Seattle Mayor Jenny Durkan said she would sign the legislation and applauded the council for "taking a more deliberate and measured approach" to the police department's budget.
"I believe we are laying the groundwork to make systemic and lasting changes to policing," Durkan said.
"We have rightly put forward a plan that seeks to ensure SPD has enough officers to meet 911 response and investigative needs throughout the city, while acknowledging and addressing the disproportionate impacts policing has had on communities of color, particularly Black communities."
But Kshama Sawant, who cast the sole vote against the budget, said it "deeply fails working people and marginalized communities."
She had pushed for a proposal that intended to stop the SPD from hiring more than 100 new officers in 2021. That measure, promoted by a coalition of organizations including the King County Equity Now group that emerged as a leader during the summer's protests, was rejected last week, The Seattle Times reported.
A $4.5 million cut aimed at hiring was also rejected, as well as $151 million cut that Sawant said would meet the 50 percent defunding demand.
"After months of declaring that Black Lives Matter, every single Democratic City Councilmember voted against the Peoples Budget & my office's proposal to develop legislation to establish an elected community oversight board with full powers over police, including hiring & firing," Sawant tweeted afterwards.
But Debra Juarez, who was one of two council members who did not make the 50 percent defunding pledge, tweeted that the budget will "make substantial cuts to the Seattle Police Department and redirect funding towards communities of color."
She added that "this budget would not have happened a year ago."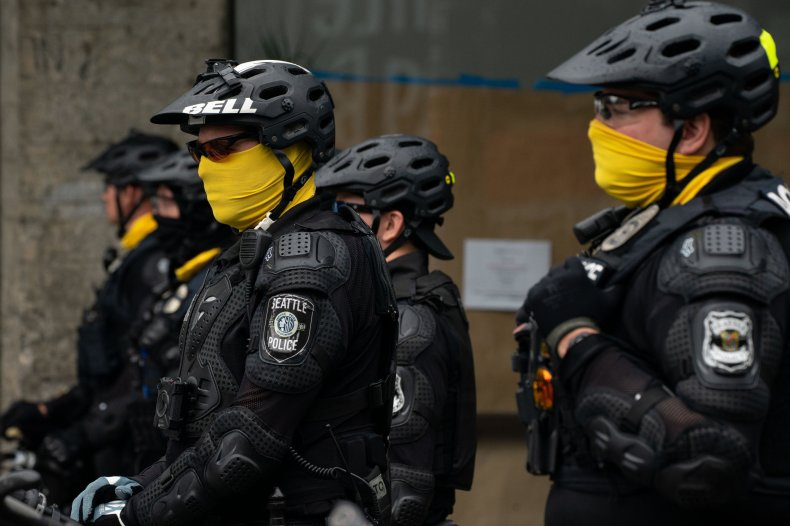 Activists and community organizers who had called for the SPD's budget to be slashed by half also consider the cuts to the police budget a win.
Nikkita Oliver, a community organizer with King County Equity Now and Decriminalize Seattle, told the Times that the cuts were thanks to a "major concerted effort" by advocates.
But the Seattle Police Officers Guild (SPOG) called the city council "naive" and said crime would rise as a result. "You're going to see crime rise, we're already seeing increased homicide rates that we haven't seen in decades," Mike Solan, SPOG president, told KING-TV.
The Downtown Seattle Association, meanwhile, also said the reduced funding for the police department will make neighborhoods less safe, the Times reported.
Seattle has seen a total of 34,912 violent and property crimes so far this year, according to the city's crime dashboard.
The number of reported offenses have topped 40,000 every year since 2013, but this year looks set to end with the lowest crime rates in several years.
However, homicides in Seattle are up from previous years—41 have been reported so far in 2020, up from 28 last year and 32 in 2018.