Seattle 'Snowmageddon': City Light Power Outages Map, Traffic Wrecks Across Washington
Snow blanketed the streets of Seattle Monday morning, and it was causing all sorts of problems for people across the state, especially those who were trying to complete their morning commute.
Traffic was one of the things the snow had affected most. Roads were covered, and the state was urging people to stay home if they could to avoid traveling in the hazardous conditions.
Despite there being roughly 100 plows and trucks on the roads working to clear and melt the snow, the driving conditions were still hazardous because of the intensity of the snow. The Department of Transportation shared a video of one person who spun out in the snow and then was driving the wrong way on the freeway.
There was a winter weather advisory in effect for the land areas around Puget Sound, according to the National Weather Service. Other areas across the state were also under advisories, the statement from the NWS listed "far southwest Mason County and the interior lowlands of Grays Harbor County, including Matlock, McCleary, and Montesano and Lowlands of Thurston, western Lewis, and far southeast Mason counties, including Olympia, Centralia, and Toledo and the Admiralty Inlet area. The advisory was in place until 1 p.m. PT in those areas Monday.
There was a winter storm warning in place as well for some areas a bit more east and away from the water. Those areas were Everett and vicinity, including Stanwood, Marysville and Mountlake Terrace, East Puget Sound Lowlands from Snohomish County to Pierce County, including Arlington, Gold Bar, Duvall, Snoqualmie, Buckley, and Eatonville and Bellevue and vicinity, including Mill Creek, Kenmore, Kirkland and Issaquah, according to the NWS.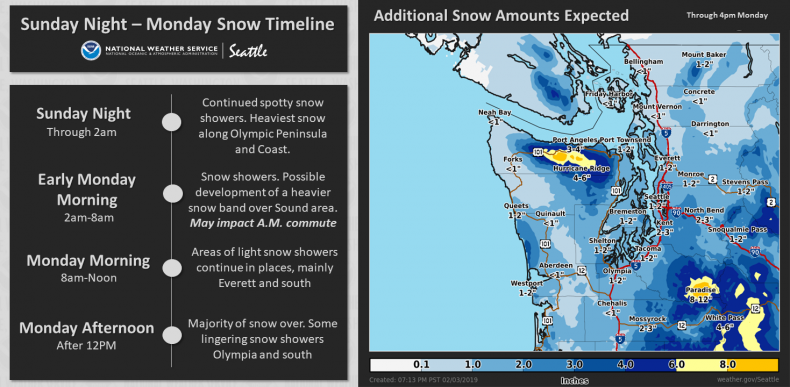 By Monday afternoon, most of the snow was expected to be done falling, with just a few remaining lighter showers. But some of the worst damage was already done Monday morning, and the snow was causing power outages. A map from Seattle City Light showed where the outages were, and the estimated restoration time for most areas. Monday morning, around 9:15 a.m. PT, about 12,000 customers had been affected by the outages.​