Video: Heartwarming Moment 8-year-old Cancer Patient Starts in Goal for Seattle Sounders Against Borussia Dortmund
An eight-year-old Seattle Sounders fan was given the moment of his lifetime as he was included in the team's starting line-up on Wednesday night.
Bheem Goyal is fighting leukemia and was "signed" to a contract with the Sounders in partnership with the Make-A-Wish Alaska and Washington foundation.
The Sounders announced his signing last week and on Wednesday the eight-year-old was named as the starting goalkeeper in the friendly against Bundesliga giants Borussia Dortmund.
Goyal showed no sign of nerves as he received the ball shortly after kick-off, before expertly passing it to one of his teammates. He was substituted with about 20 seconds played in the first half and received a standing ovation from spectators inside CenturyLink Field.
Goyal underwent eight months of intense chemotherapy and Sounders goalkeeper Stefan Frei hoped giving him the chance to play with the team would provide some much-needed distraction.
"It was great to have him out and training with us to see what we're doing, get his mind off things," Frei, who is Goyal's favorite player, was quoted as saying by the Sounders' official website. "Sports always give you an outlet. They allow you to disappear in your own world and forget about your worries."
According to the Sounders' official website, the eight-year-old has been a Sounders supporter since he was in kindergarten and described Seattle's triumph in the 2016 MLS Cup as the greatest moment of his life.
Following his treatment, in April Goyal made the Sounders' under-nine premier team and scored three goals in his first four appearances last month. The eight-year-old is a sport fanatic and aside from cheering on the Sounders he follows the Seattle Seahawks, Chicago Cubs, Duke Blue Devils, and Kentucky Wildcats.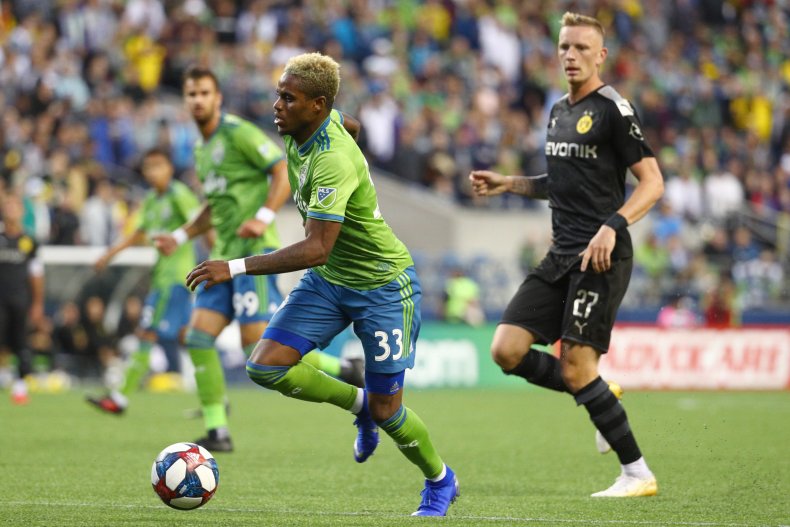 Unfortunately for Goyal, he didn't get to see his team win as the Sounders lost 3-1 on Wednesday night against last season's runners-up in the Bundesliga. Marius Wolf put Dortmund 1-0 up in the first half, before Paco Alcacer doubled the lead early in the second half.
Jonathan Campbell pulled one back for the hosts just four minutes later, before England international Jadon Sancho netted a third for the visitors with just over 15 minutes left in the game.
The Sounders will now turn its attention back to the MLS, as they host bitter rivals Portland Timbers on Sunday night. Seattle is second in the Western Conference standings, trailing Los Angeles FC by nine points, while the Timbers are currently third-last in the conference with just 24 points.