Seattle's 'Capitol Hill Autonomous Zone' in Photos: Protesters Take Over Seattle PD's East Precinct
In Seattle's Capitol Hill neighborhood, police officers abandoned their posts and allowed protesters to take over part of the city, in what has become known as the "Capitol Hill Autonomous Zone."
Protests have been taking place across the U.S. following the death of George Floyd, a 46-year-old black man who died in police custody on May 25.
The Seattle Police Department left the East Precinct on Monday and have boarded up its windows and doors. Since then, protesters have barricaded the area surrounding the precinct and have made it their own police-free zone to protest.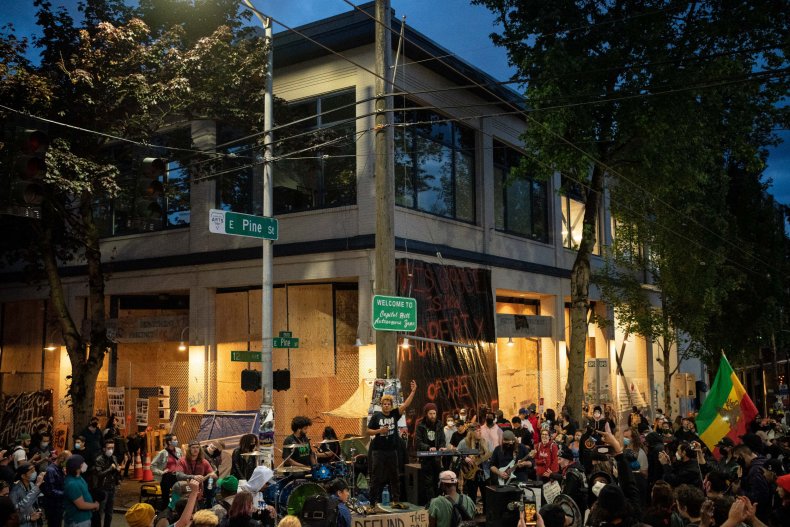 A number of pictures from the week's protests have shown what the autonomous zone has been like for protesters and residents.
In one photo, protesters can be seen filling the streets outside of the East Precinct, calling for an end to police brutality against black Americans.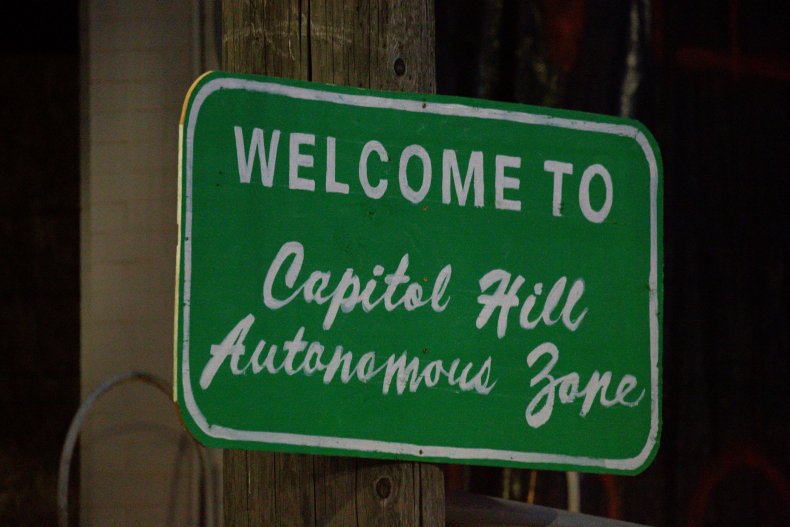 Another photo shows a homemade street sign that reads, "Welcome to Capitol Hill Autonomous Zone," which was placed outside of the East Precinct. A similar photo shows another sign near the barricades that reads, "You Are Now Entering Free Cap Hill."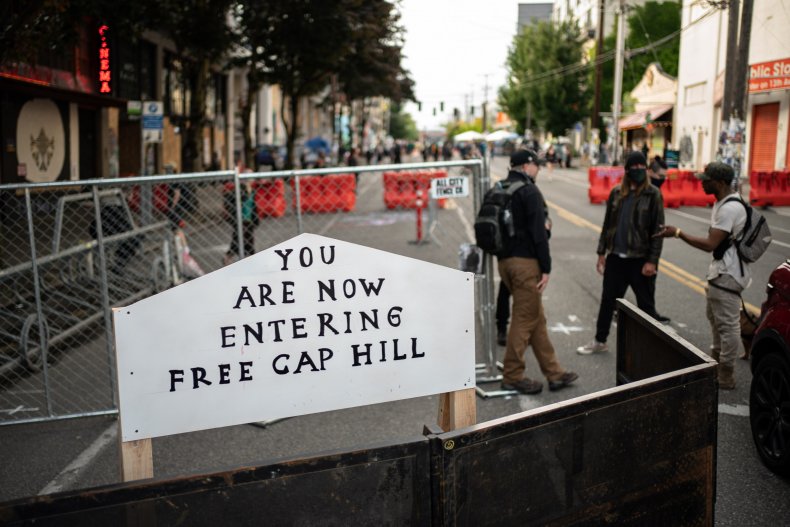 Despite the Seattle Police Department boarding up the East Precinct, protesters were able to leave their mark by spray painting the precinct's sign, replacing the word police with "people."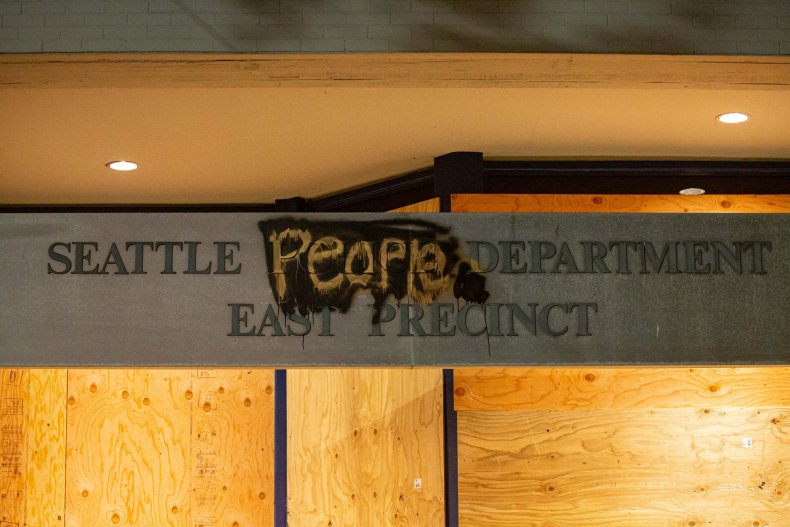 While the ongoing protests come during the coronavirus pandemic, the protesters in Seattle's Capitol Hill Autonomous Zone provided free hand sanitizer as a way to slow the spread of the virus.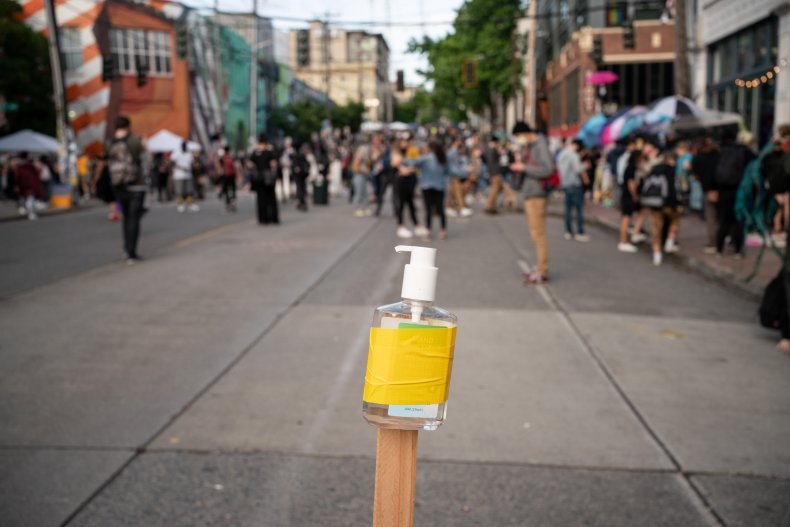 Several other pictures show how protesters are using the area to create art, with one specific photo showing the ground spray painted with the letter, CHAZ, an acronym that protesters are using to refer to the area.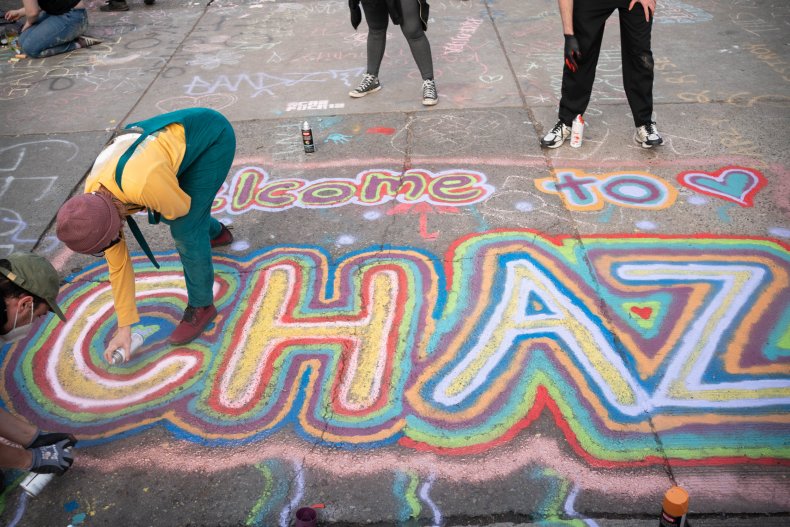 The city of Seattle has faced backlash from some, including President Donald Trump, for allowing the protesters to have free rein of the area.
"Radical Left Governor @JayInslee and the Mayor of Seattle are being taunted and played at a level that our great Country has never seen before. Take back your city NOW. If you don't do it, I will. This is not a game. These ugly Anarchists must be stopped IMMEDIATELY. MOVE FAST!" Trump wrote in a tweet on Wednesday.
"Anarchists just took over Seattle and the Liberal Democrat Governor just said he knows "nothing about that"," the president added in another tweet.
Shortly after, Seattle Mayor Jenny Durkan responded to Trump: "Make us all safe. Go back to your bunker," referencing Trump's going to the White House's underground bunker as protesters filled the streets in Washington, D.C.
During a press conference on Wednesday, Seattle's Assistant Police Chief Deanna Nollette stated that officers would like to get back to the precinct that they previously abandoned.
"We're trying to get a dialogue going so we can figure out a way to resolve this without unduly impacting the citizens and the businesses that are operating in that area," Nollette said.
Newsweek has reached out to the Seattle Police Department for comment.