Seattle's CHAZ Has Become a Dangerous Joke | Opinion
Created by far-left protesters after violent clashes with police, Seattle's Capitol Hill Autonomous Zone (CHAZ) has grown into a dangerous parody of itself. And the city has no plan to manage it, opting instead to deflect with anti-Trump talking points rather than real leadership.
Seattle Mayor Jenny Durkan gave the orders to pull police and barricades from the Capitol Hill neighborhood after days of dangerous standoffs between protesters and law enforcement. Officers cleared the East Precinct police station of personal belongings, sensitive documents and expensive equipment. They boarded up the windows, fenced off the building and abandoned this portion of the neighborhood.
As a consequence, a variety of activists—from Antifa and anarchists to Black Lives Matter Seattle/King County to community organizers—took control of a six-block radius.
The protesters set up barricades around their newly occupied land, all guarded by armed and unarmed security. The militant Antifa group John Brown Gun Club walked the property, as well. Tents have been set up for activists (and the homeless) to sleep. They're attempting to grow food with hastily planted gardens. There's a medical tent, No Cop Co-Op, for free snacks, a therapy tent to talk out feelings and a stage for performances, speeches and film screenings.
Downplaying the violence at the CHAZ, Mayor Durkan compared the takeover to a block party and told CNN that we could be in for a "summer of love" since there are no plans to break it up. While over the past few days, the vibe of the occupied space has definitely turned into a street fair, there's still plenty of violence.
Fights break out throughout the day and into the evening. Sometimes, outside instigators are involved; often, it's insiders getting into heated debates that devolve into melees. And while they self-police at the CHAZ, arrests aren't made. Over the weekend, I saw one instigator be released only to instigate another conflict just a few minutes later with other CHAZ occupants.
To control the narrative that CHAZ is a "completely peaceful and friendly environment," as Socialist Seattle City Councilwoman Kshama Sawant falsely claimed on CNN, activists routinely block media members and witnesses from filming fights.
Their faces covered, these activists bump into people recording on their phones and constantly stand in photographers' way. I've personally experienced the tactic. Activists also share names and photos online of those they think will portray CHAZ in a negative light, so people on the ground can create trouble for them.
Some national and local media outlets, as well as area activists, go along with the claim that this is all a social justice utopia. But their claims are demonstrably false. One can defend the idea of CHAZ while also acknowledging its myriad faults. The two positions are not in conflict. But the implication of this hostile takeover should not be understated.
Instead of taking back the East Precinct, Mayor Durkan pretends it hasn't been abandoned. As a consequence of losing the East Precinct, the Seattle Police Department says response times to emergencies have now tripled. Officers are advised not to patrol in the area—or to even respond to 9-1-1 calls unless there's a mass casualty event.
And allowing this to continue means empowering the group to consider taking more land. Moreover, it can inspire similar movements around the country. In Nashville, a group is trying to start its own autonomous zone. A similar plan didn't quite work out in Portland over the weekend.
What's worse, instead of addressing the good faith concerns from community members worried about safety, Mayor Durkan turned her attention to President Donald Trump who demanded the city take back the CHAZ from violent protesters. Durkan tweeted to the president, "Seattle is fine. Don't be so afraid of democracy."
One small problem: Democracy doesn't exist at the CHAZ.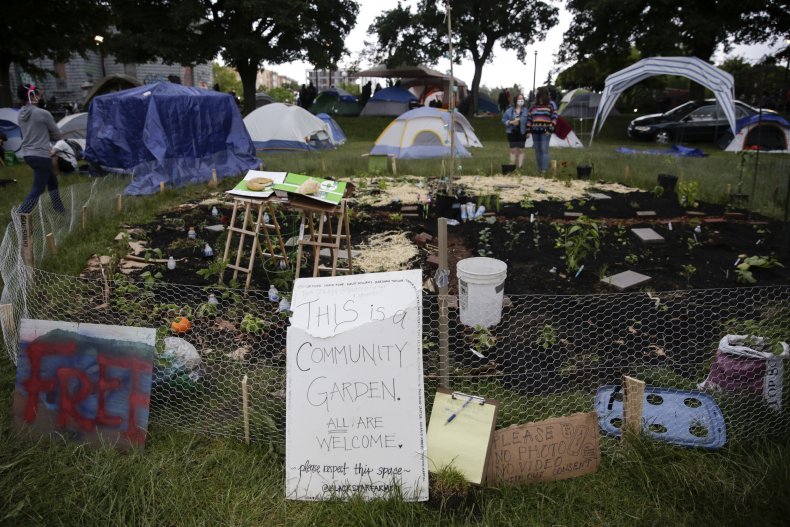 There's no one leader at the CHAZ (elected or appointed), which explains why over the weekend, there was a movement to change the name to CHOP, with some considerable disagreement as to what the "O" stands for. And when right-wing provocateurs showed up with an American flag, for example, they were mobbed. You have no inherent rights in CHAZ. They're subject to the whim of a mob.
For Seattleites, there are two key underlying issues: public safety and the seriousness of the movement.
Morale within the Seattle Police Department (SPD) is low. Many want to quit. They feel attacked by the mayor and the City Council. Indeed, Councilmember Teresa Mosqueda, one of the proponents of the movement to defund the police by 50 percent, was seen on video claiming the anger is justified when a protester told cops, "Take your guns, put them onto your chins, and pull the trigger. I need you to kill yourselves. That's your only redemption." Mosqueda was later forced to quasi-apologize.
And as the mayor and Council give into the protesters, the question remains: to what end? Some of the organizers are demanding the total abolition of the SPD and prisoner system, the creation of a fully-funded socialized medical system, racially segregated medical care, the de-gentrifying of Seattle neighborhoods and rent control. None of this is reasonable—or, in some cases, even legal. These demands will very clearly not be met.
But for a movement that was supposed to be about anti-racism, it's become a tourist attraction by day and lawlessness by night. If it's a street fair or "summer of love," how exactly is that honoring the life of George Floyd or advancing reasonable policy on police reform? Between lounging at the park eating free granola and playing games of dodgeball or Frisbee, is much being accomplished? They're fighting over removing CHAZ signs, but not taking concrete steps to enact legitimate, reasonable change for society at-large.
Last week, there was a truly inspirational Black Lives Matter silent march in Seattle. The visuals were remarkable. And while I may not agree with the calls to "defund the police," that group is attempting to push actual policies. That's deserving of respect and discussion. As for the CHAZ? It's quickly becoming a joke.
Jason Rantz is a frequent guest on Fox News and is the host of the Jason Rantz Show on KTTH Seattle, heard weekday afternoons. You can subscribe to his podcast here and follow him on Twitter @jasonrantz.
The views expressed in this article are the writer's own.