Sebastian Gorka: Democrat Party 'Lunatics' Are Promoting Violence, 'We Don't See This on the Right'
Former White House aide Sebastian Gorka claimed the Democrats were actively promoting violence—and that there weren't any people "encouraging" violence on the right.
Appearing on Sean Hannity's Fox News show, Gorka said that the Democrats had "completely come out of the closet as radicals" in the run-up to the midterm elections. Gorka, who was wanted for "firearm abuse" in his native Hungary while working as an adviser to President Donald Trump, cited clashes involving anti-fascist demonstrators and far-right groups in Portland, Oregon, and New York as evidence for his claim.
Discussing the possibility of Nancy Pelosi becoming speaker if the Democrats retake the House in November's election, Hannity said, "America is going to survive if the people don't get out and Pelosi becomes speaker. But their agenda's clear."
"They've completely come out of the closet as radicals. The lunatics have taken over the asylum, Sean, that's the very simplest summary of what's happened," Gorka said.
Gorka also cited the case of James Hodgkinson, who shot GOP congressman Steve Scalise and four others at a baseball practice in Alexandria, Virginia, in June 2017, as an example of what he sees as violence from the left.
Hodgkinson was found to have campaigned for Bernie Sanders and frequently posted about his hatred of Donald Trump online.
"They are trying to normalize violence, and it's not just the crazy characters that we have become used to such as Maxine Waters," Gorka said.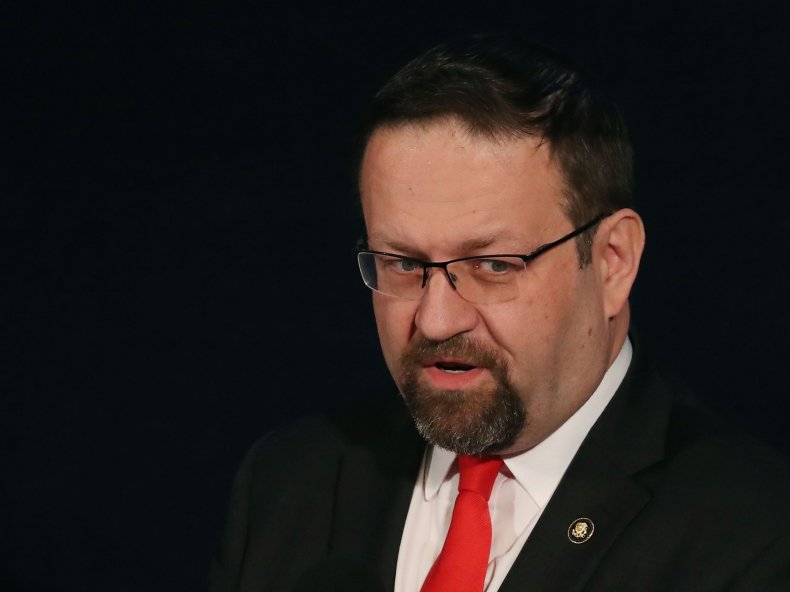 "But when you have a constant drumbeat that this is OK, that using violence is OK, when people don't talk about the consequences of people like James Hodgkinson being on the left, and then taking a rifle and a handgun to a congressional charity baseball match and what happens? He tries to assassinate not politicians, Sean, he tries to assassinate exclusively Republican politicians."
"We don't see this on the right," he continued. "There's no equivalent of Antifa. We don't have people creating violence and encouraging it on the right—this is the Democrat Party. Hillary and everybody else."
Gorka made headlines in early 2017 for wearing an honorary medal from the Hungarian Vitezi Rend order. The Department of State lists Vitezi Rend as having been "under the direction of the Nazi Government of Germany" throughout the World War II, and a number of its members helped Adolf Eichmann deport Jews from Hungary. Gorka says he wore the medal as a tribute to his father, who was a member of the order.
Earlier this week, Hannity suggested a violent attack allegedly committed by members of far-right Proud Boys group stemmed from vandalism committed by anti-fascist counter-protesters in New York.
During his radio show, Hannity also said he had never heard of the Proud Boys, despite having its founder and former Fox News contributor Gavin McInnes appearing on his show 24 times between January 2014 to May 2015.
"A viral video surfaced showing, in New York City, members of the group, which I've also never heard of, Proud Boys, some type of male chauvinist organization beating two or three protesters in New York City after an event at a Republican headquarters," Hannity said.
"The way the media's portraying it—I just have no idea because I don't have it, but, according to the Daily Caller, Antifa members actually vandalized the Metropolitan Republican Club in New York ahead of an appearance of this group, Proud Boys, prompting an outbreak of violence there."
The New York City Police Department released photos of three suspects, who were dressed in black and had covered their faces, in connection with the vandalism and for leaving "threatening notes for further attacks," the force said in a statement.