Fans Call on Sebastian Stan to Act After Rumored Girlfriend's 'Asian Night' Photos Surface
The Winter Soldier is feeling the cold wrath of his angry fans. Sebastian Stan, who stars as Captain America's sidekick Bucky Barnes in the Marvel Cinematic Universe, is the latest celebrity to be targeted by "cancel culture" on social media after he allegedly ignored the pleas of his fans, who were aiming to expose his rumored girlfriend's alleged history of cultural appropriation.
It all started with a photo of Spanish actor Alejandra Onieva, whom Stan is rumored to be dating. On Monday, Stan fan and Twitter user @angelas550 shared a screenshot of a photo of Onieva dressed in Japanese Geisha attire alongside a friend, with the caption: "Asian night."
"What the F**k is an "asian night" ARE YOU KIDDING ME????? THIS IS NASTY. #SebastianStan," @angelas550 wrote, adding, "For context, this is Sebastian's PR girlfriend, dressing as a japanese geisha which EXTREMELY disrespectful and racist. not okay. this post is also on her profile and captioned 'two japanese's' and hashtagged 'geishas.'"
"I'm BEGGING y'all, retweet this. bring awareness to this. he was literally so late to comment on BLM and needed permission from his team to post about it. retweet this and get his teams attention so they can know they set him up with a RACIST woman," @angelas550 continued.
After fans began tweeting at Stan, asking him to address the photo, he surprised them when he began blocking accounts, starting with @angelas550. "Soooooo .... I got blocked by Sebastian Stan for exposing his racist gf," @angelas550 tweeted on Tuesday.
The user added: "IM SO F**KING HURT. I have literally stood by him for YEARS. As a member of the Asian community I was so upset by her post, I just wanted her to delete it and realize it was WRONG. he literally BLOCKED me."
The photo has since been removed from Onieva's account, as well as the account it was first featured on, which belongs to Spanish journalist Casilda Aguilera. However, Stan's silence, followed by his efforts to block some of those who were questioning the photo, resulted in a wave of backlash as fans retaliated by tweeting the viral hashtag, #sebastianstanisoverparty.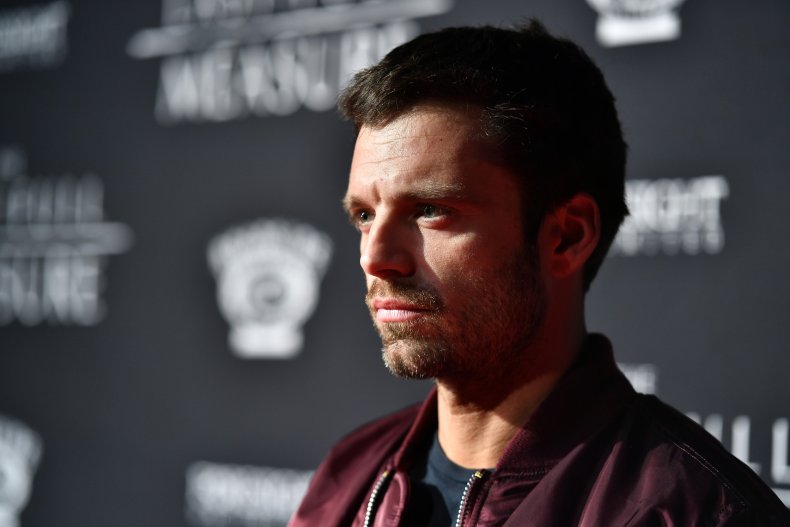 "So much for being unproblematic. Don't forget the fans supported you when you were in shitty movies and spoke out for you for better treatment. I didn't forget," one Twitter user wrote, adding, "I'm disappointed #sebastianstanisoverparty."
"#sebastianstanisoverparty imagine blocking ur fans for calling out ur racist ass gf," wrote another.
There were some people who thought Stan was asking to be canceled, especially since he recently made waves on Twitter after being spotted vacationing in Ibiza during the coronavirus pandemic.
"Sebastian took his time to speak on blm, went to ibiza during a pandemic, went clubbing, didnt wear a mask when he was out, and now his girlfriend got exposed for being a racist, now that people are calling them out they've started blocking fans #sebastianstanisoverparty," one Twitter user wrote.
Not everyone was quick to hop on the cancel-bandwagon. The actor received some support from social media followers who felt it was childish and petty for fans to attack Stan over a photo he was not even featured in. Not to mention, Stan has not publicly commented on his relationship status or confirmed rumors that he is, in fact, dating Onieva. Although, the pair were spotted canoodling during his Ibiza holiday, by Daily Mail photographers.
"Twitterati 'cancelling' [sic] Sebastian Stan over his gf culturally appropriating something and raising hell over likely photoshopped 'blocked me on insta' pics is so stupid. Devote this energy to something else please," one fan wrote.
And, as noted by some people on Twitter, all of this comes after some fans got upset with Stan over his alleged silence over the racial protests occurring in the U.S. following the death of George Floyd. However, Stan shared a post advocating for justice for Floyd back in May.
"This video is from 5 years ago but it could have been taped 50 years ago or 100 years ago or today. Nothing has changed. This has to stop. We all have to work together to create a better future for these children #justiceforgeorgefloyd," he wrote on Instagram.
In June, the actor also used his Instagram to call for donations to several causes and organizations, including The Conscious Kid, in an effort to raise awareness on the racial disparities people of color face in America.
Newsweek reached out to Stan's representatives and Onieva's talent agent for comment, but did not receive a response from either in time for publication.