Two of the best teams in the Southeastern Conference (SEC) will not play their football games this weekend because of recent COVID outbreaks and quarantines. In all, three SEC games scheduled for this weekend have been postponed, and another one is on the brink.
The most notable postponement so far is the Alabama-LSU game, which has traditionally been a marquee game for the entire nation to watch. However, LSU players have tested positive for the coronavirus, causing the postponement. Alabama is the No. 1 team in the country, and LSU is struggling this season at 2-3—including a blowout loss recently at Auburn.
The SEC also announced Tuesday that this weekend's Texas A&M game at Tennessee will also not be played because of an outbreak of COVID among A&M players. Texas A&M is ranked No. 5 in the Newsweek top 20, and is in the top 10 of every major poll.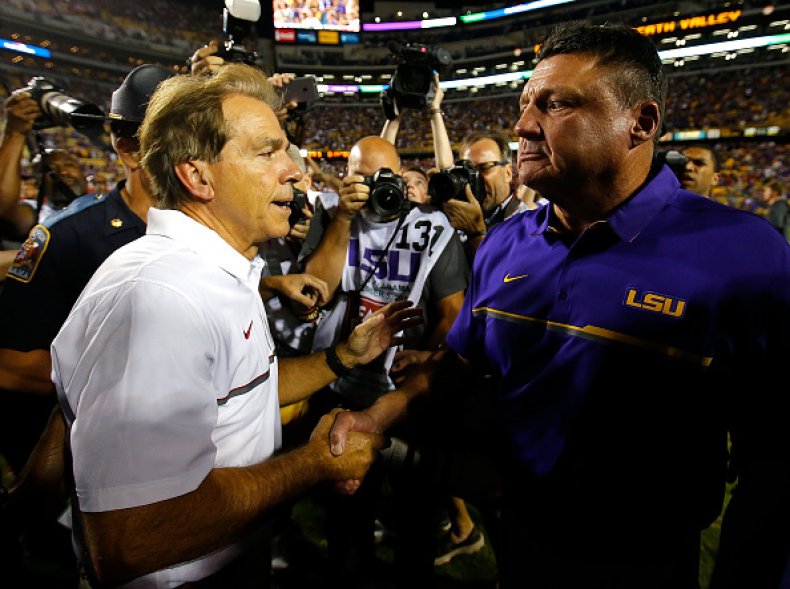 The league had already announced the postponement of the Auburn-Mississippi State game because of an outbreak at Auburn. SEC commissioner Greg Sankey said the league knew such a thing was possible when starting a delayed and shortened season.
"While it is unfortunate to have multiple postponements in the same week, we began the season with the understanding interruptions to the schedule were possible and we have remained focused throughout the season on the health of everyone around our programs," Sankey said. "We must remain vigilant, within our programs and in our communities, to prevent the spread of the virus and to manage activities that contribute to these interruptions."
LSU has already been forced to postpone its game at Florida after members of the Gators team tested positive earlier this year. The SEC designated Dec. 12 as a universal open date for all teams to make up games, so LSU-Florida is scheduled to play on that date.
The new conundrum is that LSU has a makeup game with Alabama that must be scheduled. The SEC Championship game is scheduled for Dec. 19, one day before the College Football playoff committee is set to announce its four-team playoff.
Another game that could be affected this weekend is the Georgia-Missouri game, per Ross Dellenger of Sports Illustrated.
Here are some other COVID notes from college football:
Arkansas coach Sam Pittman has tested positive for the virus and will not coach against Florida this weekend, the school announced Tuesday
The Navy-Memphis game this Saturday has been postponed after people within navy's program have tested positive
Here are the SEC games that have not been affected:
Georgia at Missouri
Vanderbilt at Tennessee
Arkansas at Florida
South Carolina at Ole Miss