Second Amendment Supporters Gather at U.S. Capitol to Promote Gun Rights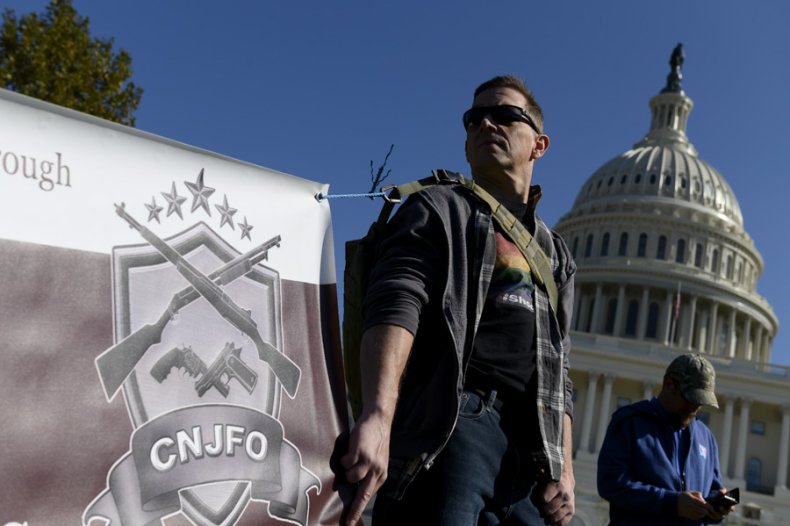 A grassroots coalition of gun-rights supporters descended onto the West Lawn of the U.S. Capitol building Saturday, rallying to forestall congressional action on gun control that has been gaining steam over the past few months.
One reporter estimated that by 1 p.m., over 1,000 people had turned out. The event, titled "Rally for Your Rights," was organized largely by gun-rights enthusiasts without the backing of major pro-gun organizations.
Speakers included Erich Pratt of the Gun Owners of America, a non-profit that prides itself on being more hardline than the National Rifle Association; Anthony Garcia, whose group, "Save the Second," was established to reform governance practices at the NRA; and Timothy Knight, who resigned from the NRA board of directors in August over an inability to conduct oversight of the group's finances due to alleged obstruction.
"What has sunk in over the past few months is that far too many people are willing to write a check... and say, 'Okay, I've done my part,' and then move on," Rob Pincus, also of Save the Second, said ahead of the event. "If you own a gun, you are the gun lobby."
The rally comes as the prospect of gun control at the federal level has become more likely now than in years past. Additionally, gun-rights proponents have more recently been galvanized by the presidential candidacy of Congressman Beto O'Rourke, who declared during a Democratic primary debate: "Hell yes, we're going to take your AR-15, your AK-47."
The O'Rourke campaign never gained much traction in the polls resulting from his rebooted focus on gun control; the candidate subsequently dropped out of the 2020 race on Friday.
The Washington Post reported that President Donald Trump has given up on supporting bipartisan efforts to enact popular gun control measures, a reversal from his earlier, professed commitment to moderate gun legislation.
The most recent push for gun control, and the cause of O'Rourke's rebranded campaign, resulted from a pair of mass shootings in early August which collectively killed dozens of people. The gunman in one of those shootings—in O'Rourke's hometown of El Paso, Texas—targeted Hispanic residents and was a suspected white supremacist.
The unusually bipartisan nature of emerging gun-control legislation has contributed to an environment where reforming the nation's gun laws is not the third rail it once was. For example, staunch Trump ally Senator Lindsey Graham, chairman of the Judiciary Committee, partnered with Senator Richard Blumenthal to propose legislation that would encourage states to adopt "red flag" laws.
The Washington Post report adds yet more confusion and uncertainty to the prospects of gun reform in Congress. Senate Majority Leader Mitch McConnell has vowed not to consider any legislation he knows Trump won't sign, regardless of whether it could pass the upper chamber.
Amid the imbroglio, advocates on both sides of the debate are proceeding steadfastly, albeit with a measure of caution. An early test of which side could prevail may occur in a matter of days, as general elections in Virginia are slated to take place on Tuesday where gun control has played an outsize role in key legislative races.