Democratic Candidate Warns He Will Use Second Amendment to Arm Himself If Trump Is Re-Elected: 'Liberals Can Own Guns, Too'
A Democratic congressional candidate has defended comments he made on social media suggesting that he would exercise his Second Amendment right to bear arms should President Donald Trump get re-elected.
Ryan Farrar is among a crowded field of 14 candidates vying for election in the first congressional district in Northwest Indiana.
Farrar was particularly incensed by reports that the president is calling for the Justice Department to give a shorter prison term to former adviser Roger Stone, following his conviction of lying to Congress, witness tampering and obstructing a congressional investigation.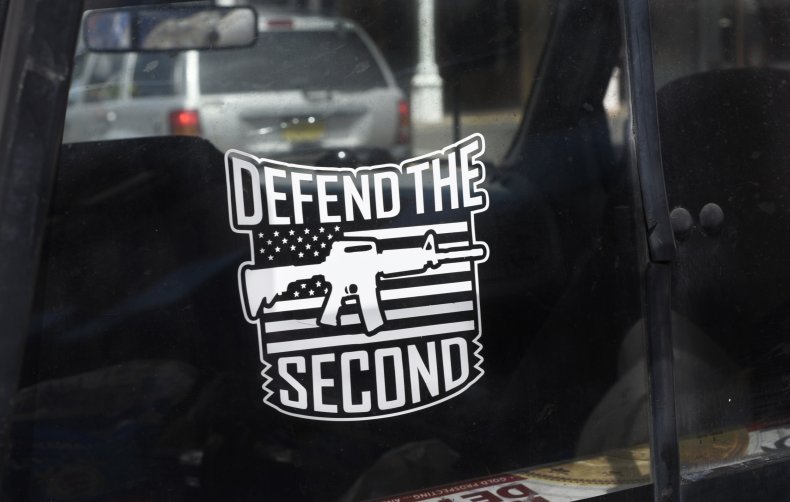 Farrar tweeted on Thursday: "If Trump gets reelected, I'm going to become one of those "second amendment people."
"I never thought it would come to this, but I must be prepared to stand against tyranny by any means. I encourage many of my friends to consider taking similar actions. VOTE first, but be thinking."
His Twitter account, which is followed by 3,600 people, is peppered with numerous swipes at Trump and the Republicans, including the message that the president is "begging to be taken out in a straight jacket, and they respond by crowning him king."
But fellow congressional candidate Hammond Mayor Thomas McDermott Jr. said it was "incredibly dangerous" for Farrar "to stoke the fires of violence."
"It's the kind of stuff that President Trump does. In my opinion, it shows the guy is just not ready for prime-time, and he's running for the highest political office in Northwest Indiana," he told The Times of Northwest Indiana.
The sentiment was echoed by another candidate, Jim Harper, who said: "Suggestions of violence should not be tolerated."
But Farrar, from DeMotte, who does not own any weapons, told the publication he was not issuing a threat, simply "putting the idea out there that maybe more people on the left should consider becoming gun owners."
"Because it seems like a lot of people on the right seem to think they're the only ones that own guns, and they have the freedom, if they want, to threaten to declare civil war, or anything like that, and that's fine and good. (I'm) just putting the idea out there that, you know, liberals can own guns, too."
"I believe the Second Amendment actually was written so the people would have the ability to stand against tyranny if it ever resurfaced in America," Farrar said.
"I do think, right now, under this president, we've probably gotten closer to tyranny than we've been in a very, very long time," he said, adding that the decision by the DOJ to seek a lower sentence for Stone "feels like something that you would see in Russia, or in, quite frankly, Nazi Germany."
Newsweek has contacted the Indiana Democratic Party and the Indiana Republican Party for comment.