A second Cold War between Russia and the West hasn't stopped Russian President Vladimir Putin and President Donald Trump talking as often as five times a month. So what next for international relations now that Britain has called out Russian "interference" in global elections while Putin consolidates power for at least the next decade?
Russian influence and interference in global elections must be seen as the "new normal," a British intelligence report says.
Within hours of the report being published, British tabloid newspapers were reporting Russian submarines being intercepted in the English Channel between France and southern England by both countries' naval forces. This comes after British Foreign Secretary Dominic Raab admitted that it was "almost certain" that Russians sought to interfere in the 2019 U.K. General Election.
What the West is left with is the reality that there might be Cold Wars separately with both China and Russia for the foreseeable future.
China is a whole separate topic that could, and is, taking up entire volumes of discussion that's not for this article.
But Russia has already conducted, in the words of the Congressional Research Service, an "invasion and occupation of Ukraine's Crimea region," "used a chemical weapon on a U.K. citizen" and offered a bounty to kill U.S. soldiers in Afghanistan.
Is there a tipping point in diplomatic relations coming? Can meaningful and productive friendships be formed with Russia? Or is it a stalemate that will last a lifetime?
"The improvement or otherwise of the diplomatic relations lies much more with the Kremlin than Downing Street or the White House," Dr. Maxine David, lecturer in European Studies at Leiden University, tells Newsweek.
"Putin and his supporters have taken the choice to seek to disrupt and undermine Western democratic processes, it is within their gift to decide to retreat from this destructive behavior. Without that willingness on the Russian side to resolve the problems, there is little the U.K., the U.S.—or anyone else—can do."
The British report made clear that it believed U.K. politicians "actively avoided" addressing Russian "meddling" because of the money flowing into the country from Russian oligarchs in both big business and politics.
But, similar to the Mueller report into Russian interference with the 2016 Presidential election, it didn't draw any firm conclusions or make any concrete allegations.
"This report is rather anodyne in nature and fails to find any substantive evidence," Richard Sakwa, professor of Russian and European politics at the University of Kent, tells Newsweek.
"This is a dog that did not bark. There has been endless talk about Russian interference in 2016 [the Brexit referendum] and we assumed there would be some discussion of that but there's one paragraph skating over it and saying nothing."
Talk of a new Cold War with Russia has become a hot topic on both sides of the Atlantic with a very different tone depending on whether you spell defense with an "s" or a "c."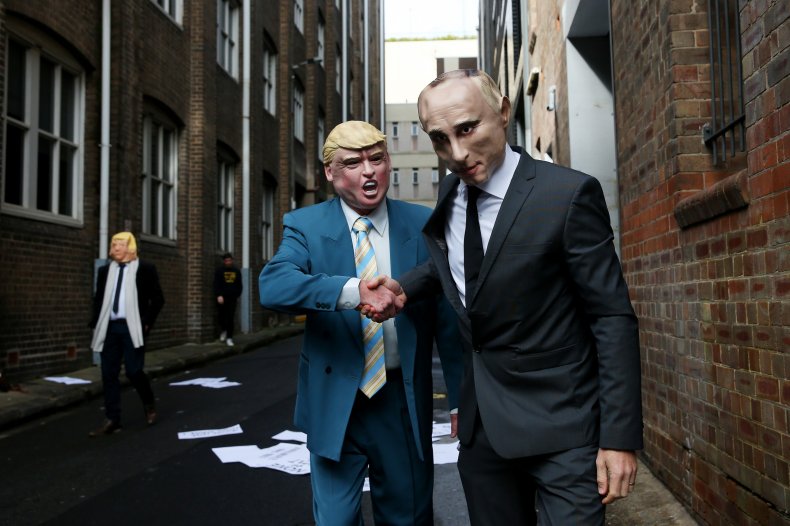 This Second Cold War, or Cold War II depending on your preference, is widely agreed to have begun in 2014 or shortly before as the conflict between Russia and Ukraine escalated.
"The United States and Russia are not exactly in a 'new Cold War.' But the present conflict is potentially more dangerous," Andrew Kuchins, an American political scientist, wrote in 2016.
As tensions grow, it is unclear what happens next given the close alliances Russia has with China and the RSII coalition between Russia, Syria, Iran and Iraq. Russian money is also embedded in nearly all the major economies, even stretching to sports teams, with Roman Abramovic's ownership of Chelsea in the English Premier League and Mikhail Prokhorov's stake in the Brooklyn Nets until September 2019.
At least 14 ministers in the United Kingdom government have received donations from wealthy people with ties to Russia, the Times of London reports, though the government says that this was all transparent and from British citizens.
All this means that the tactics of the first Cold War, the withdrawal of foreign trade, is near-impossible this time in such connected economies. As it stands, there are trade sanctions in place but it is predominantly a war of words for now.
That's particularly poignant and Trump appears to be exchanging a lot of words with Putin in recent times. It has been reported that they spoke as many as five times in three weeks and they seem to have a broadly cordial relationship, much to the fury of the Democratic Party and many Republican figures.
"The two presidents are able at the proper time to step back from strategic disagreements and to tactically engage in constructive dialogue," Kremlin spokesman Dmitry Peskov told Russian state television in April.
"They absolutely understand each other. They understand there is no alternative to some kind of joint action, joint understanding. And this is fully demonstrated in the last two telephone conversations."
It is a strange relationship given these conversations took place after Trump was even reportedly briefed that Russia offered bounties for the killing of U.S. soldiers in Afghanistan, a claim Russian authorities deny.
Across the U.K. and U.S. simmering tensions bubble barely beneath the surface, with hawkish actors keen for more direct moves on Russia to be made.
The list of accusations against Putin's Russia is a long one, from election manipulation (both domestically and abroad), human rights abuses, the limitation of free speech and the persecution of people based on race or sexuality.
The list of accusations about Russia's foreign wrongdoing is arguably even longer.
Then is it a question of how much Putin can get away with while avoiding all-out war or is it much more complicated than that?
"Accusations of Russian meddling is a diversion," Prof Sakwa says. "I'm not saying it's a conspiracy theory but it's a diversion from dealing with our deeply intractable issues, domestic issues, and Britain's place in the world. After Brexit, we all know where [Britian's allegiances] are going to go. It's going to be towed into the mid-Atlantic and become even more firmly attached to the U.S. as an appendage to us."
With Russia's domestic issues around human rights, Sakwa believes that both the U.S. and the U.K. are throwing a lot of stones from very delicate glass houses.
"The domestic issues are Russia's business," he says. "We can criticize our business or U.S. penitentiary system until the cows come home. Yeah, sure, the Russian intelligence agencies and others are active. But so are quite a lot of U.S. and U.K. agencies and we're back in a Cold War.
"All this new report has done is exacerbated an atmosphere of distrust based on an echo chamber and we're back with respected journalists using the word 'meddling.' I'm not saying Russia didn't do anything [in British elections], but I'm saying we need evidence. And this is why this report is quite important, because it's part of a larger pattern in which rules-based international order subverts its own principles by failing to provide evidence."
This international order is an incredibly complicated balancing act but can be simply summarised with the established powers centered around the U.S. against the (re)emerging powers of China, Russia and, in a slightly different way, India.
The establishment powers—NATO, G7, Five Eyes—all look after the West's interests first and foremost. Whenever that comes into question—the World Trade Organization and China for example—the West reacts strongly and threatens to pull funding or support.
The most difficult thing here is how diplomatic relations are maintained and whether Trump's relationship with Putin and Russia in general could create more problems than it solves.
"Without wanting to suggest at all that the Kremlin should be let off the hook of culpability, the Trump administration has done a good deal itself to undermine democracy and democratic processes, to hinder attempts to engineer multilateral solutions to global problems and to unmake old alliances," Dr. David says.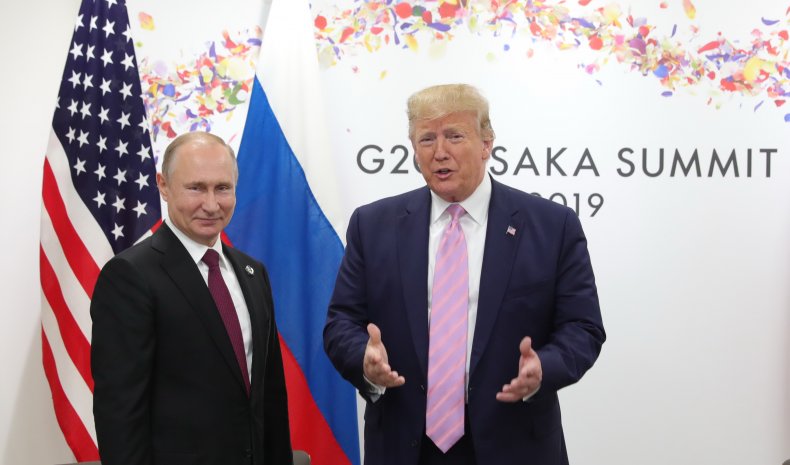 "It is difficult to see how the U.S. can now play a constructive role in maintaining the U.K.'s diplomatic relations with Russia. Indeed, given the administration's, at best, dubious links to Russian political and economic elites, any attempt to do so is likely to harm the U.K.'s credibility."
The European Union (EU) is less critical of Russia than some other powers.
"The U.K. is often allied with the so-called 'anti-Russian fringe' of former Soviet bloc states," Alexander Titov, lecturer in modern European history at Queen's University Belfast, has written.
"Chief among these are Poland and the three Baltic states, Estonia, Latvia and Lithuania. This Russian suspicion of Britain is reinforced by its 'special relationship' with the U.S., with the British hardline stance towards Russia often perceived by Moscow as a proxy for American views in the EU."
These countries have been described by Russia's foreign minister Sergei Lavrov as the "Main activists in NATO and the European Union, which are going all out to impose unbridled Russophobia."
U.K. Prime Minister Boris Johnson has himself been open about his view of Russian diplomatic relations:
"There is no country in the Western world that is more vigilant in protecting the interests of this country [the U.K.] and the international community from Russian interference," he told the House of Commons in Parliament.
A strange quirk of Johnson's personal politics is that he would prefer to have Russia as an enemy than China. He has openly talked about being a Sinophile (of having a strong interest in Chinese culture) and maintaining trading relations with the country.
With Russia, he has openly talked about Russia's "destabilizing activity" and that relations with Russia remain "poisoned" because of "extraterritorial mischief" overseen by Putin.
The British Foreign and Commonwealth Office declined to comment for this piece.
The thing is that Putin is unlikely to go anywhere any time soon. Instead of stepping down in 2024 as he reaches the end of the pre-existing two-term limit, he now has legislated, with the "overwhelming support" of the Russian electorate, so he can potentially remain in power until 2036, the year he would be celebrating his 84th birthday.
"Nothing will change and we're set for this second Cold War for the next generation," Prof Sakwa says.
"I estimate 30 to 40 years until finally people again, a new generation emerges in China and Russia, and it changes. Take Gorbachev as the example in the Soviet Union, someone like him needs to come along at the end to say, 'look, let's call this whole thing off.'
"This is all a continuation of the unfinished agenda and a failure to establish a genuine peace order at the end of the first Cold War. Most commentators suggest today that the best we can do is manage a long period of confrontation to avoid it turning into a kinetic war, let alone a nuclear war."