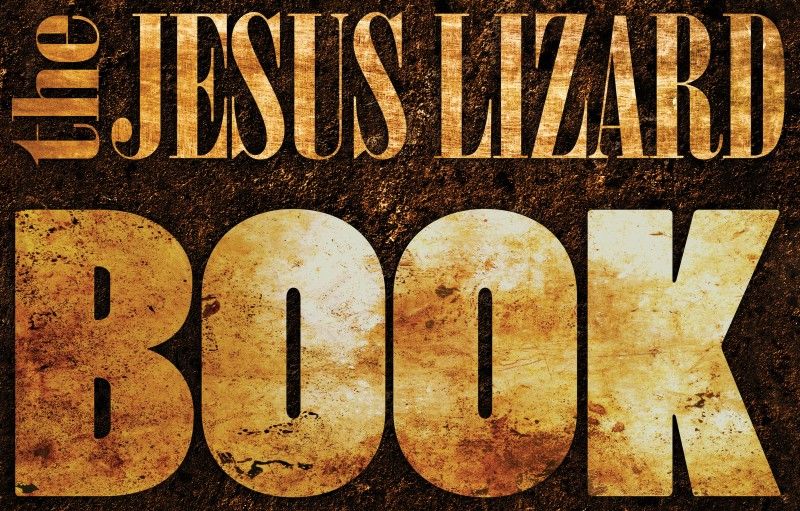 The Jesus Lizard frontman David Yow has a lengthy history of throwing punches and exposing his nether regions in concert, so it's a thrill to discover he's actually quite friendly when you talk to him. Jubilant, even.
"I'm excited!" the singer-turned-actor exclaims when I call him. "I wish my parents were alive so they would know that I'm going to be in Newsweek. That would blow their f*****g minds."
I'm calling to figure out how a grimy, aggressively anti-commercial pillar of '90s noise-rock has hardened into the sort of respectable cultural institution given to heralded reunion tours, glowing New Yorker write-ups, and now—published this past spring—a glossy coffee-table book packed nearly 200 pages with appreciations, recollections and photos.
Yow, to his credit, seems to be wondering much the same thing.
"That's a mystery to me," he says. "There are a few different mysteries that way. Like the popularity of Slint"—the Louisville math-rock band with which The Jesus Lizard played its first show at a Thai restaurant in Chicago in 1989. "When Slint was a band at the end of the '80s or '90s or whatever, they never played to more than 300 people. Now they're like gods. I don't know if that's attributable to the Internet. I think it's got to be the Internet."
When The Jesus Lizard reunited for a reunion tour in 2009, there were far more people interested in making the trek than Yow had ever imagined. "I think it's got to be the Internet," he concludes.
I think back to my own experience discovering the band through digital word of mouth. Having been too young to have caught the Lizard during its original run, which petered out several years after a controversial Capitol Records signing in 1995, I purchased Goat, the Lizard's harrowing 1991 masterpiece, on the strength of breathless message board and record review site recommendations, and a particularly unforgettable YouTube video from 1994. It depicts a shirtless Yow howling through "Seasick," then taking a flung beer bottle to the head, then recovering after several minutes and resuming his weird, pummeling combat with the hapless Dallas audience. The music is a lurching, queasily accelerated waltz, matched to Yow's increasingly desperate cries: "I can swim! I can't swim! I can swim! I can't swim!" In his best performances, as the writer Michael Azerrad has compared it, Yow sounds like a kidnapping victim, yelping for help through duct tape and torture devices.
Who was this unhinged band and where did it come from and where did it go?
Too cerebral for grunge, too harrowing for college rock, The Jesus Lizard was never pitched to be a household name, and indeed in most households it still isn't. "Certainly I'm aware that we sold a lot of records and that we were involved in the scene at the time, but I still have a hard time gaging how popular the band was," drummer Mac McNeilly says. But for fans and veterans of a particular subset of early '90s Midwestern noise-rock, a loose scattering of acts particularly associated with Chicago label Touch and Go and longtime audio engineer maestro Steve Albini, The Jesus Lizard were, for a fleeting time, the greatest and most powerful rock band in the world. The rhythm section's machine-gun grooves were impossibly precise, Yow's vocal delivery frightfully deranged, Albini's production work so vivid the band could be playing in your living room.
Still. A coffee-table book?
* * *
The hero behind Book—that's the title, a tribute to a tradition of four-letter album titles—is not a member of the band. It is Johnny Temple, a member of a different rock band, Girls Against Boys, who toured with The Jesus Lizard on several occasions in the nineties.
Then he founded Akashic Books, the independent Brooklyn, New York–based publisher behind Chris Abani's Black Goat poetry series, Adam Mansbach's popular Go the F**k to Sleep, and now The Jesus Lizard's life story, to which he had a front-row view. The idea came to him at a party hosted by Lizard bassist and de facto "band organizer" David Wm. Sims's house. It took time to convince Yow, who slowly came on board.
In 20th century terms, it is a coffee-table book. In Internet terms, it is an oral history—a lavish, extensively told oral history with photographs, many of them taken from Yow's private collections.
There is perhaps no figure intimately involved with the unlikely rise and inevitable fall of The Jesus Lizard who does not participate with half a page or more of reflections. (Yow can think of none, though he does say that Nick Cave, an outside admirer, politely declined the invite.) Book contains everyone from band lawyer (and now guitarist Duane Denison's wife) Elizabeth Gregory, who recalls the strange business of negotiating a major label record deal for a quintessentially minor-label band, to Albini, who writes candidly about his falling out with the band when it signed. It is an extensive chronicling of what it is like to be in an underground rock band, full of colorful tour anecdotes and more colorful recountings of Yow's drunken antics.
Sims goes so far as to include a track-by-track account and self-assessment of nearly every Lizard record. This, more than perhaps any other element of Book, amounts to a veritable Jesus Lizard discography companion.
But some of the most insightful entries come from outside admirers of the band, trying to capture what, precisely, made The Jesus Lizard so unique. It was Yow, saxophonist Ken Vandermark writes, "the anarchy in the machine, [who] pushed the relentlessness of The Jesus Lizard to a necessary edge of chaos." "The band exacted a toll on you because you could tell they were exacting a toll on themselves," Fugazi's Guy Picciotto adds. Music publisher Dave Ayers has another word for it: "So on top of the brute force and photo ops du jour, [The Jesus Lizard] somehow reached back to another age and another tradition to toss in that which makes even dull hearts sing: swing."
That this is all preserved in print is a minor miracle, Temple says.
"It's 1995, we're in Manhattan, Kansas, playing a gig together, and it would've been absolutely impossible to conceive that this is where we would be in 2014," Temple tells me. What if a time traveler had surfaced then and told him about the book, I ask. "I don't think I even would have understood the language. What would that mean? What would that look like?"
It was when music critic Sasha Frere-Jones sang the band's praises in a 2009 New Yorker article that Temple realized new levels of recognition had dawned for the Lizard and other acts who toiled in relative obscurity in the '80s and '90s indie underground. That piece is now reprinted in Book.
"The New Yorker, on the surface, would appear to be the opposite of everything Jesus Lizard," Temple says. "It's so refined. The music of The Jesus Lizard is of course very refined, but with David Yow the word refined is not one of the top 400 words you would use to describe him when he's on stage."
* * *
There is no graceful way to read a coffee-table book on New York public transit, but I am on my way to a Jesus Lizard Book Q&A at Barnes & Noble, and so, having had little time to thumb through the handsomely bound pages that landed on my desk several days earlier, I try anyway. Of course, of all the subway cars of all the Bronx-bound 4 Trains of the country's most populous city, on this one I am seated beside a fellow fan. He is curly-haired with a wispy mustache and looks faintly familiar. "That David Yow?" he asks in an Australian account, thumbing at a grainy portrait of the artist as a young preteen that only serious devotees and personal friends would recognize. Dumbstruck, I croak out a simple "Yep"—and wind up sitting two rows behind him on the fourth floor of the Union Square bookstore, where metal chairs are bolted down for a heavily bearded-and-leather-jacketed fan base more accustomed to foul-smelling clubs and bloodied crowd-surfers.
Anyway, the guy turns out to be Jim White—celebrated member of the Dirty Three and occasional drummer for the likes of Cat Power and PJ Harvey—and he's seated next to Guy Picciotto, late of Fugazi and Rites of Spring. (A Fugazi member! in a corporate chain! Quelle horreur.) I know this because Yow suddenly notices both friends midway through the event, and when he does, it seems clear they aren't the only attendees on a first-name basis with the band.
Yow once described the Lizard as "a band that worked really hard, never really got anywhere, but were important to a handful of people who don't know much about anything." Most of those people seem to be gathered here.
Which makes it all the more amusing when moderator Sasha Frere-Jones attempts to coax out a concise band history that most attendees already seem to know. Yow, Sims and McNeilly (Denison has skipped the book tour, citing exhaustion from touring with his band Tomahawk) mostly shrug off these attempts, instead regaling their admirers with rare stories and anecdotes from the vault. We learn about the time Yow was arrested for taking his pants off at a show in Cincinnati and the time McNeilly moved to Chicago to join the Lizard and his new bandmates welcomed him with a pork burrito dinner, not realizing the drummer was a vegetarian.
The question-and-answer session with the audience is about as colorful. "Just curious if your pants are going to come off at one of these book signings," a fan asks. Another pipes in with the observation that the 25th anniversary of that first show is soon approaching and would the members of The Jesus Lizard consider throwing a pool party with Slint to celebrate? Finally, someone has a serious question, something about whether Yow and Co. have been impressed by any young acts these days.
Yow thinks for a second. "I saw the singer of Green Day at the Boston airport a couple of weeks ago," he answers. "He was walking along, boring as s**t."
There is a book signing after these exchanges cease, and so I line up with the others and wait my turn. I identify myself to Yow. He breaks into a gleeful grin, introduces me to his once-bandmates and cracks a line about how I'm more handsome in person than on the phone. (A not-too-humble brag: Yow called me handsome.) It is time to go.
I make my way down through the sprawling Barnes & Noble and into the crisp spring night. Yow and his compatriots follow soon after, I imagine, three cult heroes returning to anonymity after basking in the glow of stardom for another 45 minutes and change.