Second Crystal Cruises Ship Docks in Bimini to Prevent Seizure from U.S. Over Unpaid Fuel
A second ship from the luxury cruise liner Crystal Cruise was diverted to the Bahamas on February 1 after a sister ship had an arrest warrant for a multi-million dollar U.S. federal lawsuit over unpaid fuel.
Crystal Cruises said the Crystal Serenity, the second ship, arrived at the Bimini Islands on January 31 after officials said the ship was not permitted to dock in Aruba the Friday prior as scheduled, the company said in a statement to Newsweek.
Passengers were taken via ferry back to Fort Lauderdale to avoid the U.S. ports after their sister ship, the Crystal Symphony, could be seized as a part of a lawsuit accusing the luxury cruise line of failing to pay $4.6 million for fuel, the Associated Press reported.
Peninsula Petroleum Far East had filed a lawsuit against Crystal Cruises and Star cruises for breach of contract regarding the unpaid fuel. A federal judge issued an arrest warrant under maritime procedure on January 20 to seize Crystal Symphony when it enters U.S. waters, allowing a U.S. Marshal to board the ship and take charge, the AP reported. However, the ship diverted to the Bahamas so the warrant could not be executed.
Passengers onboard the Crystal Serenity said they were in Costa Rica when its sister ship rerouted to the Bahamas instead of back to Miami after the lawsuit was issued. The Miami Herald reported the Crystal Serenity was supposed to make several stops in the Caribbean but was transported to the Bahamas before being taken ashore to Florida via ferry like passengers on the Symphony.
The Crystal Serenity departed from Miami on January 17 and was scheduled to travel through the Caribbean, Europe and the middle east for a 116-day adventure, Travel Pulse reported.
The ship left with about 400 passengers on board. However, two days after departing the company said it would be suspending ocean cruises through April, The Miami Herald reported.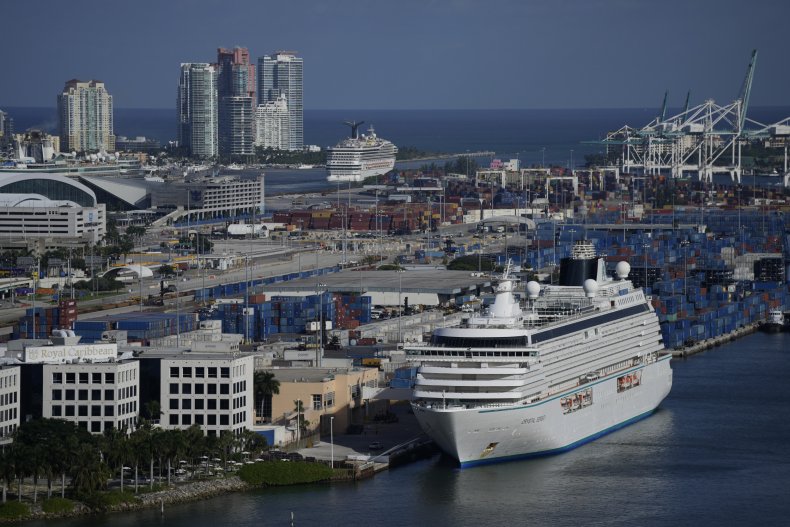 Nancy Plencner, a passenger on Serenity, told The Miami Herald she had booked the cruise liner which cost her and her husband over $75,000. However, she spent the majority of her trip changing travel arrangements.
"It is a colossal mess," Plencner told The Miami Herald. "How could they have allowed us to board, and sail off when they had to have clearly known they were shutting down the ships within a few hours?"
Crystal Cruise liner told Newsweek in a statement "there are simply no words to express our deep regret and disappointment."