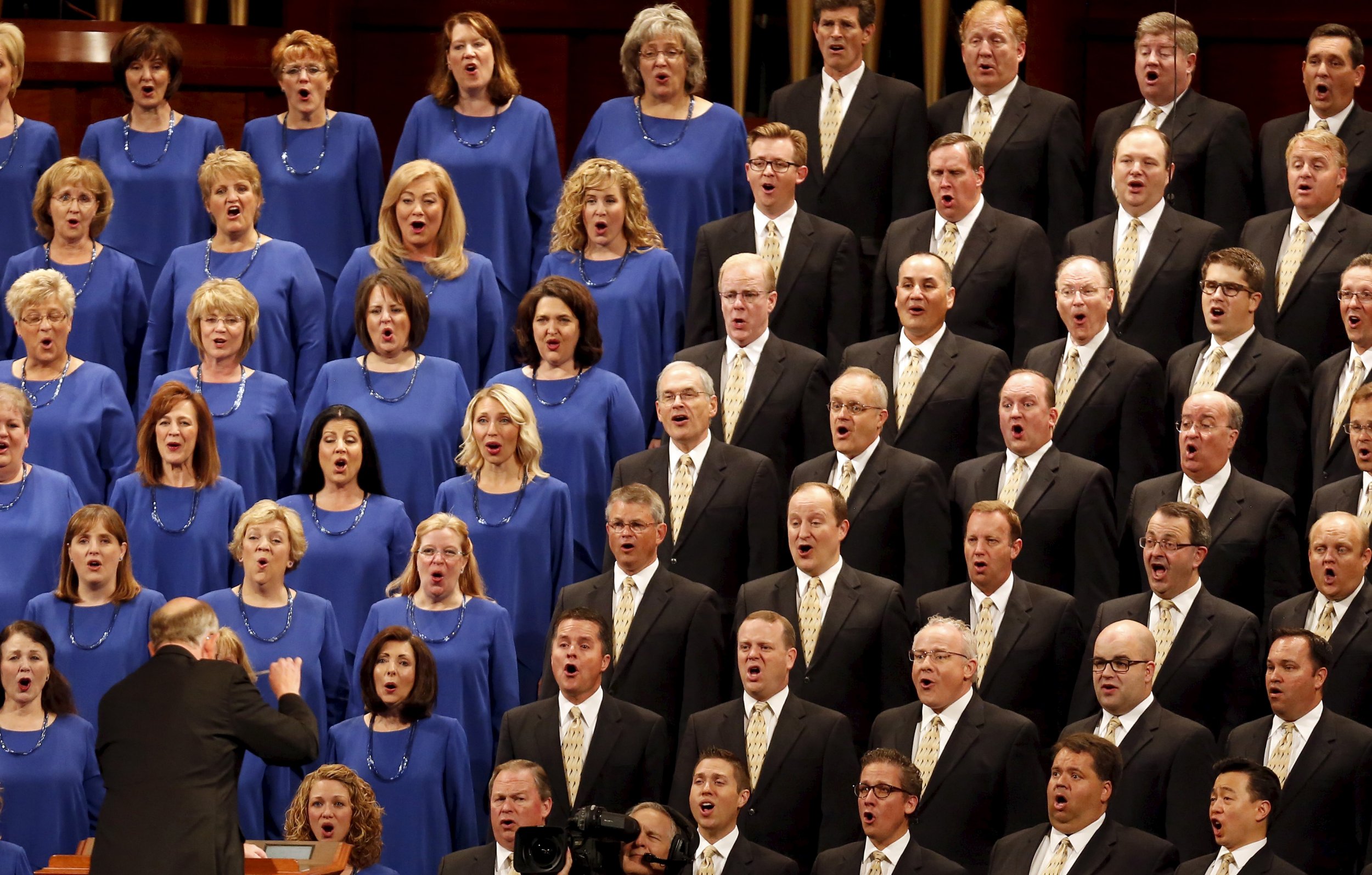 Donald Trump's inauguration performance roster is shaping up to be even less impressive than his list of celebrity guests for the Republican National Convention. The Mormon Tabernacle Choir announced Thursday that it had accepted an invitation from the Presidential Inauguration Committee to sing at the swearing-in ceremony for President-elect Donald Trump and his second-in-command Mike Pence on January 20. The choir becomes the second musical guest on a very short list, after America's Got Talent alumna Jackie Evancho, who will reportedly sing the national anthem.
Other artists, substantially more famous than Evancho and less religiously affiliated than the choir, have been rumored in recent weeks to refuse to perform in honor of Trump's official entrance into the role of commander in chief. That list includes megastars like Céline Dion, Andrea Bocelli, Elton John and Garth Brooks.
Evancho, who is only 16, announced her news on the Today show just over a week ago, saying she was "so excited. It's going to be awesome." The choir, too, seems happy to oblige.
"The Mormon Tabernacle Choir has a great tradition of performing at the inaugurals of U.S. presidents," Ron Jarrett, president of the Mormon Tabernacle Choir, is quoted as saying in the blog post on the group's website. The choir has previously performed at swearing-in ceremonies for George H.W. Bush (1989), Richard Nixon (1969) and Lyndon Johnson (1965), and in inaugural parades for George W. Bush (2001), George H.W. Bush (1989) and Ronald Reagan (1981). "Singing the music of America is one of the things we do best. We are honored to be able to serve our country by providing music for the inauguration of our next president."
Naturally, opinions on the selection were mixed on Twitter.
Some have aimed their reprimands at the choir for accepting the invitation.
Benjamin Park, a history professor at Sam Houston State University and an associate editor for an academic journal called the Mormon Studies Review, wrote a post on his personal blog shortly after the choir's announcement. "I am disappointed and disgusted that the Mormon Tabernacle Choir has agreed to sing at Donald Trump's inauguration," he wrote.
This "is an inauguration for a man who spews racist garbage, brags about abusing women, and boasts about a Muslim registry. This act makes the Church's appeals for religious liberty, gender equality, and international peace prove hollow," he added. "To my friends who have been the direct targets of Trump's attacks: even though the Mormon Tabernacle Choir is a missionary arm for the LDS Church, I hope you know that their appearance at Trump's inauguration does not reflect my values or interests, nor many of my friends and family within the Mormon tradition. On behalf of our Church, we apologize."
Previous inauguration festivities have featured performers like Beyonce and Kelly Clarkson (Barack Obama, 2013); Aretha Franklin (Obama, 2009); Ricky Martin, Jessica Simpson and 98 Degrees (George W. Bush, 2001); Marilyn Horn, Fleetwood Mac and Bob Dylan (Bill Clinton, 1993); Barbra Streisand (George H.W. Bush, 1989); and a slew of other big names going back through the years.
That Trump's musical showing, so far, is meager in comparison isn't entirely surprising after the lackluster list of semi-celebrities he managed to get to the Republican National Convention in July. The slate of appearances—which included the one-time famous, like Scott Baio and Kid Rock, and the barely famous, like Willie Robertson—was almost comical next to the lineup of those who showed up at the Democratic National Convention later that month. Hillary Clinton's supporters at the DNC included Meryl Streep, Eva Longoria, Alicia Keyes, Kareem Abdul-Jabbar, Rosie Perez, Lenny Kravitz and too many others to count.
It's still possible that Trump will surprise everyone by securing additional, more high-profile performers for his first rite of passage into the presidency, but if history is any indication, it doesn't seem likely.