Presidential Debate Time, Schedule for Final Trump vs. Biden Head-to-Head
The second and final presidential debate will take place this week, ahead of the election on November 3. President Donald Trump and former Vice President Joe Biden will go head-to-head on Thursday night in the second, rather than the third presidential debate, following Biden and Trump's separate town hall events last week.
Biden and Trump were due to debate in a town hall event on October 15, but following Trump's COVID-19 diagnosis, the presidential candidates ended up hosting two separate events that aired simultaneously.
Now, Biden and Trump are set to debate for the second and final time before the election.
When is the second presidential debate?
The second and final presidential debate will begin at 9 p.m. and will end at 10.30 p.m. ET on October 22.
However, coverage may begin before 9 p.m., and analysis and commentary will continue past 10.30 p.m.
Where will the second presidential debate be held?
The debate will take place at the Curb Event Center at Belmont University, Nashville, Tennessee. The university shared images of the campus lit up in red and blue ahead of the debate on Twitter and said: "Campus is looking extra special for debate week! Check out the lights."
How long is the presidential debate?
The debate will run for 90 minutes with no commercial breaks and divided into six segments of 15 minutes each. The presidential candidates will have two minutes to discuss each topic uninterrupted before moving on to debating the subject at hand.
The Commission for Presidential Debates (CPD) announced on Monday that the candidates' microphones will be muted when the other candidate is delivering their opening remarks, following the chaotic first debate in which the candidates and the moderator frequently spoke over one another.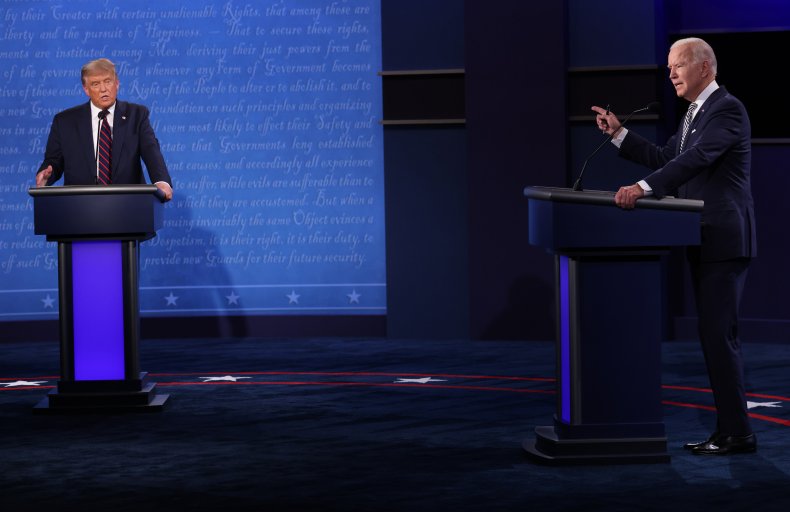 The CPD said: "The Commission is announcing today that in order to enforce this agreed upon rule, the only candidate whose microphone will be open during these two-minute periods is the candidate who has the floor under the rules.
"For the balance of each segment, which by design is intended to be dedicated to open discussion, both candidates' microphones will be open."
Who will moderate the second presidential debate?
NBC White House Correspondent Kristen Welker will moderate the second presidential debate.
The debate topics are chosen by the moderator, so as per Welker, Biden and Trump will discuss six topics: fighting COVID-19, American families, race in America, climate change, national security, and leadership.
These debates will be aired by every major news outlet on TV, via streaming services, and via live streams hosted online by various news outlets.
The graph below from Statista demonstrates the share of U.S. voters that said the debates were helpful in deciding who to vote for.