Second Presidential Debate Topics Announced, but Health Care and Immigration Aren't Among Them
Ahead of next week's final presidential debate, moderator Kristen Welker has released the topics she has chosen for President Donald Trump and Democratic nominee Joe Biden.
The list of topics, which is subject to change, includes fighting COVID-19, American families, race in America, climate change, national security and leadership, the Commission on Presidential Debates announced on Friday.
However, left off the list are two key issues of concern to voters: health care and immigration.
A recent poll from NBC News/The Wall Street Journal found that after the economy and the coronavirus pandemic, health care was the most important issue to voters in deciding how to vote for president.
While both Vice President Mike Pence and Senator Kamala Harris talked about health care during the only vice presidential debate of the election last week, the topic has been left off the list when it comes to Trump and Biden.
In the first presidential debate, moderator Chris Wallace questioned both candidates about COVID-19 and the Supreme Court, with the latter quickly pivoted to the issue of health care when Biden said Trump was "in the Supreme Court right now trying to get rid of the Affordable Care Act."
Wallace attempted to ask Trump about what exactly his alternative comprehensive health care plan was, but the debate soured to Trump accusing Biden of supporting "Medicare for All"— leaving little room for discussion as to what each candidate planned to do for the health care of Americans if elected into office.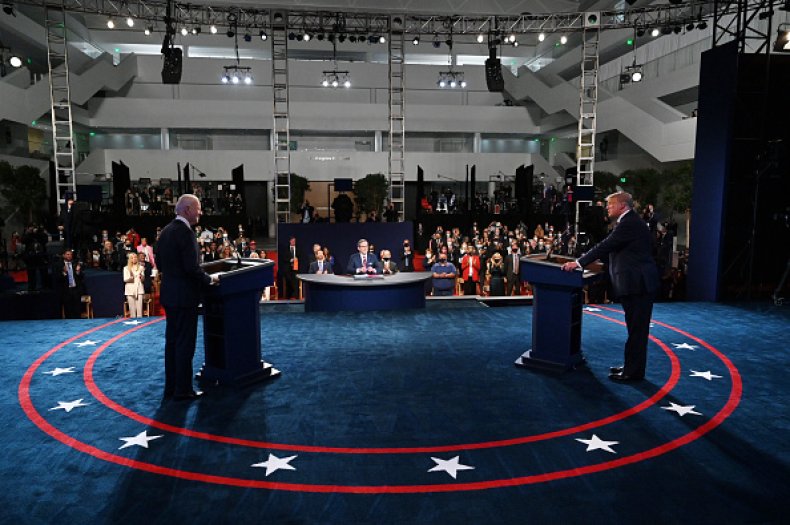 Aside from the pandemic and Supreme Court, Wallace also quizzed Trump and Biden on the economy, race and violence in cities, the integrity of the election, and their individual records — issues that overlap with those selected by Welker.
Both moderators did not include immigration in their lists of debate topics, although it seems voters are less interested in what is typically an important issue.
While it was a dominant issue in the 2016 presidential election, with Trump running on the campaign of "build that wall," immigration has taken a backseat this year. The poll from NBC/WSJ found that it was the least frequently chosen top issue for voters, with only 3 percent of voters saying it was the most important to them.
A recent Gallup poll also found that for the first time since 1965, Americans wanted more immigration rather than less. Nearly eight in 10 Americans said they thought immigration is a good thing for the country, painting a stark contrast to the opinions of voters when Trump won election in 2016.
While climate change was left off Wallace's list, the hot topic has been included in Welker's after the issue sneaked its way onto the debate floor earlier this month when Trump and Biden were pressed about the devastating wildfires that have ravaged the western United States.
The roughly 10-minute dialogue was the most Americans have seen climate discussed in an election debate since 1988, according to climate scientist Eric Holthaus.
Over three decades ago, Senators Dan Quayle and Lloyd Bentsen debated global warming during the vice presidential debate, in which Bentsen famously told his opponent: "Senator, you're no Jack Kennedy."
Next week's debate will be held on October 22 at Belmont University in Nashville and will be the last chance for voters to hear from both candidates on the same stage before casting their ballots on Election Day.
On Thursday, Trump and Biden each held their own town hall simultaneously instead of partaking in the previously scheduled second presidential debate. Trump pulled out after the committee announced the debate would move to a virtual format due to the ongoing health crisis.
Newsweek reached out to NBC News for comment, but did not hear back before publication.