Second Prosecutor Leaves Trump's Law Enforcement Commission, Says Work Being 'Smothered' by 'Political Agenda'
A second prosecutor has left President Donald Trump's law enforcement commission on Thursday.
Mark Dupree, the district attorney in Wyandotte County, Kansas, told U.S. Attorney General William Barr in a letter, obtained by Newsweek on Thursday, that the commission had been "smothered by a pernicious political agenda."
Trump and Barr created the Presidential Commission on Law Enforcement and the Administration of Justice last year before George Floyd's death in May.
Dupree also asked the U.S. Justice Department to have his name removed from the commission's controversial report on policing reforms stating his concerns that it fails to address systemic racism in the criminal justice system.
"I have yet to hear whether the Commission's final report intends to adequately address the racial equity issues millions are pleading with us to reckon with, nor am I confident that the Commission's recommendations will acknowledge the systemic racism in our justice system – these issues are fundamental to earning the trust of people of color in this country," wrote Dupree.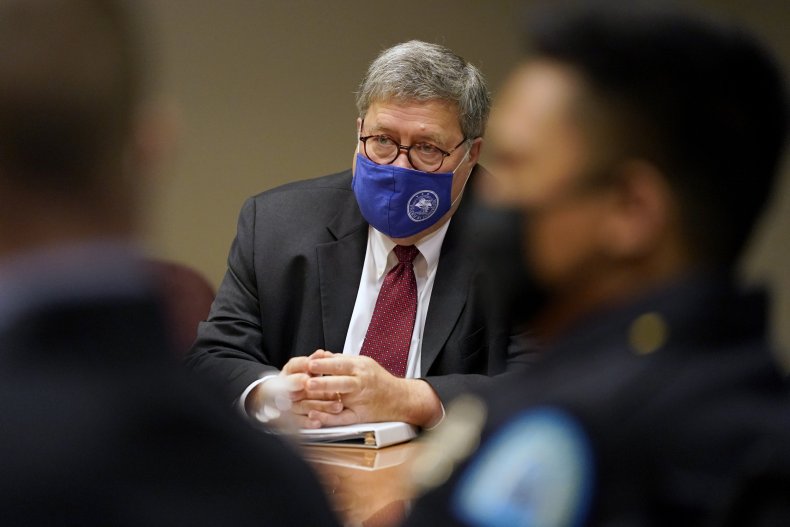 He continued: "Instead, and more troubling, the Commission appears to be intent on exploiting the divisions that exist in this country."
Dupree then noted commission members were not given access to read the full report.
"I cannot in good faith sign my name to a document if I have no idea what the final document actually advocates," he wrote.
U.S. District Judge John Bates in Washington stopped the report from being published in October, according to Bloomberg News, due to the fact that it had violated open meeting laws.
Bates stated that the commission failed to obey a mandate of the Federal Advisory Committee. He continued to note that the groups of law enforcement officials should be balanced in viewpoints and meetings should be open to the public.
"Especially in 2020, when racial justice and civil rights issues involving law enforcement have erupted across the nation, one may legitimately question whether it is sound policy to have a group with little diversity of experience examine, behind closed doors, the sensitive issues facing law enforcement and the criminal justice system in America today," Bates said.
Bates' decision was a win for the NAACP Legal Defense and Educational Fund (NAACP LDF), which sued on the basis that it lacked diverse membership and failed to give access to open meetings.
However, the Justice Department was told earlier this month that it could release the final report if it included a disclaimer stating it was in violation of federal open meeting laws, according to Reuters—although the NAACP LDF continues to advocate that all drafts of the report and internal communications among members working on the report be made public.
Dupree, an African American, is the second person who worked on the commission to resign. The first was John Choi, a prosecutor in Ramsey County, Minnesota, in September, according to a report by The Huffington Post.
"We have received Mr. Dupree's letter and we respect his request," said a Justice Department spokesperson. The department continued to note that Dupree was a valuable member of the commission.