Second Republican Breaks With Trump Over Coronavirus Relief Delay, Says 'Now's Not The Time'
Alaska Republican Senator Lisa Murkowski said Tuesday that Congress should continue to strive toward a coronavirus economic relief package even though President Donald Trump no more discussion on the relief package would occur until after the 2020 presidential election.
Democrats and Republicans have attempted to come to a compromise on the long-awaited relief package, which would be the first one since March. Forward momentum on the package had stalled for weeks as both sides attempted to reach a compromise. Trump declared in a Tuesday tweet that he had asked White House Chief of Staff Mark Meadows and U.S. Treasury Secretary Steven Mnuchin to step away from the bargaining table. Senator Murkowski, who has publicly disagreed with Trump in the past, said on Tuesday that talks should continue on the relief bill.
"Now is not the time for the Congress to stop doing its work," Murkowski said. "I strongly believe that negotiations should continue, particularly among those of us in Congress."
"We all need to keep working until we reach a bipartisan agreement that can pass both chambers and be signed by the president," Murkowski added.
Murkowski joined Republican Maine Senator Susan Collins in pushing back against Trump's decision to postpone the discussions. "Waiting until after the election to reach an agreement on the next Covid-19 relief package is a huge mistake," Collins said in a Tuesday statement. Collins added that she had been in touch with Secretary Mnuchin and "several" of her colleagues in the Senate.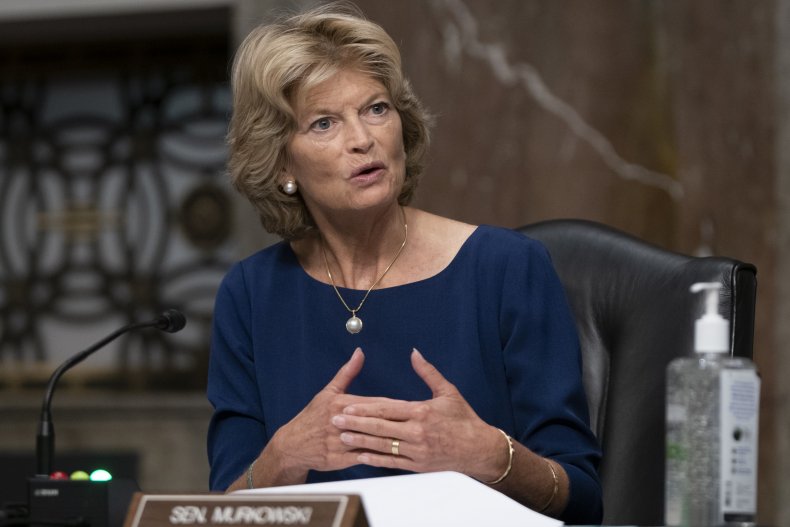 Trump tweeted on Tuesday that Democratic House Speaker Nancy Pelosi was not "negotiating in good faith. I am rejecting [the Democrats'] request, and looking to the future of our Country. I have instructed my representatives to stop negotiating until after the election where, immediately after I win, we will pass a major Stimulus Bill that focuses on hardworking Americans and Small Business."
Trump added that he had asked Senate Majority Leader Mitch McConnell to "focus full time" on approving Judge Amy Coney Barrett's nomination to the U.S. Supreme Court.
Newsweek reached out to McConnell's office for comment.
Both sides of the aisle have proposed relief plans. In September, Mnuchin proposed a plan that would cost $1.6 trillion. The Republican plan included an extra $400 added to unemployment benefits per week. House Democrats were able to get a $2.2 trillion stimulus plan passed in October that would add $600 to weekly unemployment payments.
How the majority of the proposed funding would be dispersed has been the sticking point with recent stimulus proposals. Among other issues, Republicans and Democrats have been unable to agree on how much money should be given to state and local governments for coronavirus response.
In a Tuesday statement, Pelosi said Trump's decision to halt the talks "showed his true colors: putting himself first at the expense of the country, with the full complicity of the GOP Members of Congress."
Murkowski told reporters in June she was not sure if she would support Trump in the upcoming presidential election. In light of Murkowski's publicly expressed doubt, Trump tweeted that he would endorse any candidate who ran against Murkowski in the 2022 election.
"Get any candidate ready, good or bad, I don't care, I'm endorsing," Trump said. "If you have a pulse, I'm with you!"