Second Round of $1,200 Stimulus Checks Blocked Amid Ongoing Relief Talks, Potential Shutdown
An effort by Sen. Josh Hawley (R-Mo.) to unanimously pass a second round of $1,200 stimulus checks for adults and $500 per child was blocked on the Senate floor Friday by a fellow Republican, Sen. Ron Johnson of Wisconsin.
The objection to Hawley's standalone measure was expected, but it underscored the tensions surrounding more coronavirus relief as congressional leaders have yet to reach an agreement over a nearly $1 trillion package and are up against a government funding deadline.
"What these Americans ask for is not for government to solve all their problems. It's not for government to give them a handout," Hawley said in floor remarks. "It's a chance to get back on their feet, a chance to provide for themselves, a chance to recover when they have been asked again to sacrifice so much. That is why the least this body can do is to provide direct relief to every working American who needs it."
Johnson objected, citing concerns over the national debt and that the first round of checks from the CARES Act were frivolously sent to tens of millions of Americans who were still employed. He characterized another round of payments as "mortgaging our children's future."
"One of the reasons we are $27.4 trillion in debt is we only speak about need, we only talk in terms of compassion," Johnson said. "We all have compassion. We all want to fulfill those needs. We just don't talk in numbers very often. We don't analyze the data."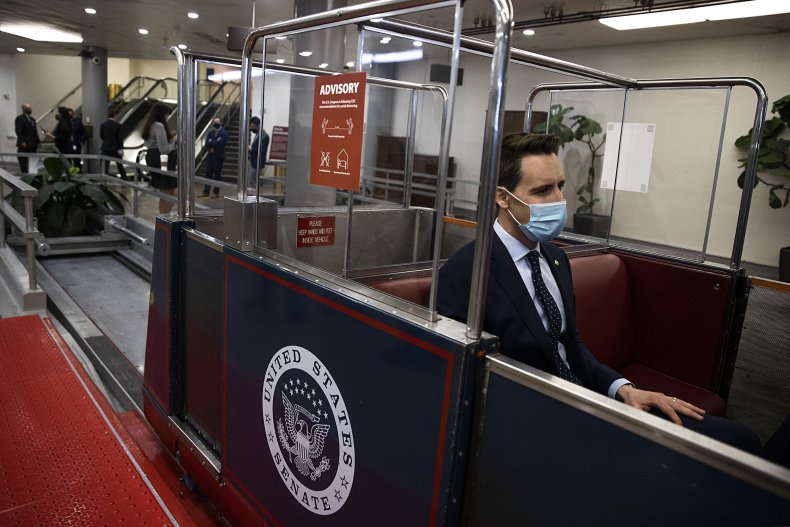 Capitol Hill leaders want to attach a stimulus deal to the annual budget. As a result, another stopgap spending measure, known as a continuing resolution (CR), will be required on Friday to avoid the federal government from shuttering at midnight.
Senate Majority Leader Mitch McConnell expressed his greatest optimism to-date that a package would soon be on the way. But leaders continue to haggle over differences, including eligibility for checks and a GOP desire to restrict the Federal Reserve's emergency lending authority, and will need to approve a CR to avoid a shutdown as negotiations continue over the weekend and potentially bleed into next week.
"I am even more optimistic now than I was last night that a bipartisan, bicameral framework for a major rescue package is close at hand," the Kentucky Republican said. "But let's face it. It doesn't help... to keep hearing that we're having good discussions."
Senate Majority Whip John Thune (R-S.D.) later described the status of talks as "kind of the same place, no progress."
A sign of his growing frustration with Republican leadership over a lack of communication, Hawley said that he was not prepared to allow a CR to fast track through the upper chamber and avoid a government shutdown—unless he gets assurances that direct payments will be included in a final relief bill, the text and details of which have yet to be released.
"We've been in the dark for days on end, we have absolutely no idea what's actually in this package," Hawley said. "I'm not willing to sit by and be told nothing and be given no information and just asked to, 'do as you're told.' This is reaching a point of absurdity."
Hawley declined to say whether the $600 individual checks that leaders currently plan to include would be enough to subside his threat to block a CR.
Helping lead the fight for more stimulus checks—along with progressive organizations and lawmakers—Hawley has become half of an odd Capitol Hill duo holding leadership's feet to the fire on direct payments. He and Sen. Bernie Sanders (I-Vt.) have warned they will use what procedural powers they have to act as a thorn in the side of leadership, unless individual checks are included.
Sanders made a similar push for a standalone measure for $1,200 checks later in the day. Johnson objected.
"I hear all kinds of stuff, and I read it from you guys," Hawley said. "But I hear nothing from [leadership]. I hear zero from anybody in the negotiations. I have no idea what's going on, and I'm not prepared to sign off on a CR until I know what's going on."
Update 12/18, 7:30 p.m.: Congress approved a two-day CR, meaning funding will expire Sunday at midnight. Neither Hawley nor Sanders prevented the stopgap measure from unanimously passing.