Another Stimulus Bill Coming 'Sooner Rather Than Later,' Trump's Economic Adviser Says
The Trump administration and Congress continue to signal that more relief from the federal government will eventually be on its way. But the question remains: When?
"I think it's coming sooner rather than later," White House economic advisor Kevin Hassett told CNN Friday morning, offering few details on a potential timeline.
But what Hassett did say is that the probability of another stimulus package is "pretty likely," an acknowledgment that more action will need to be taken to help lift the economy out of its Depression-era unemployment amid a bleak April jobs report released Friday.
The national unemployment rate rose by 10.3 percent in April to 14.7 percent—11.1 points higher than in April 2019. Weekly jobless claims released Thursday were far more dismal: an additional 2.4 million people filed for unemployment benefits, raising the total since the pandemic shut down the American economy to nearly 39 million.
"We are getting back to normal, but there for sure—if you saw the initial claims, there's still a lot of pain out there," Hassett told CNN's Poppy Harlow. "You're looking at about 40 million unemployed folks, so, yeah, I think that there's definitely cause for doing something else."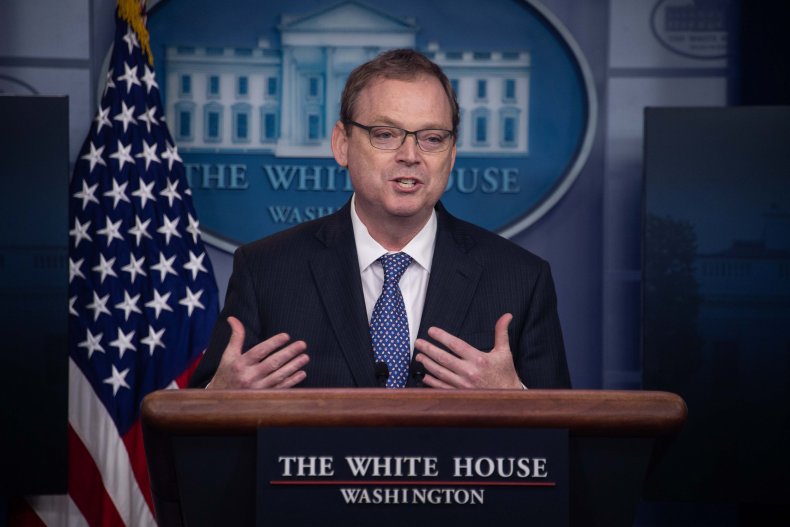 The economic advisor's endorsement of future aid coincides with the growing sentiment among Republicans on Capitol Hill that a stimulus is "inevitable." But what remains to be seen is what proposals GOP lawmakers will support as the party remains divided over whether additional relief will even be needed as states reopen and the economy begins churning. Some Republicans say they envision passing legislation prior to July 4th recess while others believe they will only begin to negotiate a deal with Democrats starting late June.
House Democrats passed a $3 trillion package last week, but it lacks any political viability among Senate Republicans and the White House.
Hassett said he expects May unemployment numbers to top 22 percent and for June to "be a little higher," adding that he is eyeing next month to resemble the job market's "turning point." The Becker Friedman Institute at the University of Chicago estimated earlier this month that upward of 40 percent of lost jobs may never return.
Hassett is not the only Trump administration official signaling more economic relief will be required. Treasury Secretary Steven Mnuchin and Federal Reserve Chair Jerome Powell have given similar indicators.
Mnuchin has said it is a "strong likelihood" another bill will eventually come while Powell has warned lawmakers of the potential lasting economic impacts if they choose to forgo more aid.