Second Stimulus Check 2020 Update: Everything We Know About a Potential Second Round of Money for Americans
Lawmakers on both sides of the aisle have supported giving additional financial help for Americans as the coronavirus pandemic continues. But some may be cooling to the idea of a second round of stimulus checks and it's unclear when–if ever–Americans could see another payment.
As money still trickles into Americans pockets from the CARES Act, a stimulus package that President Donald Trump signed in March, legislators are discussing a second round of payments. The HEROES Act that passed the House of Representatives on May 15 includes economic impact payments. Three Democratic senators introduced a bill to give people $2,000 payments on a monthly basis for the duration of the pandemic and three months after it ends.
The HEROES Act has little to no chance of passing in its current form, as both Trump and Republican Senate Majority Leader Mitch McConnell called it "dead on arrival." Even after a few edits, it's unclear whether a second round of stimulus checks would make it through to the final version or end up on the cutting room floor.
On Tuesday, McConnell told reporters that another relief package could happen in the "next month or so," but he did not offer many details. He floated the idea of a $1 trillion package and with the first round of stimulus checks costing about $290 billion, it's unlikely a package the size McConnell's considering would include individual checks.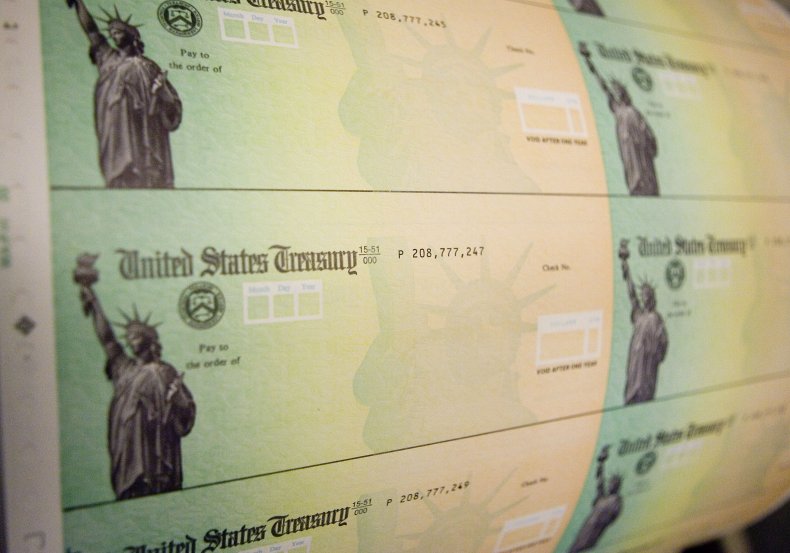 The Senate majority leader didn't raise the issue of stimulus checks in his speech on the Senate floor on Wednesday, and Republicans said it's worth waiting to see the impact of the first round of checks before sending out more.
Newsweek reached out to McConnell but did not receive a response in time for publication.
Trump acknowledged that a one-time payment of $1,200 may not be enough and said in April another round of checks was still on the table. The president hasn't ruled out the possibility of more payments, and he told reporters on May 21 that he thought "we're going to be helping people out" through another fiscal stimulus. He declined to share details of what form that help would take, but he said there "could be one more nice shot, one more nice dose."
More than 38.6 million people have filed unemployment claims, according to the Department of Labor, and the goal of stimulus packages have been to help the economy as businesses remain closed. Moving forward, Trump administration officials may look toward tax cuts to help Americans struggling economically because of the pandemic.
National Economic Council Director Larry Kudlow told reporters on Tuesday that Trump was "very strong" on a payroll tax cut and the administration was assessing a travel tax deduction. Trump said on May 18, the "Explore America" tax credit would be for Americans to use for domestic travel and visiting restaurants.
If economic impact payments as outlined in the HEROES Act came to fruition, each individual earning an adjusted gross income of $75,000 or less would receive $1,200. Joint filers earning up to $150,000 would receive $2,400, as was the case in the CARES Act. Instead of the $500 per child that was allocated in the CARES Act, people would receive an additional $1,200 per dependent with a cap of three dependents. It would also provide payments for undocumented immigrants who weren't eligible the first time around, which may be a sticking point for Republicans.
The ability for another round of economic impact payments to receive enough bipartisan support to end up in the hands of individuals still has a big question mark surrounding it. If it did work out, it's likely to be months before people see another payment.