As Second Stimulus Check Delays Continue, Congress' Approval Drops Below 20 Percent for First Time Since Pandemic
As Americans continue to wait for Congress to approve a second stimulus package, congressional approval has fallen to 18 percent.
According to a new poll from Gallup, Democrats approval of Congress has fallen the most, from 39 percent to 20 percent. Among Republicans, approval dropped from 24 to 12 percent. Meanwhile, independents saw their approval decline from 32 percent to 21 percent.
The low ratings come as Congress continues to negotiate a second economic relief package.
On Wednesday, negotiators from both parties said they made no progress on the deal after meeting for a third time this week.
Treasury Secretary Steve Mnuchin told reporters, "We don't have an agreement on anything," after meeting with House Speaker Nancy Pelosi and Senate Minority Leader Chuck Schumer.
Americans are getting impatient as coronavirus cases continue to climb across the country and millions remain unemployed. The current $600 weekly unemployment benefit will also expire on Friday, leaving many scrambling to make ends meet during the pandemic.
Back in April, Congress' approval rating reached 30 percent for the first time in over a decade after lawmakers passed the first stimulus package in March. The $2.2 billion in federal funds was well-received by the majority of Americans, with more than three-quarters of both Republicans and Democrats approving.
In May, approval hit 31 percent, the highest it has been since 2009 during former President Barack Obama's first year in office.
Congressional approval fell to 25 percent in June, before sliding into 18 percent this month. The last time approval was below 20 percent was in September 2019.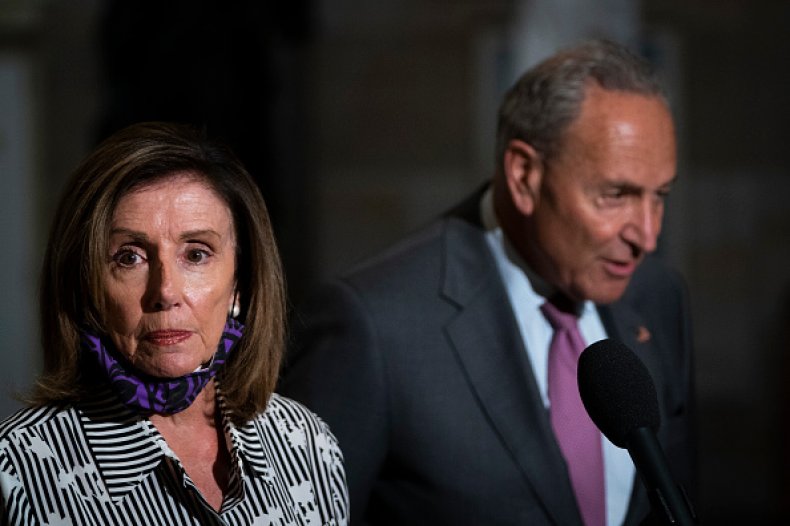 While approval of Congress dropped, President Donald Trump's approval rating remained steady at 41 percent. However, the disagreement between party lines remains among the highest measured by Gallup. Only 4 percent of Democrats approve of the president in comparison with 91 percent of Republicans, creating an 87-percentage-point gap.
The U.S. House of Representatives passed a $3 trillion Health and Economic Recovery Omnibus Emergency Solutions (HEROES) Act three months ago, which the Republicans called "dead on arrival."
The GOP proposed their own HEALS Act, which lacks the Democrats' proposed extension of the weekly $600 of unemployment benefit, but includes a second-chance for small business owners to apply for relief funds.
If a deal is reached, Mnuchin promised in early June that the Treasury Department will be able to get payments to people "very, very quickly."
The Internal Revenue Services (IRS) is still paying out delayed stimulus checks. More than 70 members of Congress called for the IRS to assess the situation and "take immediate action to speed the delivery of these payments."
According to a report from the Taxpayer Advocate Service (TAS), Americans could be facing delays until next year for their first stimulus check.