Second Stimulus Check Should Go to 'Most in Need,' Says WH Economic Adviser
Another round of stimulus checks are still on the table but White House economic adviser Larry Kudlow predicted they'd likely go to those who need the financial assistance the most.
Congress included economic impact payments in the CARES Act, a stimulus package that passed in March, as a way of helping people who took a financial hit because of the pandemic. With people still struggling months later, legislators are debating the best way to help individuals, businesses and America's economy as a whole.
On Tuesday, Kudlow told Fox Business' Stuart Varney that there are a "lot of discussions going on" but tax rebates and stimulus checks are still "on the table." If checks end up in the final stimulus package, Kudlow speculated that they'd target people who lost their jobs and are "most in need."
President Donald Trump told Scripps reporter Joe St. George that the administration plans to give another cash payment to Americans and said the upcoming stimulus package will be "very good" and "very generous." Kudlow explained that the administration wants it to be a "constructive package" that focuses on incentive-oriented policies, as per Trump's directive.
"I think number one, there will be a healthy discussion after the July 4 recess about the next move regarding economic policy," Kudlow said. "My hope is we move from rescue to economic growth and incentives."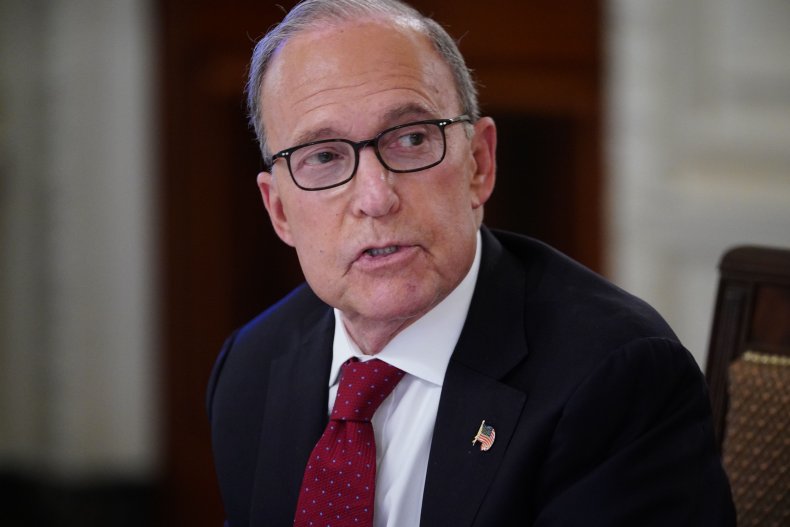 Lawmakers proposed an array of solutions to the economic problems brought on by the new coronavirus pandemic. Plans include offering a financial incentive for people to return to work and on Monday, Senator Martha McSally introduced a bill that would incentivize people to support the tourism industry. The "American Tax Rebate and Incentive Program Act" would provide tax credits to people who spend money on lodging, entertainment and other travel-related expenses within the United States and its territories.
The bill accounts for a $4,000 travel credit for individuals and $8,000 for joint filers, plus an additional $500 credit for dependent children for 2020 through 2022.
McSally, a Republican from Arizona, said in a statement that the goal was to boost domestic travel and help the tourism and hospitality industries who were "among the hardest hit sectors."
In May, Trump expressed support for an "Explore America" tax credit during a roundtable discussion with restaurant industry executives and called it a "big deal." Kudlow said a travel incentive was something they considered "pretty much from day one" and that it has broad agreement in Congress that it would be a "good thing to do," the Chicago Tribune reported.
With more than 20 million people still collecting unemployment benefits, some legislators are pushing for a second round of widespread economic impact payments.
Senators Kamala Harris, Bernie Sanders and Ed Markey introduced a bill to provide $2,000 monthly payments to anyone with an income under $120,000 for the duration of the pandemic and three months after. Since bills continue to arrive each month, Harris said in a statement help from the government should also continue to come in.
The HEROES Act, which passed the House of Representatives in May, also includes stimulus checks. Although similar to those outlined in the CARES Act, the new package expands eligibility and increases payments for dependents from $500 to $1,200. However, the bill is unlikely to pass in its current form and Republicans rejected it for allowing undocumented immigrants, who were excluded from the first round of checks, to receive a payment.
If lawmakers agree there should be another round of stimulus checks, people likely wouldn't receive the payment for at least another month from the bill's passage. Senate Majority Leader Mitch McConnell said a package wouldn't come together until July and the Senate is on a recess from July 3 until July 17.