As Second Stimulus Check Stalls, Republicans Graham and Collins Lose Support in Senate Race
As Congress remains in deadlock over another round of coronavirus stimulus relief, Republican Senators Lindsey Graham and Susan Collins have lost support for their high-profile reelection bids in recent polling.
Americans on both sides of the political aisle have called for Congress to "show me the money," but neither parties have signaled much willingness to meet in the middle in terms of the cost of the spending. Democrats have accused Republicans of failing to allocate sufficient funding to tackle the pandemic and Republicans have accused Democrats of utilizing COVID to further their agenda.
In the latest Quinnipiac poll, released Wednesday, Graham tied with his challenger Jamie Harrison 48-48 among likely voters in South Carolina, a race that had been considered a longshot for the Democratic party in a strong Republican state.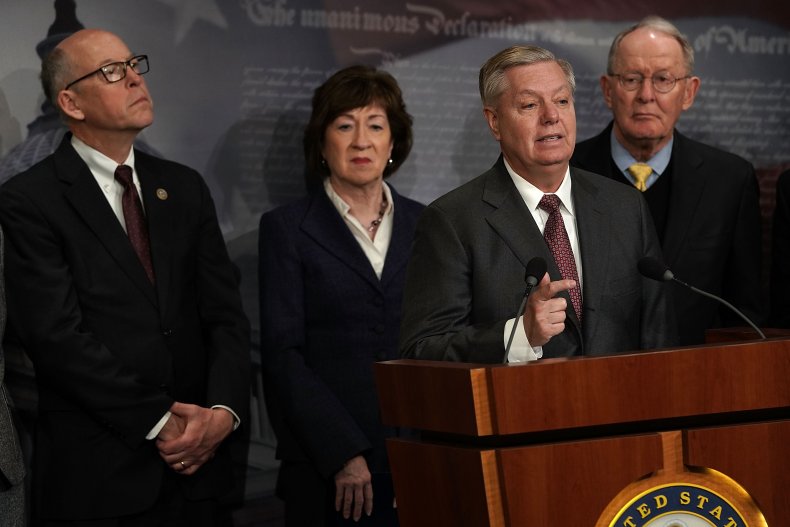 Collins, a moderate who has criticized President Donald Trump and served as a crucial GOP swing vote, was also down 12 percentage points—54-42—to Maine's Democratic House Speaker Sara Gideon.
Graham has been winning his seat in South Carolina, a state that Trump carried by over 14 points in 2016, by double-digits since 2002. But the new polling data shows that he's now at risk of losing it to Harrison as Americans become increasingly frustrated with stalled stimulus talks.
Harrison has garnered better favorability ratings in the state, with 47 percent of those surveyed indicating a favorable view and 34 percent saying they have an unfavourable view of him. Graham, however, drew a negative favorability rating, with 44 percent indicating a favorable view of the senator and 49 percent saying they have an unfavorable view of him.
Gideon's double-digit lead over Collins marks the biggest challenge for the GOP senator since 1996, when she was first elected to Congress.
Gideon drew a higher favorability rating, with 49 percent of respondents saying they have a favorable view of her and 37 percent unfavorable. Overall, Collins' garnered a negative favorability rating, with 43 percent indicating a favorable view and 51 percent saying they have an unfavourable view of her.
Newsweek reached out to the campaigns of Lindsey Graham and Susan Collins for comment.
The poll surveyed 969 likely voters in South Carolina and 1,183 voters in Marine between September 10-14. It has a margin of error of plus or minus 3.2 percentage points and 2.9 percentage points respectively.
While Collins won nearly 70 percent of the vote in Maine in the 2014 election, the latest polling results indicate a growing frustration toward Trump's leadership and Republican decision-making in Congress.
Last week, a GOP-proposed scaled-down $500 billion stimulus bill was defeated by Democrats in the Senate who said the relief offer fell far too short of their initial $3 trillion bid. The Republicans' proposed targeted bill included funding for education and expansion unemployment payments, but left out provisions for another round of stimulus checks.
"Senate control hangs in the balance as the GOP confronts a likely nail biter in South Carolina and a possible knockout in Maine, offset by a presumably solid lead in Kentucky," Quinnipiac analyst Tim Malloy said.