Second Stimulus Deal 'Basically' Reached, Senator Tim Kaine Says
A deal on a second coronavirus stimulus package has "basically" been reached, Senator Tim Kaine said Thursday.
The Democrat's comment was reported on Twitter by economist Christophe Barraud.
In a statement earlier this week, Kaine, a member of the Senate Health, Education, Labor, and Pensions Committee, said he would object if Congress recessed for the holidays before an agreement was reached. "We must stay in session until we deliver much needed relief," he said.
Almost nine months after Congress passed the first coronavirus relief bill, lawmakers were closing in on a $900 billion package, The Associated Press reported on Thursday.
The proposed bill reportedly includes $600 stimulus payments and $300-per-week unemployment benefit, as well as extra help for businesses and funding for schools and hospitals.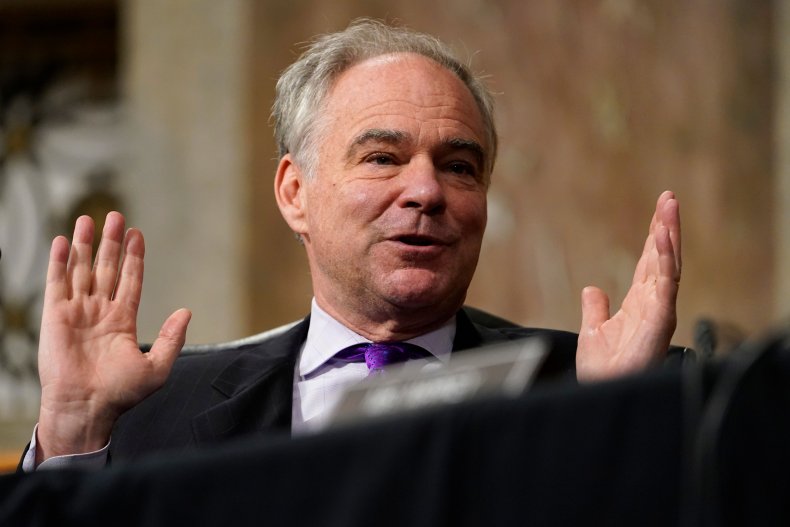 The agreement would be the first significant response to the pandemic since the landmark CARES Act in March.
The landmark bill delivered $1.8 trillion in aid, more generous jobless benefits and $1,200 direct payments to most Americans—twice as much as the checks proposed in the new deal.
The New York Times reported that Republican House Minority Leader Kevin McCarthy indicated a second deal was imminent. According to the newspaper, McCarthy said it was "just the fine details we've got to get done."
But House Speaker Nancy Pelosi told reporters: "We'll be ready when we're ready."
President-elect Joe Biden is keen to deliver a package to help the economy and aid Americans in need before the end of the year, despite the package falling short of what Democrats want.
"The stimulus package is encouraging. Looks like they're very, very close and it looks like there are going to be direct cash payments," Biden said at an event in Wilmington, Delaware on Wednesday.
"But it's a down payment, an important down payment on what's going to have to be done beginning at the end of January, the beginning of February."
Sen. Bernie Sanders, meanwhile, had called for the package to be doubled in size, saying it was not enough to help the millions of Americans struggling financially and going hungry due to the pandemic.
He blamed Senate Republicans for the delay of a second COVID-19 relief package, saying they had "refused to entertain" the amount of money needed.
"The entire bill, $900 billion, is much too low. It should be at least double that. So what's in this current bill is good, but it's not enough," he told CNN's Wolf Blitzer.
This is a breaking news story and will be updated when more information is available.