James Murray's Trump Ties Face Scrutiny Over Deleted Secret Service Texts
U.S. Secret Service Director James Murray is facing scrutiny about his ties to former President Donald Trump amid ongoing allegations about the apparent loss of text messages from January 5 and 6, 2021.
MSNBC's Lawrence O'Donnell has said that Murray is "the problem" at the agency.
O'Donnell said that the agency has lost "the most important text messages in their history because no one there knew that those text messages were important" and accused Murray of being a "Trump guy."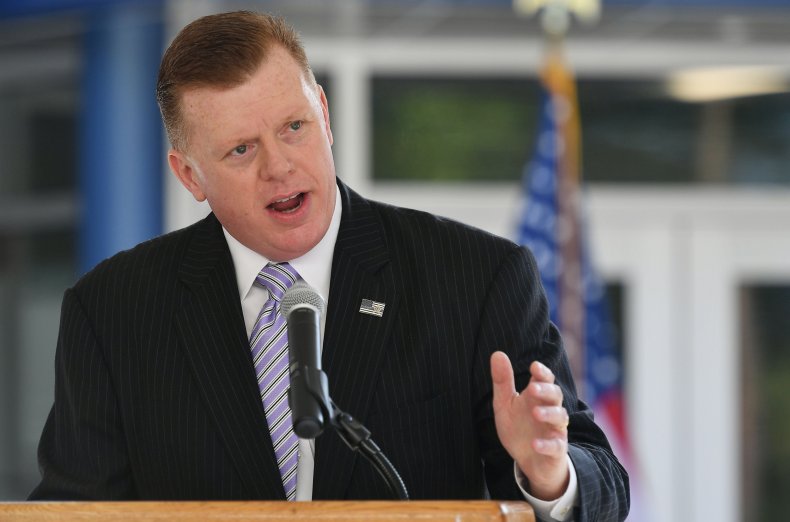 He quoted an NBC News report that stated the Secret Service had been told at least three times to preserve text messages and communications on the agency's phones, citing a senior Secret Service official.
"The senior Secret Service official said it was James Murray's responsibility to make sure all Secret Service texts sent and received on January 6 were preserved. And he did not do that," O'Donnell said.
Murray was appointed to lead the Secret Service by Trump in 2019 and O'Donnell pointed to investigative journalist and author Carol Leonnig's book where she claimed that Trump had originally wanted to appoint Secret Service agent Tony Ornato to lead the agency but Ornato recommended Murray.
Ornato was serving White House deputy chief of staff for operations in January 2021. He had been permitted to leave his Secret Service role temporarily in order to serve as deputy chief of staff, in what has been described as an unusual move for the Secret Service.
O'Donnell discussed a 10-minute interview Trump reportedly held with Murray before appointing him to lead the agency.
"That interview may well have in included the questions. Who did you vote for for president? Who are you going to vote for for president? And do I have your complete and total loyalty at all times for anything I might want to do?" O'Donnell said.
He went on: "We know that Donald Trump was not going to give that job to anyone who did not clearly pledge loyalty to Donald Trump.
"So we know that James Murray is a Trump guy in every sense important to Donald Trump or Donald Trump would not have promoted him to director of the Secret Service in April of 2019."
O'Donnell went on to ask if Murray had done "a service" for Trump by "overseeing the deletion of all the Secret Service text messages on January 6."
"The January 6 committee can answer all of these questions by issuing a specific personal subpoena to James Murray for his under oath testimony and a separate subpoena to James Murray for all his Secret Service text messages on January 6," he said.
Just one text exchange from January 5 and 6 was submitted to the Department of Homeland Security (DHS) Inspector General Joseph Cuffari. That was also received by the House Select Committee investigating the events of the Capitol riot.
O'Donnell took aim at Murray for not saying anything publicly amid what he called the "worst crisis facing the Secret Service since the assassination of President Kennedy."
"We have never seen a problem like this at the Secret Service," he said. "It's a very serious problem at the Secret Service. And James Murray is part of that problem. Or James Murray is the problem."
Others have also joined in criticism of Murray. MSNBC legal analyst Jill Wine-Banks tweeted on Wednesday: "There must be consequences for anyone at @SecretService who did not back up their data and for the leadership who did not make it happen. Director #JamesMurray must be fired today."
Pam Keith, CEO of the Center for Employment Justice, tweeted: "James Murray and Tony Ornato should be on EVERYONE's list of suspects" and said they were "hand picked" by Trump.
Newsweek has asked the Secret Service for comment.
Criticism of Murray comes amid continuing controversy about the Secret Service and its role on January 6, 2021, with the National Archives directing the Secret Service to investigate the potential "unauthorized deletion" of text messages and issue a report in 30 days.
Secret Service Communications Chief Anthony Guglielmi has said the National Archives "will have our full cooperation in this review and we will complete the internal review of our information as directed and promptly respond to their inquiry. The Secret Service has long standing established policies regarding the retention of government records."
Guglielmi has also said that the "Secret Service has been and continues to be fully cooperative with the January 6 Select Committee."