Secret Service Members Found To Be Part of Far-Right Extremist Group—Report
Members of the Secret Service have been found to be part of the far-right extremist group the Oath Keepers, according to documents reviewed by the Project On Government Oversight (POGO) and the Organized Crime and Corruption Reporting Project (OCCRP).
A leaked membership list reportedly shows that seven Oath Keepers said they worked or previously worked for the Secret Service, according to files dating from 2009 to 2015.
The membership list was obtained as part of a leak of Oath Keeper documents, according to OCCRP, and were provided by "a former member of the group's inner circle" who requested anonymity because of ongoing federal investigations.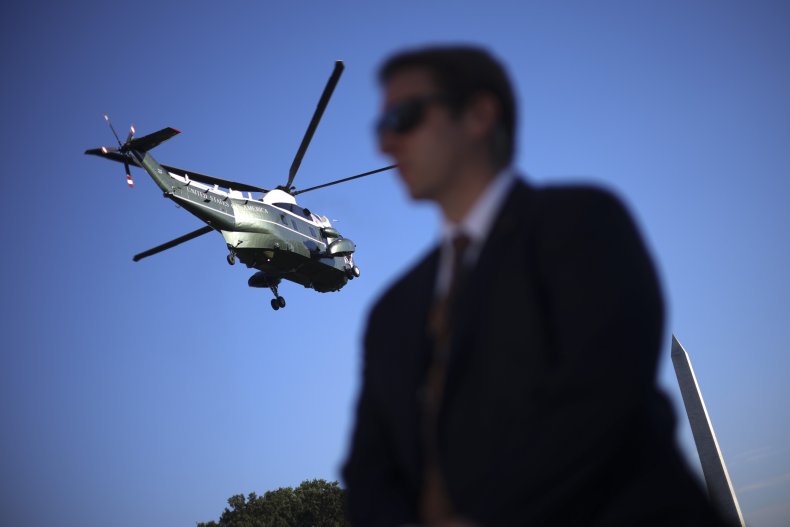 More than 300 members of the Oath Keepers identified themselves as current or former employees of the Department of Homeland Security (DHS) or affiliated agencies in the documents seen by POGO and OCCRP.
Representative Bennie Thompson (D-MS), chairman of the House of Representatives' Select Committee investigating January 6, 2021, issued an emailed statement to the investigative groups about their findings.
"Extremism within our government is always alarming, but even more so in a department with a law enforcement and national security nexus like DHS," Thompson's statement said, according to POGO and OCCRP.
"The absolute, most important function for this agency is our no-fail mission to safeguard the continuity of the American government," Anthony Guglielmi, Secret Service chief of communications, told Newsweek in a statement on Tuesday morning.
"We have strongly supported recent investigations and prosecutions of alleged insurrectionists including providing testimony on behalf of the government and providing supporting information and evidence to prosecutors to build the strongest cases against defendants.
"While the Secret Service had no prior knowledge of this information, we are unable to corroborate it at this time but it will be reviewed," he said.
A person familiar with the matter told Newsweek: "The clearance and vetting protocols for the Secret Service are among the highest in the United States federal government."
"The agency has very stringent internal vetting protocols including robust security management interviews for all employees to maintain top secret security clearances approved for sensitive compartmentalized information. The agency also has real-time insider threat monitoring for all employee and agency partners," they said.
The list of dues-paying Oath Keepers included 21 people who said they were currently employed by DHS at the time their names were added to the list. A total of 306 identified themselves as being affiliated with DHS.
OCCRP is a global network of investigative journalists that states part of its mission is to expose "crime and corruption so the public can hold power to account."
POGO describes itself as "a nonpartisan independent watchdog" that investigates, among other matters, corruption and abuse of power.
The Southern Poverty Law Center (SPLC), which monitors extremist groups, describes the Oath Keepers as advocating "for Americans to prepare for inevitable conflict with the government by stockpiling goods and supplies, engaging in paramilitary training and working to create small, self-reliant community networks."
Questions about potential connections between the Secret Service and the Oath Keepers were raised during the trial of Oath Keepers founder Stewart Rhodes, who was convicted of seditious conspiracy in November arising from the events of January 6, 2021.
Rhodes was allegedly in contact with the Secret Service before the Capitol riot on January 6, according to a former member of the militia group who testified that he heard Rhodes speaking to someone whom he believed to be a member of the agency in September 2020.
Rhodes' co-defendant Kelly Meggs was also convicted of seditious conspiracy, while three other Oath Keepers have pleaded guilty to the charge.
Update 12/13/22 05.30a.m. E.T.: This article was updated to include more information and a statement from the Secret Service.