Secret Service Runs First Live White House Drill, Cites Fear of a 'Complex' Suicide Attack
The White House ran its first-ever live security drill last week, officials said, as fears linger about the possibility of a "complex" suicide bomb attack on the grounds. The revved-up security comes even as President Donald Trump has exhausted Secret Services resources with his unusual family travel habits during his first year in office.
Secret Service Director Randolph "Tex" Alles told CBS News that the agency held its first live drill on Friday night, when Trump was in the White House. In the test, a dog rushed at a target acting as a would-be intruder.
Alles said agents need to start practicing real-time threat situations and "train like you fight." He said the latest fears for the White House are not fence jumpers, but something far scarier.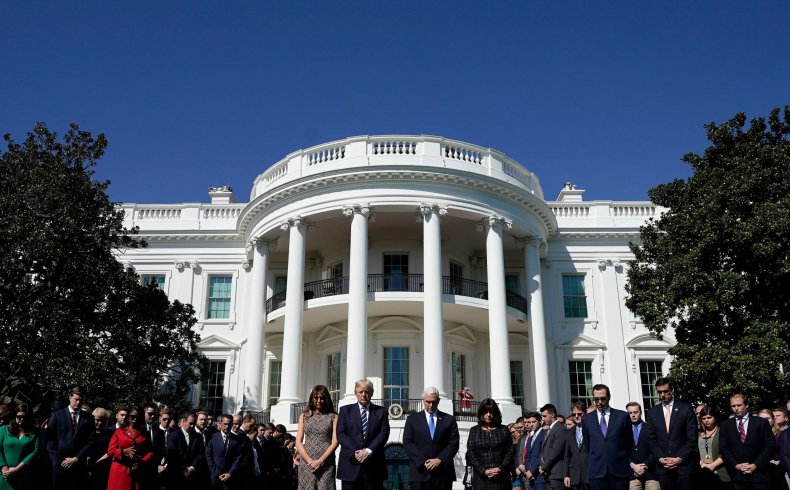 "The most dangerous part would be some form of complex attack," Alles told CBS. "Potentially a suicide attack with some kind of follow-on attack with the suicide bomber that would be my most dangerous course that we want to think about."
Speaking about the power of the agents outside the president's home, Alles said, "The last thing we want to do is have to use lethal force, but they're well-prepared to do it on the grounds, I'll just say that."
There have been minor security incidents at the White House during Trump's first year there, including a lockdown last month over "suspicious activity" near a fence that led to one person being taken into custody, but there have been no substantial security breaches. The last major emergency happened in September 2014, when Omar Gonzalez, a mentally ill U.S. Army veteran, jumped a fence and ran into the building with a knife in his back pocket before the Secret Service apprehended him. Gonzalez was sentenced in 2015 to 17 months in prison.
The most notable Secret Service incident under Trump so far was reports about agents escorting Omarosa Manigault Newman, a Trump aide and former Apprentice contestant, out of the White House this month after Trump fired her, though the agency later denied this version of events.
Alles noted that the Secret Service has already been stretched so thin under Trump that it could have trouble beefing up security as needed. Even before Trump took office, the Secret Service had lost 10 percent of its workforce between 2011 and 2015 due to budget constraints.
But by August of this year, Alles told USA Today the budget had been decimated after more than 1,000 Secret Service agent had already reached their federally-mandated annual caps for salary and overtime pay, largely due to Trump and his family. Trump has taken frequent trips to his eponymous estates outside of Washington, D.C., with each one running up a tab of several million dollars for travel and security. He has also enlisted Secret Service protection for several of his family members, who often travel to help promote Trump's political or business agenda.